printer friendly version
Five years of DVR success
December 2004
CCTV, Surveillance & Remote Monitoring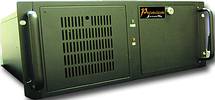 Vision Catcher's DVR range from Novex Canada was launched in late 1999 and the Novex systems have been used in more than 55 countries for applications ranging from banking to traffic control, train systems to distribution, breweries to airports, parking to corporate offices. The success of this product has been its reliability, durability and continuing development to give you a product that keeps with the pace of change and offers upgrade options as new developments occur.
The Novex range is marketed as VC2000, Pro, Elite and Premium, or more affectionately known as 'The Vision Catcher DVR'. Vision Catcher has supplied more than 2500 DVRs within South Africa, more than 200 systems supplied to one particular company and over 150 in another corporate centrally controlled in one control room down to simple but effective four channel units for small business.
Integration is Vision Catcher's watchword. "With our open architecture databasing we have integrated to management information systems, access control, point of sale, number plate recognition amongst other applications," says Niall Beazley. "Providing a simple but effective solution we offer a range of frame rates with many of our clients realising that a fast frame rate is less important than achieving a high quality playback where you can identify what is going on. Our support companies are truly international with names such as Microsoft, IBM, Intel, Computer Associates, Western Digital among others."
The Vision Catcher DVRs continue to develop into new arenas. Work is at an advanced stage to integrate IP cameras into the DVR allowing the choice of using analog or digital cameras as part of a solution.
Epson convenience store fascure
Point-of-sale has been another area of success for The Vision Catcher DVRs, with an html interface that allows the connection of a number of POS interfaces to one module. Checking of information can be by individual playback, by transaction or by keyword alphanumeric search. "The data listing allows incorporation into other management solutions and an easy link to pull across key chosen files for reporting and downloading options, add to this the totally remote functionality and you can cross reference any transaction from any location via telephone connection," says Beazley.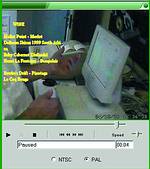 POS camera text overlay details
The POS development has been dove-tailed with Vision Catcher's Automatic Teller Machine (ATM) integration that allows users to source any ATM transaction stored in a secure location with full video digital signature that gives a higher degree of playback watermark than the standard check sum solutions. "We are therefore capable of providing links to any ATM machine in conjunction with their regular security, management and operational uses of the DVR," Beazley adds.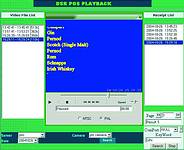 POS details
Our offsite monitor provides for all levels of requirement from a basic dial in and retrieval of information right up to a purposefully designed total management information solution (MIS). This work has been completed for one of the airlines within South Africa and has been modified to provide one of our leading banks with similar accessibility and features. All aspects of the DVR on multiple sites can be effectively managed and controlled from one central control room or from a series of provincial or regional control rooms with priorities of control being determined by Head Office. This solution is capable of providing support from more than 6000 remote sites simultaneously on a 24/7 basis with reporting at all levels to 'guard the guard' and monitor operator performance and confirm optimal use of the system.
The Vision Catcher Novex DVR has come a long way in five years. Our clients continue to be offered the upgrades on software. With stability, reliability and the open architecture opportunities we strive to keep ahead of new developments and commit ourselves to offering you, the client, an effective DVR that will fulfil your requirements. The Vision Catcher Novex DVR has been our Product of 2004.
Credit(s)
Further reading:
IDIS releases latest-generation 6 MP and 8 MP PTZ cameras
CCTV, Surveillance & Remote Monitoring
IDIS has launched four new 8 MP and 6 MP PTZ cameras that deliver excellent image quality and extend the company's trusted NDAA-compliant lineup.
Read more...
---
Eagle Eye introduces 'Smart Video Search'
Eagle Eye Networks CCTV, Surveillance & Remote Monitoring
Eagle Eye Networks has introduced Eagle Eye Smart Video Search, a new feature for all customers to make searching for video as fast and easy as searching the Web.
Read more...
---
Duxbury awarded Axis SA Distributor of the Year
Duxbury Networking News CCTV, Surveillance & Remote Monitoring
Axis Communications held its Annual Partner Awards on 1 July 2022 to celebrate and acknowledge the efforts of Axis' partners by awarding them for key projects and achievements throughout the year.
Read more...
---
AI in surveillance
Secutel Technologies CCTV, Surveillance & Remote Monitoring
Artificial Intelligence is the technological ability to work more efficiently and resolve problems. In the case of CCTV systems, this allows cameras with intelligence to identify certain objects and support ...
Read more...
---
Custom AI video analytics with AxxonSoft
LD Africa CCTV, Surveillance & Remote Monitoring
The AxxonSoft development team trains neural networks to tackle out-of-the-ordinary projects, including unusual viewing angles, difficult lighting, particular object types, thermal camera use and more.
Read more...
---
Passion, drive and hard work
Technews Publishing Editor's Choice CCTV, Surveillance & Remote Monitoring Security Services & Risk Management
Colleen Glaeser is a leader in the security market, having made her mark in the male-dominated security industry through determination and hard work, along with a vision of making the world a safer place.
Read more...
---
Cybersecure surveillance cameras
HiTek Security Distributors News CCTV, Surveillance & Remote Monitoring Cyber Security
Provision-ISR builds customer trust and opens up new opportunities with Check Point Quantum IoT Protect Firmware built into Provision-ISR cameras.
Read more...
---
Branches and roots
Cathexis Technologies CCTV, Surveillance & Remote Monitoring
Cathexis is a locally owned South African company where development engineers in the Durban office continue to innovate and improve the company's video surveillance management systems.
Read more...
---
Secutel expands into Africa and the UAE
Secutel Technologies CCTV, Surveillance & Remote Monitoring
Secutel Technologies expands into the African security technology market in a new partnership with RedWall Synergy and Total Secure Automation.
Read more...
---
Cathexis releases Carbon, a new user-friendly GUI
Cathexis Technologies News CCTV, Surveillance & Remote Monitoring
Cathexis has launched its latest user interface, Carbon 3.1, with an enhanced feature set, offering improved performance.
Read more...
---