printer friendly version
Five years of DVR success
December 2004
CCTV, Surveillance & Remote Monitoring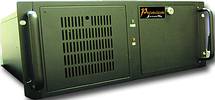 Vision Catcher's DVR range from Novex Canada was launched in late 1999 and the Novex systems have been used in more than 55 countries for applications ranging from banking to traffic control, train systems to distribution, breweries to airports, parking to corporate offices. The success of this product has been its reliability, durability and continuing development to give you a product that keeps with the pace of change and offers upgrade options as new developments occur.
The Novex range is marketed as VC2000, Pro, Elite and Premium, or more affectionately known as 'The Vision Catcher DVR'. Vision Catcher has supplied more than 2500 DVRs within South Africa, more than 200 systems supplied to one particular company and over 150 in another corporate centrally controlled in one control room down to simple but effective four channel units for small business.
Integration is Vision Catcher's watchword. "With our open architecture databasing we have integrated to management information systems, access control, point of sale, number plate recognition amongst other applications," says Niall Beazley. "Providing a simple but effective solution we offer a range of frame rates with many of our clients realising that a fast frame rate is less important than achieving a high quality playback where you can identify what is going on. Our support companies are truly international with names such as Microsoft, IBM, Intel, Computer Associates, Western Digital among others."
The Vision Catcher DVRs continue to develop into new arenas. Work is at an advanced stage to integrate IP cameras into the DVR allowing the choice of using analog or digital cameras as part of a solution.
Epson convenience store fascure
Point-of-sale has been another area of success for The Vision Catcher DVRs, with an html interface that allows the connection of a number of POS interfaces to one module. Checking of information can be by individual playback, by transaction or by keyword alphanumeric search. "The data listing allows incorporation into other management solutions and an easy link to pull across key chosen files for reporting and downloading options, add to this the totally remote functionality and you can cross reference any transaction from any location via telephone connection," says Beazley.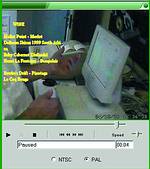 POS camera text overlay details
The POS development has been dove-tailed with Vision Catcher's Automatic Teller Machine (ATM) integration that allows users to source any ATM transaction stored in a secure location with full video digital signature that gives a higher degree of playback watermark than the standard check sum solutions. "We are therefore capable of providing links to any ATM machine in conjunction with their regular security, management and operational uses of the DVR," Beazley adds.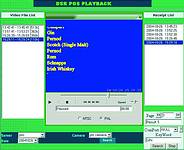 POS details
Our offsite monitor provides for all levels of requirement from a basic dial in and retrieval of information right up to a purposefully designed total management information solution (MIS). This work has been completed for one of the airlines within South Africa and has been modified to provide one of our leading banks with similar accessibility and features. All aspects of the DVR on multiple sites can be effectively managed and controlled from one central control room or from a series of provincial or regional control rooms with priorities of control being determined by Head Office. This solution is capable of providing support from more than 6000 remote sites simultaneously on a 24/7 basis with reporting at all levels to 'guard the guard' and monitor operator performance and confirm optimal use of the system.
The Vision Catcher Novex DVR has come a long way in five years. Our clients continue to be offered the upgrades on software. With stability, reliability and the open architecture opportunities we strive to keep ahead of new developments and commit ourselves to offering you, the client, an effective DVR that will fulfil your requirements. The Vision Catcher Novex DVR has been our Product of 2004.
Credit(s)
Further reading:
Camera Selection Guide 2019
September 2019 , CCTV, Surveillance & Remote Monitoring
Read more...
---
The era of smart surveillance
September 2019, Forbatt SA , CCTV, Surveillance & Remote Monitoring, Products
Professionals in the surveillance industry know CCTV is not what it used to be. Smart functions on cameras are no longer nice to haves, they have become a necessity.
Read more...
---
Improved security for Diamond Trust Bank in Tanzania
September 2019, Hikvision South Africa , CCTV, Surveillance & Remote Monitoring, Financial (Industry)
Diamond Trust Bank in Tanzania installed over 1000 Hikvision EasyIP 3.0 cameras in a project to replace its analogue infrastructure and centralise its surveillance security.
Read more...
---
Intelligent analytics and the brains to match
September 2019, Bosch Building Technologies , CCTV, Surveillance & Remote Monitoring, Integrated Solutions
What if the brains behind our security cameras could be trained to improve their cognitive ability to pay attention, learn, and problem-solve according to specific rules and situations?
Read more...
---
AI-powered autonomous Drone-in-a-Box
September 2019 , CCTV, Surveillance & Remote Monitoring, Integrated Solutions
Organisations in the mining, energy and industrial, oil and gas, ports and terminals sectors can optimise security and business operations, whilst reducing risks and operational costs
Read more...
---
Distributed architecture lowers TCO, increases scalability
September 2019, Technews Publishing , CCTV, Surveillance & Remote Monitoring, Transport (Industry)
Faced with a number of security challenges and planned future expansion, a major airport decided it was time to implement a scalable security surveillance solution.
Read more...
---
Cybersecurity for video surveillance systems
September 2019 , Cyber Security, CCTV, Surveillance & Remote Monitoring
Video surveillance systems are increasingly accessible over any IP network, which has led to the rise of potential cyberattack.
Read more...
---
A platform approach to innovation and value
September 2019, Technews Publishing , Editor's Choice, CCTV, Surveillance & Remote Monitoring, Integrated Solutions, IT infrastructure
Moving to the platform model of doing business holds tremendous advantages for end users and smaller developers, but also for the whole technology supply chain.
Read more...
---
Back to manufacturer uniformity?
September 2019, Dallmeier Electronic Southern Africa , CCTV, Surveillance & Remote Monitoring
Decision makers often have to choose between an all-inclusive, complete solution from one manufacturer and the products and services of several different providers.
Read more...
---
Open does not always mean easy integration
September 2019, VERACITECH, Technews Publishing , Editor's Choice, CCTV, Surveillance & Remote Monitoring, Integrated Solutions
Customers who opt for best-of-breed solutions will have to rely on their integrators to develop customised integrated solutions for them.
Read more...
---