printer friendly version
Five years of DVR success
December 2004
CCTV, Surveillance & Remote Monitoring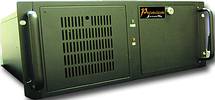 Vision Catcher's DVR range from Novex Canada was launched in late 1999 and the Novex systems have been used in more than 55 countries for applications ranging from banking to traffic control, train systems to distribution, breweries to airports, parking to corporate offices. The success of this product has been its reliability, durability and continuing development to give you a product that keeps with the pace of change and offers upgrade options as new developments occur.
The Novex range is marketed as VC2000, Pro, Elite and Premium, or more affectionately known as 'The Vision Catcher DVR'. Vision Catcher has supplied more than 2500 DVRs within South Africa, more than 200 systems supplied to one particular company and over 150 in another corporate centrally controlled in one control room down to simple but effective four channel units for small business.
Integration is Vision Catcher's watchword. "With our open architecture databasing we have integrated to management information systems, access control, point of sale, number plate recognition amongst other applications," says Niall Beazley. "Providing a simple but effective solution we offer a range of frame rates with many of our clients realising that a fast frame rate is less important than achieving a high quality playback where you can identify what is going on. Our support companies are truly international with names such as Microsoft, IBM, Intel, Computer Associates, Western Digital among others."
The Vision Catcher DVRs continue to develop into new arenas. Work is at an advanced stage to integrate IP cameras into the DVR allowing the choice of using analog or digital cameras as part of a solution.
Epson convenience store fascure
Point-of-sale has been another area of success for The Vision Catcher DVRs, with an html interface that allows the connection of a number of POS interfaces to one module. Checking of information can be by individual playback, by transaction or by keyword alphanumeric search. "The data listing allows incorporation into other management solutions and an easy link to pull across key chosen files for reporting and downloading options, add to this the totally remote functionality and you can cross reference any transaction from any location via telephone connection," says Beazley.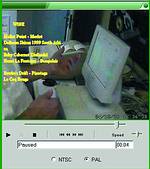 POS camera text overlay details
The POS development has been dove-tailed with Vision Catcher's Automatic Teller Machine (ATM) integration that allows users to source any ATM transaction stored in a secure location with full video digital signature that gives a higher degree of playback watermark than the standard check sum solutions. "We are therefore capable of providing links to any ATM machine in conjunction with their regular security, management and operational uses of the DVR," Beazley adds.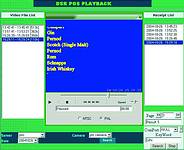 POS details
Our offsite monitor provides for all levels of requirement from a basic dial in and retrieval of information right up to a purposefully designed total management information solution (MIS). This work has been completed for one of the airlines within South Africa and has been modified to provide one of our leading banks with similar accessibility and features. All aspects of the DVR on multiple sites can be effectively managed and controlled from one central control room or from a series of provincial or regional control rooms with priorities of control being determined by Head Office. This solution is capable of providing support from more than 6000 remote sites simultaneously on a 24/7 basis with reporting at all levels to 'guard the guard' and monitor operator performance and confirm optimal use of the system.
The Vision Catcher Novex DVR has come a long way in five years. Our clients continue to be offered the upgrades on software. With stability, reliability and the open architecture opportunities we strive to keep ahead of new developments and commit ourselves to offering you, the client, an effective DVR that will fulfil your requirements. The Vision Catcher Novex DVR has been our Product of 2004.
Credit(s)
Further reading:
Reinventing network camera security
Issue 1 2020, Axis Communications SA , CCTV, Surveillance & Remote Monitoring
Now in its seventh generation and celebrating its 20th anniversary, the Axis ARTPEC chip was launched in 1999 designed to optimise network video.
Read more...
---
Cloud-based fleet and driver management
Issue 1 2020, Graphic Image Technologies , CCTV, Surveillance & Remote Monitoring
Graphic Image Technologies (GIT) has announced the availability of a cloud-based dashcam designed to improve on-the-road behaviour and assist in improving fleet management.
Read more...
---
Cathexis specialises in integration
Issue 1 2020, Cathexis Technologies , CCTV, Surveillance & Remote Monitoring
The integration of multiple systems is intrinsic and essential to the goal of creating an effective and efficient operational environment.
Read more...
---
Do wireless networks meet modern surveillance demands?
Issue 1 2020, Duxbury Networking, RADWIN , CCTV, Surveillance & Remote Monitoring
It is predicted that video will account for 15,1 zettabytes (1 zettabyte = 1 trillion gigabytes) of data annually, which is more than any other IoT application.
Read more...
---
Traffic doesn't have to be this way
Issue 1 2020, Dahua Technology South Africa, Axis Communications SA , CCTV, Surveillance & Remote Monitoring
More effective traffic management is something that would save us all a lot of frustration and wasted time, and it's one of the areas where AI and big data can have a significant impact.
Read more...
---
Dahua launches Hunter Series
Issue 1 2020, Dahua Technology South Africa , CCTV, Surveillance & Remote Monitoring
Dahua launches a new dual-PTZ camera that enables flexible and multi-scene panoramic monitoring.
Read more...
---
8 MP fisheye camera
Issue 1 2020, Dallmeier Electronic Southern Africa , CCTV, Surveillance & Remote Monitoring
Dallmeier's new 8 MP fisheye camera combines AI-supported object classification and H.265 in a compact design.
Read more...
---
Using ANPR to enhance security
Issue 1 2020, Duxbury Networking , CCTV, Surveillance & Remote Monitoring
Deep learning and AI-based algorithms enable ANPR cameras and their associated software to detect and recognise number plates with an extremely high level of accuracy.
Read more...
---
AI supercharges surveillance
Issue 1 2020 , CCTV, Surveillance & Remote Monitoring
The ability to analyse live video through AI techniques means that untapped footage from existing, passive cameras can be used to identify patterns, trends and anomalies.
Read more...
---
IDIS launches new cameras with on-board analytics
Issue 1 2020 , CCTV, Surveillance & Remote Monitoring
IDIS has launched a lineup of Edge VA bullet and dome cameras, featuring on-board analytics that will transform the efficiency of security operations.
Read more...
---