printer friendly version
Masc Solutions and Fire Systems
December 2004
News
Masc Solutions and Fire Systems has moved to customised premises in Edenvale. Since inception just over a year ago, Masc Solutions has become the most active and successful Lenel Systems International Reseller in sub Saharan Africa. In association with Lenel and its other business partners, Bosch Security Systems and Chemetron Fire Systems, Masc has completed a number of high value and high profile installations for some of the largest corporations in the region.
The new premises have been designed to become a working model for the truly integrated systems the company represents. The decision to select and support a limited number of key products is at the core of this success story.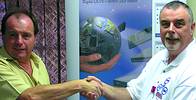 Mike Smiles (left) receives an award from Phil Mailes, Lenel
The combination of years of experience and the support of suppliers and products at the forefront of technology has resulted in the rapid rise of the business.
Managing director, Mike Smiles, is convinced his fellow directors and talented and committed staff will scale even greater heights in the future. Both Bosch and Lenel have acknowledged this fact by bestowing awards on Masc for its efforts and sales to date.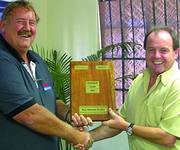 Allan Antoncich (left), Bosch, and Mike Smiles
For more information contact Doreen Miller, 011 609 1775, doreen@mascsolutions.com
Further reading:
Quantum secret sharing
Issue 6 2020 , News
Wits researchers have demonstrated a new quantum approach for sharing a secret amongst many parties, setting a new record for the highest dimensions and parties to date.
Read more...
---
Three cash-in-transit heists in half an hour
Issue 6 2020, Fidelity Security Group , News
Over the past six weeks the cash-in-transit industry has experienced a spike in the number of heists across the country.
Read more...
---
Programme to assist smaller MSSPs
Issue 6 2020 , News
Networks Unlimited launches new MSSP partnership with SentinelOne to make endpoint defence more accessible.
Read more...
---
Fake uniforms and using falsely branded security vehicle
Issue 6 2020 , News
On Monday 10 August, six to ten armed suspects driving what appeared to be a branded Fidelity ADT vehicle and wearing security uniforms entered a business park.
Read more...
---
From the editor's desk: Covid consolidation
Issue 6 2020, Technews Publishing , News
The global security industry has seen quite a few high-profile mergers and acquisitions over the past year or two, with an even greater number of smaller companies that don't get the headlines also merging, ...
Read more...
---
ONVIF adopts open source development
Issue 6 2020 , News
ONVIF announced it is open sourcing its network interface specifications for physical security technology.
Read more...
---
Hored networking solutions now in South Africa
Issue 6 2020, LD Africa , News
LD Africa is the sole South African distributor for Hored smart networks and smart transmission solutions.
Read more...
---
Suprema wins SIA award
Issue 6 2020, Suprema , News
Suprema Airfob Patch wins Judges' Choice Award from SIA New Product Showcase.
Read more...
---
Digitisation during COVID-19
Issue 6 2020, PSIRA (Private Security Ind. Regulatory Authority) , News
The COVID-19 pandemic has forever changed how business is conducted globally and PSIRA adapted to serve its community.
Read more...
---
Datacentrix boosts security portfolio
Issue 6 2020 , News
Datacentrix has joined the Tenable Assure Partner Programme, strengthening its security portfolio with cyber exposure solutions from Tenable.
Read more...
---