printer friendly version
Future needs require integrated, intelligent CCTV systems
November 2004
CCTV, Surveillance & Remote Monitoring
Technology should deliver mankind's dreams, not dictate them, and in the case of CCTV security solutions, future expectations all point to the need for integrated, intelligent systems.
Dr Bennie Coetzer, joint managing director of local high level electronic surveillance and digital video recording systems designer and manufacturer, Thales Advanced Engineering, says the future expectations of end-users, security consultants and consulting engineers can be summed up in a five-component 'wish list' that would like to see CCTV security systems provide:
* Realtime processed information for decision-making.
* Specialised, intelligent subsystems.
* User-orientated, configurable human interfaces.
* Full integration into management information systems.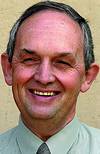 Dr Bennie Coetzer
The means to conduct complex inter-system analyses that will support human operators.
Coetzer adds that rapid change is the norm today and that system improvements are an ongoing process. "However, systems incorporating the latest technology are expensive and we need to ensure that they are not rendered obsolete within a few years. It is important to evaluate the life cycle cost to the customer, the impact of new technology on that cost and at the outset design systems that are modular and can be upgraded.
"Among the benefits that we are relying on future technology to bring about are better picture quality, lower costs, greater reliability, longer storage periods, greater numbers of cameras and more user-friendly systems with greater automation."
Such benefits and improvements to system capability must be achieved within an overall objective to meet the needs of customers over the long term: "We have to design systems in logical blocks, integrated yet independent of one another. This way, any significant technological advance will not suddenly require a customer to replace his entire system.
"Our systems should be made up of specialised modules that generally allow for internal expansion and improvement. It is also important to design hardware in a way that software upgrades do not require hardware upgrades. The focus should be on open interfaces, long term system architectures and overall generic design."
Coetzer sees 'futuristic architecture' as the development of fully integrated systems using dedicated video backbones simply because of the vast volume and unique requirements of video access on LANs, particularly for continuous transmission.
Linked to these would be separate but integrated systems for proactive video surveillance, management information, building support information, reactive event analysis, video recording and video analysis including motion, content and other factors, access control, perimeter detection, building analysis and alarm inputs.
"The goal of such a system is better decision making. It is not just about linking systems, it is doing this with a purpose - the presentation of relevant information, such as images, alarms, status reports, exceptions in order to make quick decisions on an informed basis."
There are a number of areas where technology advancements will result in system improvements. These include compression techniques such as selective compression; storage in terms of greater capacity at less cost with improved management; image processing enhancements to improve the ability to identify and be defensible in court; restoration techniques to overcome noise, mechanical aberrations and distortion; and in image analysis to extract key information.
Other areas of technology advancement include dedicated visual microprocessors with the ability to mix analogue pre-processing and digital processing. Such processors could cope with 50 000 images/second, reduce bottlenecks and ensure that only non-redundant data is used.
Image analysis is an area where Dr Coetzer says there is considerable scope. Increasing attention is being paid to biometrics (face, iris and fingerprint identification), multiple object analysis (number of people or cars for traffic flow volumes), motion analysis (speed and direction), behavioural analysis, facial expression and activity identification (whether a person is walking, crawling, running or staggering).
"Such advancements will lead to event detection through image analysis, giving location, size, direction, speed, smoke, fire, oil or chemical spill. Intelligent systems will allow tagging - the adding of sophisticated metadata such as directional movement and specific individual identification."
Such developments would, among other things, enable video recordings and databases to be searched via content as opposed to event timing, which would be very useful, for example, in identifying and tracking the movements of known criminals or international terrorists.
For more information contact Thales Advanced Engineering, Dr Bennie Coetzer, 011 465 4312, www.thales.co.za
Further reading:
Smart car parking solution eases traffic flow
Dahua Technology South Africa CCTV, Surveillance & Remote Monitoring Integrated Solutions Products
Ethiopia's first smart parking lot, designed to improve traffic flow and management efficiency, has been built and installed using Dahua Technology's smart parking solutions.
Read more...
---
VMS 7.2 supports the investigation process and adds cloud capabilities
CCTV, Surveillance & Remote Monitoring Integrated Solutions Products
Qognify has launched the second release of its VMS, including extended support for body-worn video, additional functionalities to support investigations, and a new web client architecture. VMS 7.2 addresses the increasing use of body-worn video (BWV) across many sectors.
Read more...
---
The future of AIoT
Hikvision South Africa News CCTV, Surveillance & Remote Monitoring
Hikvision hosted its 2022 Shaping Intelligence Summit in Bali, Indonesia, on 29-30 November, where the company, its customers, and technology and solution partners, looked into the future of AIoT and explored paths to shared success.
Read more...
---
A comprehensive video solution for retail
LD Africa Retail (Industry) CCTV, Surveillance & Remote Monitoring Products
Retail Intellect is a comprehensive, flexible solution for retailers that matches technologies to ensure point-of-sale safety and security with video analytics.
Read more...
---
Understanding customers better using AI
Secutel Technologies Retail (Industry) CCTV, Surveillance & Remote Monitoring Products
With in-store analytics of consumer behaviour, retailers can improve store performance and boost the productivity of their business.
Read more...
---
Benefits beyond just security
CCTV, Surveillance & Remote Monitoring
Store cameras are boosting customer experience and sales, as well as preventing losses, finds market research e-book from IDIS.
Read more...
---
Hikvision unveils first 'True 8K' NVRs
Hikvision South Africa CCTV, Surveillance & Remote Monitoring Products
The new M-Series NVRs can be used with a host of Hikvision cameras, and are ideal for environments where a wide field of view and extremely high image resolution are needed.
Read more...
---
AI in video analytics
CCTV, Surveillance & Remote Monitoring Integrated Solutions
AI (artificial intelligence), has been developed and debated ever since the first computers were invented, and while the most revolutionary incarnations are not yet here, AI-based technologies are widely used today.
Read more...
---
Milestone flies a Kite for small businesses
Milestone Systems CCTV, Surveillance & Remote Monitoring
Milestone Systems introduces Milestone Kite for small to medium-sized businesses and organisations, supporting 6000+ camera models from 100+ manufacturers.
Read more...
---
Railway AI-enabled video analytics
Rugged Interconnect Technologies CCTV, Surveillance & Remote Monitoring
The Rugged Computing Group has announced the AVA-RAGX, a fanless AIoT video analytics platform for railway applications, paired with Nvidia's Jetson AGX Xavier platform.
Read more...
---