printer friendly version
A new concept in combat vehicle self-protection
November 2004
Asset Management, EAS, RFID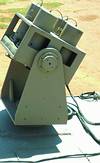 Avitronics, a South African company jointly owned by Grintek (South Africa) and Saab (Sweden), launched a revolutionary new system at African Aerospace and Defence 2004. When installed in full configuration, the Land Electronic Defence System 100 (LEDS-100) will offer main vehicle battle tanks comparable protection against engagement by weapons like the RPG-7, anti-tank guns, missiles and artillery shells.
The LEDS-100 system consists of a warning sensor system, a central computer and a high-speed directed launcher. The control computer integrates to the vehicle intercom, command and control system and obtains data from the vehicle wind sensor. The control computer also has a global positioning system (GPS) capability.
The fully integrated system provides automated warning to the vehicle occupants and dynamically and intelligently screens the vehicle from attack in any direction in less than 700 milliseconds. The screen will obscure the attackers' line of sight and give the vehicle and occupants a chance to get behind cover. The screen is multispectral and cannot be penetrated by thermal imaging equipment like that used to aim weapons or guide missiles. The screen can be deployed hemispherically around the vehicle without having to turn the vehicle or the gun turret to do so. This is achieved by the use of a high-speed directed launcher. The launcher moves extremely fast and can turn to any position in the protected hemisphere in less than 100 milliseconds. This launcher also puts in place future growth towards successive models.
An option is to add an infrared jammer to the system. This jammer interferes with the guidance of older generation anti-tank guided missiles. These missiles have proliferated in Africa and together with the ubiquitous RPG, currently form a major portion of the threat against combat and support vehicles.
The LEDS system has applications for local army requirements such as the future infantry combat vehicle and ground-based air defence system. Due to its exceptional flexibility and modular growth it is also well suited to meet foreign vehicle self protection requirements.
Use of the LEDS system is not only restricted to combat vehicles. It has been designed from the outset to also have application on fast patrol boats used for riverine patrol or special operations and is light enough to fit into vehicles used by non-governmental organisations engaged in medical and other humanitarian relief in conflict areas.
For more information contact Cobus van der Merwe, Avitronics, 012 672 6000, [email protected]
Further reading:
Deposita's Digitisor SmartPOS devices can grow your business
Deposita Financial (Industry) Asset Management, EAS, RFID
The Digitisor N910 Pro and N700 SmartPOS devices are suited for SMME retailers and suppliers looking to enhance their customer payment experience.
Read more...
---
Warehouse management system for ECONOFOODS
Asset Management, EAS, RFID
CQuential rolls out warehouse management system for ECONOFOODS national network, starting with its Johannesburg warehouse in a phased rollout.
Read more...
---
HS 6040 security X-ray inspection system
Asset Management, EAS, RFID Products
Hissco's HS 6040 DE is a compact, versatile security X-ray machine used in a wide range of applications, and manufactured under strictest ISO 9001:2015 and CE standards.
Read more...
---
Hytera and KZN Police Service roll out digital call handling system
Government and Parastatal (Industry) Asset Management, EAS, RFID Integrated Solutions
Hytera Communications announced that the municipality of Ray Nkonyeni in the KwaZulu-Natal province of South Africa is now using its digital call handling system for the reporting and recording of crimes.
Read more...
---
Smart parking management platform
Access Control & Identity Management Asset Management, EAS, RFID
Parket builds a seamless bridge between supply and the ever-increasing, but fluid – and often temporary – demand for parking bays.
Read more...
---
Keeping devices in check
Cyber Security Asset Management, EAS, RFID IT infrastructure
Kaspersky patents new technology for analysing relationships between electronic devices to counter cyberattacks launched through connected IoT devices.
Read more...
---
A new dawn in sustainable storage optimisation
Technews Publishing Asset Management, EAS, RFID Security Services & Risk Management Products
Industry is experiencing a move from VRLA (valve regulated lead–acid) batteries, which have been used in data centres for decades, to lithium-ion battery technology.
Read more...
---
Don't count lead-acid batteries out
Forbatt SA Security Services & Risk Management Asset Management, EAS, RFID
Lead-acid batteries are a standard in the security market and they will continue to be for many years, despite the growth of lithium-based devices.
Read more...
---
Smart energy alternatives
Asset Management, EAS, RFID Security Services & Risk Management
With or without load shedding, moving towards cleaner renewable energy in any environment is a great idea, and lithium must be your battery of choice.
Read more...
---
Better process control and audit reporting from Traka
Traka Africa News Access Control & Identity Management Asset Management, EAS, RFID Commercial (Industry)
Traka has announced it will be launching its next-generation key management systems in 2023, providing enhanced security, serviceability and traceability.
Read more...
---