printer friendly version
SentryScope - a new approach
November 2004
CCTV, Surveillance & Remote Monitoring
Vision Catcher recently launched Sentry-Scope - a variable aspect ratio camera that can provide a 90° field of view horizontally, offering coverage of an extensive area out to a range of 200 metres or more. SentryScope is a monochrome camera capable of excellent low light recording running at a mere 21 million pixels per image compared to a standard CCTV image of 200 000 pixels some 100 times less detail. This ultra-high resolution camera can render coverage over areas that previously could only be covered with a number of guards or a range of pan, tilt and zoom (PTZ) cameras and qualified operators.
Scenario: the warehouse facility with 36 loading bays
You have an internal camera system that records what is loaded on to each truck at your depot. You know at which bay the loading took place but cannot confirm the truck it was loaded onto and its registration number. You would like to know when it arrived and when it left compared to the gate manifest. In addition, you want to see if the driver was alone and when the truck drove away whether, as the driver claimed, there were packages left on the ramp and who later collected them.
In the pictures below, with the use of our SentryScope, you can see the general view of the warehouse loading area, the second picture is the zoomed image that shows what is happening on the ramp. Remember that while we are zoomed in all other information from the other ramps is still being recorded at the same image quality.

Cargo loading area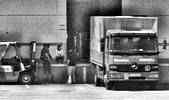 Zoomed in loading bay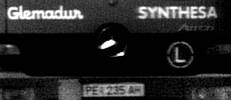 Vehicle registration number
Scenario: the shopping mall parking area
You are experiencing theft of vehicles parked in your parking area. Some of the vehicles are being broken into and contents taken, while others are being damaged by disgruntled car guards who protect these same vehicles, who are actually self employed and reliant upon the tips of the patrons you are trying to attract to your mall.
The currently recommended solution is to place a number of PTZ cameras so that when an operator sees an incident he can zoom in and capture the information that may lead to a prosecution. However, what happens to the rest of the parking area while the incident is being captured, who is monitoring that? What if this first incident is distraction to take away the attention of the operator from another theft taking place elsewhere? How many operators are you employing and what is their effectiveness on concentration over a 10 hour period of work?
The solution is to provide a camera capable of capturing the complete area at such detail that you can zoom in live while recordings are still taking place on the whole area. This allows you to monitor live events as they happen and advise security guards to attend to the situation or keep away and respond when police arrive, as well as recording the information so that it may be used as evidence at a later stage. But what of the incident that is taking place while you are zoomed in on the first? Well all of that is also recorded in low light situation or broad daylight to enable you to identify all of the events that took place in your parking area.
Scenario: the World Cup Football Stadium
It is not long until the 2010 Soccer World Cup. No doubt there have been a myriad of companies offering their best of breed solutions for terrace control and incident management. SentryScope was shown to an ex British policeman who was responsible for crowd control among some of the rowdiest fans in the world - the British soccer fan - his comment was that if only he had one of these cameras, or rather two in this situation, then he would have had total control of what was going on and saved quite a few lives.
SentryScope will give you the opportunity of recording all that goes on within the confines of a stadium. Not only will it give you the ability to replay the happenings throughout the game but you will be able to target key areas of concern and effect immediate zoom-in enabling you to follow incidents as they happen, review information and present evidence for courts to prosecute. Whatever the colour, whatever they are wearing and whatever action they are taking you will be able to talk security into position with a complete summary of events.
The shots below show a Premier League British football stadium with SentryScope covering two stands at a time and the resultant zoom-in to show who is sitting where and how individual people can be identified by their seats, dress and actions.

Football ground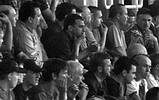 Zoomed in stand
SentryScope provides a total solution for a specified area. Yes you can cover similar areas with PTZ cameras but you are reliant upon the ability of an operator to do his job properly throughout his turn on duty. SentryScope is an advanced camera giving you the scope to see the incident, capture the larger picture at the same time as zooming into the individual detail of the situation.
Credit(s)
Further reading:
Smart car parking solution eases traffic flow
Dahua Technology South Africa CCTV, Surveillance & Remote Monitoring Integrated Solutions Products
Ethiopia's first smart parking lot, designed to improve traffic flow and management efficiency, has been built and installed using Dahua Technology's smart parking solutions.
Read more...
---
VMS 7.2 supports the investigation process and adds cloud capabilities
CCTV, Surveillance & Remote Monitoring Integrated Solutions Products
Qognify has launched the second release of its VMS, including extended support for body-worn video, additional functionalities to support investigations, and a new web client architecture. VMS 7.2 addresses the increasing use of body-worn video (BWV) across many sectors.
Read more...
---
The future of AIoT
Hikvision South Africa News CCTV, Surveillance & Remote Monitoring
Hikvision hosted its 2022 Shaping Intelligence Summit in Bali, Indonesia, on 29-30 November, where the company, its customers, and technology and solution partners, looked into the future of AIoT and explored paths to shared success.
Read more...
---
A comprehensive video solution for retail
LD Africa Retail (Industry) CCTV, Surveillance & Remote Monitoring Products
Retail Intellect is a comprehensive, flexible solution for retailers that matches technologies to ensure point-of-sale safety and security with video analytics.
Read more...
---
Understanding customers better using AI
Secutel Technologies Retail (Industry) CCTV, Surveillance & Remote Monitoring Products
With in-store analytics of consumer behaviour, retailers can improve store performance and boost the productivity of their business.
Read more...
---
Benefits beyond just security
CCTV, Surveillance & Remote Monitoring
Store cameras are boosting customer experience and sales, as well as preventing losses, finds market research e-book from IDIS.
Read more...
---
Hikvision unveils first 'True 8K' NVRs
Hikvision South Africa CCTV, Surveillance & Remote Monitoring Products
The new M-Series NVRs can be used with a host of Hikvision cameras, and are ideal for environments where a wide field of view and extremely high image resolution are needed.
Read more...
---
AI in video analytics
CCTV, Surveillance & Remote Monitoring Integrated Solutions
AI (artificial intelligence), has been developed and debated ever since the first computers were invented, and while the most revolutionary incarnations are not yet here, AI-based technologies are widely used today.
Read more...
---
Milestone flies a Kite for small businesses
Milestone Systems CCTV, Surveillance & Remote Monitoring
Milestone Systems introduces Milestone Kite for small to medium-sized businesses and organisations, supporting 6000+ camera models from 100+ manufacturers.
Read more...
---
Railway AI-enabled video analytics
Rugged Interconnect Technologies CCTV, Surveillance & Remote Monitoring
The Rugged Computing Group has announced the AVA-RAGX, a fanless AIoT video analytics platform for railway applications, paired with Nvidia's Jetson AGX Xavier platform.
Read more...
---