printer friendly version
Efficient and economic surveillance
September 2004
CCTV, Surveillance & Remote Monitoring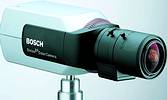 Dinion is a new series of digital mid-range monochrome/colour CCTV cameras from Bosch Security Systems. The range is characterised by simplicity in installation and compatibility with virtually every type and brand of CCTV equipment.
At the heart of the Dinion is a specially designed ASIC which combines Bosch Security Systems' expertise in fields such as broadcasting, television, video, semiconductors and imaging, explains Tony Janse, product manager of Bosch Security Systems, Southern Africa. "This means the Dinion achieves a higher performance level than other cameras in its class. Integration of all necessary technology into a single chip allows high-end camera performance to be achieved in a standard camera."
Dinion cameras incorporate multiple picture enhancement features to aid detection and improve identification. NightSense guarantees excellent picture quality regardless of light levels. When it becomes too dark to permit proper colour reproduction, certain Dinion models (high resolution colour versions) automatically switch to monochrome and increase their sensitivity by a factor of three, therefore maintaining image integrity. The Lens Wizard software feature ensures perfect compatibility between lens and camera, resulting in optimal pictures in all circumstances.
Auto black enables the camera to automatically boost contrast in low-visibility conditions such as fog, or when the housing window is misty or dirty. The high dynamic range highlights even the most subtle nuances in both dark and light parts of the image, allowing a much better display of details. And the use of special 'colour fidelity' algorithms means that colour reproduction is exceptionally true and accurate. The Dinion also offers backlight compensation, colour temperature tuning and auto aperture correction.
All cameras are supplied pre-configured and more or less ready to operate. A pushbutton connector for 24 V power supplies means connection is completed in a matter of seconds, without the need for tools. The camera automatically detects which type of lens is connected (DC-Iris, manual Iris or video Iris), and then adjusts itself for optimum operation. The Dinion also incorporates an intuitive, on-screen menu system for adjusting various parameters to suit specific requirements. A side panel on the camera slides back to reveal five switches to help you navigate through the menu.
The Dinion has been aesthetically styled so the body and lens appear to be one object rather than two. This modern design, allied to its compact body size, gives it the ideal combination of discreteness and aesthetic appeal.
The Dinion functions with almost any type and make of CCTV equipment. Even with more specialised equipment such as switchers or digital video recorders, it basically plugs in and starts working. It can be part of configurations as large or small as required, from single-camera systems to networks large enough to cover an entire industrial complex.
The Dinion range comprises eight different cameras, four full-colour and four monochromes. Each is available with a standard or extra-high performance sensor, in PAL, NTSC, CCIR (European monochrome) or EIA (American monochrome). All variations can be ordered with either a high or low voltage supply.
The Dinion is intended for use predominantly as a fixed CCTV camera, although it can operate with pan and tilt mechanisms and zoom lenses if required. It is essentially an indoor camera, but can also be used in many outdoor applications - and it fits all standard outdoor housings. Pre-assembled and configured outdoor cameras with Varifocal lenses are also available for easier installation.
"The Dinion can be used in banks, offices, retail outlets, city centres, petrol stations, cruise ships, airports and industrial complexes, providing highly-reliable and affordable surveillance," says Janse.
Credit(s)
Further reading:
IDIS releases latest-generation 6 MP and 8 MP PTZ cameras
CCTV, Surveillance & Remote Monitoring
IDIS has launched four new 8 MP and 6 MP PTZ cameras that deliver excellent image quality and extend the company's trusted NDAA-compliant lineup.
Read more...
---
Eagle Eye introduces 'Smart Video Search'
Eagle Eye Networks CCTV, Surveillance & Remote Monitoring
Eagle Eye Networks has introduced Eagle Eye Smart Video Search, a new feature for all customers to make searching for video as fast and easy as searching the Web.
Read more...
---
Duxbury awarded Axis SA Distributor of the Year
Duxbury Networking News CCTV, Surveillance & Remote Monitoring
Axis Communications held its Annual Partner Awards on 1 July 2022 to celebrate and acknowledge the efforts of Axis' partners by awarding them for key projects and achievements throughout the year.
Read more...
---
AI in surveillance
Secutel Technologies CCTV, Surveillance & Remote Monitoring
Artificial Intelligence is the technological ability to work more efficiently and resolve problems. In the case of CCTV systems, this allows cameras with intelligence to identify certain objects and support ...
Read more...
---
Custom AI video analytics with AxxonSoft
LD Africa CCTV, Surveillance & Remote Monitoring
The AxxonSoft development team trains neural networks to tackle out-of-the-ordinary projects, including unusual viewing angles, difficult lighting, particular object types, thermal camera use and more.
Read more...
---
Passion, drive and hard work
Technews Publishing Editor's Choice CCTV, Surveillance & Remote Monitoring Security Services & Risk Management
Colleen Glaeser is a leader in the security market, having made her mark in the male-dominated security industry through determination and hard work, along with a vision of making the world a safer place.
Read more...
---
Cybersecure surveillance cameras
HiTek Security Distributors News CCTV, Surveillance & Remote Monitoring Cyber Security
Provision-ISR builds customer trust and opens up new opportunities with Check Point Quantum IoT Protect Firmware built into Provision-ISR cameras.
Read more...
---
Branches and roots
Cathexis Technologies CCTV, Surveillance & Remote Monitoring
Cathexis is a locally owned South African company where development engineers in the Durban office continue to innovate and improve the company's video surveillance management systems.
Read more...
---
Secutel expands into Africa and the UAE
Secutel Technologies CCTV, Surveillance & Remote Monitoring
Secutel Technologies expands into the African security technology market in a new partnership with RedWall Synergy and Total Secure Automation.
Read more...
---
Cathexis releases Carbon, a new user-friendly GUI
Cathexis Technologies News CCTV, Surveillance & Remote Monitoring
Cathexis has launched its latest user interface, Carbon 3.1, with an enhanced feature set, offering improved performance.
Read more...
---