printer friendly version
A rugged solution for a wireless surveillance channel
June 2004
CCTV, Surveillance & Remote Monitoring
Application possibilities for video surveillance abound including inner city surveillance, ports and airports, sports arenas and prison surveillance, to name but a few. The widespread acceptance of video surveillance has been hampered in many cases by extensive wiring requirements and limited operational range, typically influenced by line-of-sight restrictions and multipath problems. The poor performance of many such systems operating in mobile objects compounds the issue.
An innovative system on the market overcomes most of these problems. The core of the system is a sophisticated, multipath resistant, digital channel used to convey video images from remote video cameras to a central re-translator unit which in turn transmits the signal at a suitable higher power level to the distant control centre. The system provides for video, stereo audio as well a data link. See the illustration.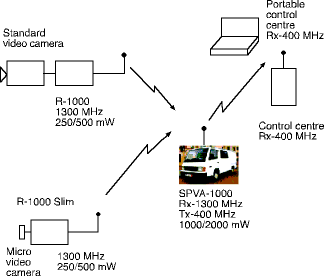 Standard video cameras (miniature or otherwise) are coupled to R-1000 transmitter units typically operating at 2400 MHz with an application-dependent output power ranging from 10 to 1000 MW. The video and audio feeds are compressed using MPEG2 and NICAM encoding respectively and then multiplexed with the data stream. The combined data package is subsequently modulated using coded orthogonal frequency division multiplexing (COFDM) technology. The data stream is then up-converted to the transmission frequency. Up to 24 such transmitter units communicate to a central re-translator unit (SPVA-1000). An R-1000 receiver unit receives the 2400 MHz signals from the remote units, demodulates them and re-modulates them onto a 400 MHz carrier at application-dependent output power up to 10 W. Direct re-modulation of the signal onto the 400 MHz carrier removes the need for MPEG-2 decoding at this point, thus optimising the data integrity.
The transmitted signal is received at the control centre, typically by a conventional R-1000, 400 MHz receiver and fed into a digital storage data bank (eg, Panasonic TRX7000). A mobile monitor option could be accommodated at the re-translator site. This would consist of an R-1000 2400 MHz receiver and portable recorder (eg, Sony DVR1000).
This COFDM based system provides an attractive opportunity to implement high reliability, non-line of sight, video transmission. COFDM's rugged modulation technique has led to its recent selection for two new broadcasting standards, DAB and DVB-T. DAB was specifically designed to cope with reception in moving vehicles involving time-varying multipath reception.
The output signal from the R1000-450 MHz Tx can be fed to an external power amplifier and directional antenna, providing the desired distance ranges.
Installations have already been performed at numerous sites. A typical installation sequence would involve a site visit, system design followed by product delivery, installation and training.
Credit(s)
Further reading:
AI technology to empower vertical markets
Dahua Technology South Africa Mining (Industry) CCTV, Surveillance & Remote Monitoring Products
Dahua WizMind is a full portfolio of solutions comprising project-oriented products that use deep learning algorithms to provide more business value to its global customers and deliver reliable and comprehensive AI solutions for vertical markets.
Read more...
---
Elvey partners with HALO
Elvey Security Technologies News CCTV, Surveillance & Remote Monitoring
Elvey Group has partnered with HALO Europe to provide Africa's first body-worn solution with zero upfront costs. This includes an IP68-certified body camera and a 4G-connected device.
Read more...
---
Regal announces new partnership
Regal Distributors SA CCTV, Surveillance & Remote Monitoring
Having a bird's eye view of your surveillance data, with the capability to drill down to the details obtained via connected security solutions, is a game changer for security operators, companies and even officers on the ground.
Read more...
---
Invisible connection and tangible protection via cloud
Dahua Technology South Africa Perimeter Security, Alarms & Intruder Detection CCTV, Surveillance & Remote Monitoring Products
Dahua Technology has launched its AirShield security solution that uses advanced, stable and reliable RF communication technology and cloud services, integrating alarm hubs, various detectors and accessories, with several software apps.
Read more...
---
Hikvision expands solar-powered solutions
CCTV, Surveillance & Remote Monitoring Products
Hikvision is offering a portfolio of solar solutions, the 4G solar-powered camera kit, a wireless bridge, and mobile solar security tower solutions to assist in keeping remote and isolated areas safe in a simple, practical, and cost-effective way.
Read more...
---
Affordable entry-level cameras from Dallmeier
Dallmeier Electronic Southern Africa CCTV, Surveillance & Remote Monitoring Products
Dallmeier has introduced the 'E' version of the DOMERA camera family, offering high image quality with 2 MP and 5 MP resolution, and providing detailed images even in low light conditions.
Read more...
---
The importance of the operator's frame of reference
Leaderware Editor's Choice CCTV, Surveillance & Remote Monitoring Security Services & Risk Management Mining (Industry)
The better the operator's frame of reference and situational awareness, and the more informed they are in dealing with CCTV surveillance in the mining industry, the more successful they are likely to be in surveillance.
Read more...
---
Enhancing surveillance on mines
Avigilon Technews Publishing Axis Communications SA Forbatt SA Hikvision South Africa Bosch Building Technologies Editor's Choice CCTV, Surveillance & Remote Monitoring Integrated Solutions Mining (Industry)
Smart Security approached a number of surveillance vendors to find out what the latest in surveillance technology is that can make a difference to security operations in mines, as well as general operations.
Read more...
---
Surveillance to improve worker safety
Axis Communications SA Mining (Industry) CCTV, Surveillance & Remote Monitoring Integrated Solutions
With substantial deposits of mineral resources, mining is critical for South Africa's economic growth and prosperity; however, mining can be dangerous, especially for the people working on the ground and in the shafts.
Read more...
---
Radar-video fusion camera
Axis Communications SA CCTV, Surveillance & Remote Monitoring Mining (Industry) Products
The AXIS Q1656-DLE Radar-Video Fusion Camera device brings video and radar analytics together in AXIS Object Analytics to deliver detection and visualisation.
Read more...
---