printer friendly version
Fibre in focus
June 2004 CCTV, Surveillance & Remote Monitoring, Test & Measurement
In the first article of this series we looked at the benefits of using fibre-optics in CCTV and related security applications (Hi-Tech Security Solutions March/April 2004, 'Fibre-optics in CCTV applications'). In this, the second of the articles focusing on fibre-optics, David Archer, technical manager, Fiber Options, examines the various components required to create a fibre-optic link, starting with the transmitter and ending with the receiver.
The function of a fibre-optic link is to provide an alternative means of communications to twisted pair wires or coaxial cables, and may simply be regarded as creating a 'virtual' connection between two existing electrical segments of 'conventional' copper cable, as shown in Figure 1. This is all that the link does. In the majority of cases, the better it is performing, the less the user will be aware of its presence.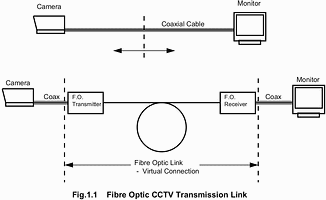 Fibre-optic CCTV transmission link
In its simplest form the link is comprised of just three components:
* A fibre-optics transmitter, for converting the incoming electrical signal from the source (eg, camera) into a modulated beam of light.
* The optical fibre itself, for guiding this light to a receiver over distances which can vary from a few metres to many tens of kilometres.
* A fibre-optics receiver, for reconverting the much smaller level of received light back into an equivalent electrical signal, usually identical in form to that of the source signal.
Most fibre-optic links contain additional components, such as connectors and spliced joints, in order to assist the practicality of the design.
Fibre-optic transmitter
The most important component in the fibre-optic transmitter is the optical light source, which will be either a semiconductor laser or light emitting diode (LED). Both serve the same purpose, which is to generate a microscopic beam of light that can be efficiently coupled into the fibre and modulated (varied in intensity) at high speed. Lasers provide greater optical intensities than LEDs and can also be modulated at higher speeds; hence these are used extensively for long-haul high-bandwidth applications such as telecommunications and cable TV. LEDs, on the other hand, are lower cost and more robust devices, yet are more than adequate for the vast majority of short- to medium-range applications and hence are widely used within the CCTV industry.
Apart from its function (ie, what signals it is required to carry), there are two significant characteristics that define the properties of a fibre-optic transmitter, whether laser and LED-based. One of these is the optical output power or intensity and the other is the wavelength (or colour) of the emitted light. This will usually be either 850, 1310 or 1550 nm (nanometres), values which have been chosen to coincide with certain low loss 'windows' in the fibre transmission characteristic.
Fibre-optic receiver
The fibre-optic receiver is tasked with the vital job of detecting the very small level of optical radiation emerging from the end of the fibre, and then amplifying the resulting electrical signal to the required level with minimal distortion and added noise. The lowest level of light that the receiver requires to produce an acceptable performance is referred to as its sensitivity; the difference between this and the transmitter output defines the maximum system loss capability in dB. A figure between 10 and 15 dB is typical for many LED-based CCTV surveillance CCTV systems.
Ideally, the receiver should be able to cope with a wide range of optical signal levels, as it is usually not possible to predict in advance precisely what degree of attenuation will be present in the fibre-optic link (length of link, number of connectors, etc). Many simple receiver designs employ a manual gain control that has to be set by the installer to achieve the required output level. This is undesirable, as inevitably there will be changes in link attenuation, caused by ageing or temperature variations etc, which will dictate a need for routine gain adjustments at recurring intervals.
All Fiber Options' receivers feature automatic gain control (AGC) that monitors the average level of incoming optical signal, and adjusts the receiver gain accordingly. No manual adjustment is required, either during installation or throughout its working life.
For more information contact Elvey Security Technologies, 011 401 6700, sales@elvey.co.za, www.elvey.co.za
Credit(s)
Further reading:
AI technology to empower vertical markets
Dahua Technology South Africa Mining (Industry) CCTV, Surveillance & Remote Monitoring Products
Dahua WizMind is a full portfolio of solutions comprising project-oriented products that use deep learning algorithms to provide more business value to its global customers and deliver reliable and comprehensive AI solutions for vertical markets.
Read more...
---
Elvey partners with HALO
Elvey Security Technologies News CCTV, Surveillance & Remote Monitoring
Elvey Group has partnered with HALO Europe to provide Africa's first body-worn solution with zero upfront costs. This includes an IP68-certified body camera and a 4G-connected device.
Read more...
---
Regal announces new partnership
Regal Distributors SA CCTV, Surveillance & Remote Monitoring
Having a bird's eye view of your surveillance data, with the capability to drill down to the details obtained via connected security solutions, is a game changer for security operators, companies and even officers on the ground.
Read more...
---
Invisible connection and tangible protection via cloud
Dahua Technology South Africa Perimeter Security, Alarms & Intruder Detection CCTV, Surveillance & Remote Monitoring Products
Dahua Technology has launched its AirShield security solution that uses advanced, stable and reliable RF communication technology and cloud services, integrating alarm hubs, various detectors and accessories, with several software apps.
Read more...
---
Hikvision expands solar-powered solutions
CCTV, Surveillance & Remote Monitoring Products
Hikvision is offering a portfolio of solar solutions, the 4G solar-powered camera kit, a wireless bridge, and mobile solar security tower solutions to assist in keeping remote and isolated areas safe in a simple, practical, and cost-effective way.
Read more...
---
Affordable entry-level cameras from Dallmeier
Dallmeier Electronic Southern Africa CCTV, Surveillance & Remote Monitoring Products
Dallmeier has introduced the 'E' version of the DOMERA camera family, offering high image quality with 2 MP and 5 MP resolution, and providing detailed images even in low light conditions.
Read more...
---
The importance of the operator's frame of reference
Leaderware Editor's Choice CCTV, Surveillance & Remote Monitoring Security Services & Risk Management Mining (Industry)
The better the operator's frame of reference and situational awareness, and the more informed they are in dealing with CCTV surveillance in the mining industry, the more successful they are likely to be in surveillance.
Read more...
---
Enhancing surveillance on mines
Avigilon Technews Publishing Axis Communications SA Forbatt SA Hikvision South Africa Bosch Building Technologies Editor's Choice CCTV, Surveillance & Remote Monitoring Integrated Solutions Mining (Industry)
Smart Security approached a number of surveillance vendors to find out what the latest in surveillance technology is that can make a difference to security operations in mines, as well as general operations.
Read more...
---
Surveillance to improve worker safety
Axis Communications SA Mining (Industry) CCTV, Surveillance & Remote Monitoring Integrated Solutions
With substantial deposits of mineral resources, mining is critical for South Africa's economic growth and prosperity; however, mining can be dangerous, especially for the people working on the ground and in the shafts.
Read more...
---
Radar-video fusion camera
Axis Communications SA CCTV, Surveillance & Remote Monitoring Mining (Industry) Products
The AXIS Q1656-DLE Radar-Video Fusion Camera device brings video and radar analytics together in AXIS Object Analytics to deliver detection and visualisation.
Read more...
---