printer friendly version
New 868,3 MHz transmitters and receivers
June 2004
IT infrastructure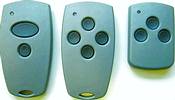 Dortech is pleased to announce the launch of a new range of RF transmitters and receivers which will operate at a frequency of 868,3 MHz.
This equipment is particularly useful for the applications where problems of range/interference or swamping have been experienced with the current standard frequencies. 868,3 MHz is the new approved frequency for 'short pulse' mode, which means that it cannot be used for applications such as baby monitors, headphones, etc, where the equipment is permanently switched on and likely to cause interference. The new frequency equipment consequently has exceptionally good range.
The new equipment will be available in the following formats:
* Digital 302 - 2-channel Mini 868 MHz.
* Digital 304 - 4-channel Mini 868 MHz.
* Digital 313 - 3-channel Micro 868 MHz.
* RC101-350 868 MHz Standalone Receiver 12-24 V a.c./d.c.
The Digital 302/304 Mini Transmitters are supplied with sun visor clips and have an optional wall bracket. The Digital 313 Micro Transmitters have been designed for attachment to a keyring and are very compact in size.
For more information contact Nigel Graham, Dortech, 031 700 8260.
Further reading:
Supporting local manufacturing
Industrial (Industry) IT infrastructure
Smart Security asked Esenthren Govender, Solutions Executive at Technodyn for insight into how the company supports local manufacturing organisations to optimise their business.
Read more...
---
The last mile of load shedding
IT infrastructure
With a Stage 16 draft in place, and stage eight load shedding almost put into practice (although some say it's already here unofficially), it's important that individuals and organisations get ready for what might happen if the lights go out.
Read more...
---
Data storage has a power consumption problem
IT infrastructure
We store data with electricity, placing data onto magnetic mediums or altering electric charges inside flash memory, but all that reading and writing requires electricity, which is becoming more expensive as supply crumbles.
Read more...
---
Veeam introduces new competency programme for partners
IT infrastructure News
Veeam Competency Programme for Veeam Value-Added Resellers and Veeam Cloud & Service Provider partners offers enhanced solution-oriented training and go-to-market capability development that increase credibility and visibility in the local marketplace.
Read more...
---
End the scourge of solar panel theft
Guardian Eye IT infrastructure Security Services & Risk Management
Modern solar installations are designed so they can be put together very quickly, but this means they can also be dismantled very quickly, and so there has been a massive spike in the theft of solar panels from roofs.
Read more...
---
Smart buildings require smarter networks
Commercial (Industry) IT infrastructure
The smart building is not a new concept, but it's more than just four walls built sustainably, but a network that interconnects people, processes, data, and things. Lots and lots of things.
Read more...
---
How international cloud trends impact Africa
Technews Publishing IT infrastructure
Enterprises are realising that hyperscale cloud is better suited to development and not everyday business, while the bills have also grown significantly as their cloud needs have become more complicated and sprawled.
Read more...
---
VMware unveils new security capabilities
Cyber Security IT infrastructure Products
At the RSA Conference 2023, VMware unveiled enhanced features for its suite of security solutions to address the increasing sophistication and scale of cyberattacks and to deliver strong lateral security across multi-cloud environments.
Read more...
---
Beyond the blackout
IT infrastructure Security Services & Risk Management
Julian Liebenberg, Chief of Cloud Platform Solutions at BCX discusses why cloud solutions are the future for large enterprises when dealing with the economic and productivity consequences of load shedding.
Read more...
---
AIOps-driven cloud management
IT infrastructure Products
Next generation of HPE Aruba Networking Central paves the way for the era of AI-powered network management; 'Agile NaaS' strategy simplifies delivery of critical network services via HPE GreenLake.
Read more...
---