printer friendly version
New 868,3 MHz transmitters and receivers
June 2004
IT infrastructure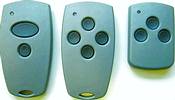 Dortech is pleased to announce the launch of a new range of RF transmitters and receivers which will operate at a frequency of 868,3 MHz.
This equipment is particularly useful for the applications where problems of range/interference or swamping have been experienced with the current standard frequencies. 868,3 MHz is the new approved frequency for 'short pulse' mode, which means that it cannot be used for applications such as baby monitors, headphones, etc, where the equipment is permanently switched on and likely to cause interference. The new frequency equipment consequently has exceptionally good range.
The new equipment will be available in the following formats:
* Digital 302 - 2-channel Mini 868 MHz.
* Digital 304 - 4-channel Mini 868 MHz.
* Digital 313 - 3-channel Micro 868 MHz.
* RC101-350 868 MHz Standalone Receiver 12-24 V a.c./d.c.
The Digital 302/304 Mini Transmitters are supplied with sun visor clips and have an optional wall bracket. The Digital 313 Micro Transmitters have been designed for attachment to a keyring and are very compact in size.
For more information contact Nigel Graham, Dortech, 031 700 8260.
Further reading:
ALM a key element of data security
IT infrastructure
ALM is core to any data security framework in the digital age and it is an element that no business can afford to be careless with.
Read more...
---
Integrate, integrate, integrate
IT infrastructure
Security and speed will always war for dominance in DevOps but it's time to integrate the two as the landscape becomes increasingly fractious and complex.
Read more...
---
The benefits of Managed File Transfer
IT infrastructure Products
Blue Turtle Technologies looks into how a Managed File Transfer platform benefits businesses, as opposed to the usual FTP or SFTP suspects.
Read more...
---
Accelerating your Zero Trust journey in manufacturing
IT infrastructure Cyber Security Industrial (Industry)
Francois van Hirtum, CTO of Obscure Technologies, advises manufacturers on a strategic approach to safeguarding their businesses against cyber breaches.
Read more...
---
Cyber resilience is more than cybersecurity
Technews Publishing Editor's Choice Cyber Security Integrated Solutions IT infrastructure
Hi-Tech Security Solutions held a round-table discussion focusing on cyber resilience and found that while the resilience discipline includes cybersecurity, it also goes much further.
Read more...
---
Keeping devices in check
Cyber Security Asset Management, EAS, RFID IT infrastructure
Kaspersky patents new technology for analysing relationships between electronic devices to counter cyberattacks launched through connected IoT devices.
Read more...
---
IQ WiFi 6 supporting users and security installers
IT infrastructure Products
The IQ WiFi 6 is a new purpose-built mesh router solution for homes and businesses with security, automation and Wi-Fi devices.
Read more...
---
Considering cloud downtime insurance?
Arcserve Southern Africa Cyber Security IT infrastructure Security Services & Risk Management
Byron Horn-Botha, business unit head, Arcserve Southern Africa, reveals three vital steps that you must consider to ensure business continuity before you buy insurance.
Read more...
---
A robust OT cybersecurity strategy
Editor's Choice Cyber Security IT infrastructure Industrial (Industry)
Cyber experts are still struggling to convince senior management to spend money to protect their control system assets, resulting in a lack of even basic measures to protect control systems.
Read more...
---
IT security at the core of smart cities
Cyber Security IT infrastructure Government and Parastatal (Industry)
The success of service delivery and public access to universal Wi-Fi, home automation and smart sensors is based on increased IT security.
Read more...
---