printer friendly version
ClipDrive Bio available locally from NamITech
June 2004
Products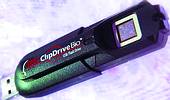 NamITech has announced that it will be distributing the new ClipDrive Bio family of secure data storage devices locally on behalf of Memory Experts, providers of memory and storage solutions to the international IT and office equipment markets.
"We are very excited about this new product," says Andrew James, sales executive, NamITech. "We believe there is a large need for a secure device of this calibre in the local market, particularly with the use of USB Flash Drives, which may not be that secure, becoming more the norm."
Employing state-of-the-art biometric technology to guarantee data security in a lightweight, robust and small form factor, the device is configured into two partitions, one public, the other secure. The secure partition cannot be seen or compromised without an authorised fingerprint to allow access.
The ClipDrive Bio not only secures data, but can also integrate with biometric login control systems, so that access to the PC or the corporate network can be biometrically secured, both for employees based in a company's office and for mobile workers.
With the embedded biometric scanner and seamless, 128-bit AES based cryptography, the ClipDrive Bio design enables IT managers to roll-out secure USB storage devices to staff that need them, ensuring that important documents and files are secure. It can also be used as the biometric authentication device for many leading biometric logon applications.
The ClipDrive Bio utilises a high-definition 128x128 'TruePrint' technology pixel array Biometric scanner coupled with seamless AES based file encryption to deliver high security in a portable flash drive, and comes in a variety of storage capabilities ranging from 64 Mb to 2 GB, all in a thumb-sized footprint weighing less than an ounce.
TruePrint technology reads beyond the surface layer of the skin to the live layer where the true fingerprint resides. Unlike surface-based optical, thermal, and DC capacitive technologies, TruePrint is not affected by common skin surface conditions such as dry, worn, callused, oily or dirty skin which can affect the sensor's ability to acquire accurate fingerprint images. TruePrint also offers a highly reliable security architecture starting from the anti-spoofing capabilities, supported by template encryption and digital signatures throughout the matching process.
For more information contact Andrew James, NamITech, 011 458 0000, andrew.james@namitech.com, www.namitech.com
Further reading:
Olarm launches the Olarm LINK
Olarm Perimeter Security, Alarms & Intruder Detection News Products
Building on the success of smart-enabling, monitoring and controlling alarm panels and electric fences, Olarm has a new solution for customers to integrate gates, garage doors, pumps and other electrical products with the Olarm APP and Olarm PRO communicator.
Read more...
---
Ultimate smart monitoring and reliability
Olarm Perimeter Security, Alarms & Intruder Detection News Products
Olarm is gearing up to unveil its latest product, the Olarm MAX, set to be available in late 2023, which will redefine smart monitoring by offering unparalleled connectivity options and functionality.
Read more...
---
Cloud-based or on-premises access control
Salto Systems Africa Access Control & Identity Management Products
Choosing between cloud-based and on-premises access control solutions can be a difficult decision, however, the best solution for your organisation, property, or building type will depend on a range of factors.
Read more...
---
New distributed acoustic sensors in EMEA
Perimeter Security, Alarms & Intruder Detection Products
OPTEX introduces new EchoPoint Distributed Acoustic Sensors (DAS) for advanced point location intrusion detection, using intelligent detection algorithms to provide point detection of +/- 6 m in a range of up to 100 km.
Read more...
---
AI technology to empower vertical markets
Dahua Technology South Africa Mining (Industry) CCTV, Surveillance & Remote Monitoring Products
Dahua WizMind is a full portfolio of solutions comprising project-oriented products that use deep learning algorithms to provide more business value to its global customers and deliver reliable and comprehensive AI solutions for vertical markets.
Read more...
---
Improved security health check tool
Gallagher Access Control & Identity Management Products
Gallagher Security has streamlined its free Security Health Check tool, making it easier than ever to protect against potential system risks and improve business efficiencies.
Read more...
---
Maximum fire protection for the most dangerous places
Securiton Fire & Safety Mining (Industry) Products
Africa's heavy mining and resource processing industries are some of the continent's leading economic lights. They also present some of its toughest fire safety challenges on the planet.
Read more...
---
RDC expands its production capabilities
Radio Data Communications Perimeter Security, Alarms & Intruder Detection Products
Local electronics manufacturer, RDC, recently acquired a new SMT (surface mount technology) machine to boost its manufacturing output and meet the needs of its global customer base.
Read more...
---
Suprema showcases integrated security solutions
Suprema Access Control & Identity Management Products
Apart from being an access terminal that supports multiple credentials such as facial recognition, RFID, mobile and QR codes, the BioStation 3 also supports VoIP Intercom and real-time video monitoring features to make it a truly multi-functional reader.
Read more...
---
Unlock seamless security with integrated products
Secutel Technologies Integrated Solutions Products
By combining SecuVue and Secutraq, Secutel has created a system that enables users to configure analytics, facial recognition, pose detection, and XFS among other security triggers modern service providers require.
Read more...
---