printer friendly version
Total school security
June 2004
Security Services & Risk Management
It does not pay to take chances when it comes to school security. ADT Security has developed a special package to ensure the safety of scholars, as well as the valuable equipment found on school premises.
South African schools have, unfortunately, become soft targets for crime. As many schools increase their investment in capital equipment such as computers, the 'pickings' have been identified as lucrative and the incidences of school break-ins and theft are on the increase.
School crimes tend to range from the petty, like vandalism and car break-ins, to large-scale robbery resulting in the theft of expensive computer or laboratory equipment. More worrying, the threat of bodily harm or kidnapping of the pupils themselves is also on the increase. Very often, security is not receiving the attention, planning or expenditure it deserves. Decisions are often taken to opt for the cheapest solution, very frequently to the detriment of the school.
"ADT Security has recognised the pitfalls currently associated with many school security initiatives, and has put in place measures to cater specifically to the school environment," says Danna Strydom, managing director of ADT (South Africa). The company offers a full package: guards, armed response, fire detection and closed circuit television to ensure that all security needs are met. A recently installed vehicle tracking system (GPS) ensures that ADT can monitor its fleet at all times, increasing visibility in certain areas if and when necessary. The system allows for pro-active management of the fleet.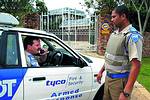 The synergy between ADT Security's armed response and guarding divisions offers schools the most seamless, effective security solution available
Many insurance companies are no longer prepared to provide cover if the security company employed does not meet up to certain specifications. ADT already meets most insurance requirements, and is a member of the South African Intruder Detection Services Association (SAIDSA), a body that aims to achieve quality service in the electronic, security and armed reaction industry in South Africa, by controlling admission to the Association. In this way, the Association creates an environment where the public, commerce and industry can expect minimum compliance standards. It is also now the school's legal obligation to ensure the security company they use is, in fact, registered with the Private Security Industry Regulatory Authority (SIRA). Failure to do this could result in criminal charges to the client. ADT is registered with SIRA and complies to the legislated requirements.
As the largest provider of monitoring and armed response services in South Africa, with an extensive national network and international affiliation, ADT is able to draw on world-class expertise and wide-ranging local resources to ensure the very best applications for the job are utilised. The synergy between the company's armed response and guarding divisions offers the most seamless, effective solution available, and this was recognised recently when the company was awarded PMR Golden Arrow and Diamond Arrow awards by Professional Management Review magazine.
Out of 14 attributes, including quality of installations; speed of response/attitude/effectiveness; confidence in reaction service; ongoing maintenance/after sales service; quality and reliability of equipment; false alarm rate; commitment of management; innovative solutions to client needs; effectiveness of alarm monitoring; range of products and application; national coverage; technology and value for money, ADT was rated best in the country.
In addition to first-class personnel, ADT makes use of state-of-the-art technology to offer schools comprehensive security solutions. For example, the company has implemented its own special in-house techniques to minimise computer theft in schools. A new hardwired technological development, exclusive to ADT, ensures 24-hour protection of school equipment. Secondly, an advanced intruder detector, based on radar technology, has been specially developed for the school environment. "The implementation of these two technological innovations has proven very successful," says group Technical Manager Terry van Zyl. "It is also the only company in the world to use an exclusive environmentally friendly gel battery in its alarm system, ensuring that should the battery leak, it will not harm children or the environment."
ADT has always adhered to the tenet of training its staff to set principles and running its business according to the highest standard. Training and staff selection is critical in the security industry and ADT checks all security staff job applicants' profiles, including fingerprint and ID book verification, to detect possible security risks. ADT also runs an ongoing culture system, known as the 'Big 5', which encourages all staff to act in a professional, reliable, competent, honourable and proactive manner. This philosophy is applied to all spheres of the ADT business.
Guarding plays a pivotal role in the ADT mix. This venture has a number of blue chip clients, including many of the embassies in South Africa, and selects only the best guards for this front line and highly visible form of security. The company's customised guarding services in the commercial, corporate, industrial and domestic sectors operate in collaboration with the armed response services and technical support division, enabling ADT to offer a comprehensive and effective security package.
For more information contact ADT Security, 086 12 12 420.
Further reading:
The Deposita Protector 3000 d-s1
Deposita Security Services & Risk Management
The Protector 3000 d-s1, designed for medium-sized enterprises, improves the level of security at the business and helps optimise resources by streamlining cash-handling processes.
Read more...
---
Top fraud trends to watch in 2023
News Security Services & Risk Management
Even though financial concerns remain a significant obstacle for companies in implementing new anti-fraud technologies, 60% of businesses expect an increase in their anti-fraud technology budgets in the next two years.
Read more...
---
Be cautious when receiving deliveries at home
News Perimeter Security, Alarms & Intruder Detection Security Services & Risk Management
Community reports of residents being held up at their gate when collecting fast food deliveries at home are once again surfacing.
Read more...
---
Sasol ensures Zero Trust for SAP financials with bioLock
Technews Publishing Editor's Choice Cyber Security Security Services & Risk Management
Multi-factor authentication, including biometrics, for SAP Financials from realtime North America prevents financial compliance avoidance for Sasol.
Read more...
---
Protecting yourself from DDoS attacks
Cyber Security Security Services & Risk Management
A DDoS attack, when an attacker floods a server or network with Internet traffic to prevent users from accessing connected online services, can be costly in both earnings and reputation.
Read more...
---
Crossing the chasm
Editor's Choice News Security Services & Risk Management Training & Education
Industry reports suggest that in the next ten years, millions of jobs could go unfilled because there simply are not enough people to fill them.
Read more...
---
Records in place now, not later
Editor's Choice Security Services & Risk Management
It is important, after an incident, to have records in place as soon as possible. Too often the matter is left for the day when the company is going to court, or a disciplinary hearing is scheduled.
Read more...
---
Considering cloud downtime insurance?
Arcserve Southern Africa Cyber Security IT infrastructure Security Services & Risk Management
Byron Horn-Botha, business unit head, Arcserve Southern Africa, reveals three vital steps that you must consider to ensure business continuity before you buy insurance.
Read more...
---
Real-world sustainability and innovation
Axis Communications SA Security Services & Risk Management
Technology such as smart city surveillance systems, in combination with video analytics that use artificial intelligence to analyse, prioritise and make decisions, enables cities to use resources as efficiently and sustainably as possible.
Read more...
---
The $600 000 question
Cyber Security Security Services & Risk Management Financial (Industry)
Usman Choudhary, chief product officer of VIPRE Security Group, advises companies to do the basics to protect themselves before looking for cyber insurance.
Read more...
---