printer friendly version
Iridium 9505 handset shifts satellite boundaries
February 2004
IT infrastructure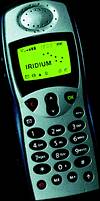 The Iridium Satellite Series 9505 portable telephone transcends other currently available satellite communication offerings, according to its local distributor Lipton Griffin International (LGI), the authorised African distributor of both Motorola and Globalcom, Africa's premier Iridium Satellite service provider.
While satellite handsets are by no means as feature-rich as their cellular counterparts - at least not yet - products like the Iridium 9505 are a far cry indeed from the old briefcase phones with their accompanying mini satellite dishes!
The Iridium 9505 mobile satellite phone is smaller, lighter and more water, dust and shock resistant than its predecessor, the 9500. These qualities along with its inherent robustness make it an ideal tool for industrial environments and the rugged conditions prevalent in Africa.
Take it to the top of Kilimanjaro, into the barren heart of the Sahara, from Cape to Cairo, or even Cancun to Calcutta; the power of the 9505, combined with Iridium's global coverage means that communicating is a cinch wherever you are. This go-anywhere phone also incorporates the best features of GSM technology, like SMS messaging, genuine portability versus 'briefcase portability', and more.
Among the exclusive features of the Iridium 9505 is a headset jack, while other functionality includes an illuminated graphic display and keypad, 32-digit number capacity phone book, a 16-digit (character) name tag capability and continuous signal strength display.
A standard 9505 battery delivers up to 2,4 hours of talk time and 24 hours of standby, while the optional High Capacity Battery offers 3,6 hours talk time, 38 hours standby and the Ultra High Capacity Battery an impressive 7,6 hours talk time or 72 hours standby. Fast charging time for the standard battery is just 2,5 hours.
Iridium Satellite LLC, now firmly in the black after digesting its initial start-up costs, is the only provider of truly global satellite voice and data solutions, with complete coverage of the earth, including oceans, airways and the polar regions. The company's products and services are sold and supported by a global network of distributors like LGI and service providers such as Globalcom, while its larger clients include the likes of the US Department of Defense.
Satellite communications have long been touted as the solution for Africa's lack of telecoms infrastructure, but until recently the high cost thereof meant that it was only available to those representing the pockets of extreme wealth on the continent. Satellite telephony, is however, becoming more affordable and package deals like Iridium's Africa Special Airtime - at just US $1 per minute, to call from anywhere in Africa to anywhere in the world - put it within the reach of a far greater market.
For more information contact Greg Lipton, Lipton Griffin International, 011 722 4017/4050.
Further reading:
Cat S42 enhanced with antimicrobial protection
Issue 9 2020 , IT infrastructure
Every external surface of the Cat S42 has now been enhanced with advanced antimicrobial product protection, making it an anti-bacterial phone.
Read more...
---
Four networking trends for 2021
Issue 9 2020 , IT infrastructure
With the coronavirus continuing its grip on the globe, organisations have to take the experiences and learnings from the previous year and apply them to their IT strategies if they are to find success.
Read more...
---
Arcserve X Series Appliances secured by Sophos
Issue 9 2020 , IT infrastructure
Arcserve introduces multi-petabyte Appliances to secure big data from cyberattacks, IT disasters and large-volume data loss.
Read more...
---
SIM management tool for IoT security devices
Issue 9 2020, Flickswitch , IT infrastructure
SIM management can appear easy when you start off, but quickly becomes complicated as your SIM base grows.
Read more...
---
LD Africa joined forces with Jimi IoT
Issue 9 2020, LD Africa , IT infrastructure
LD Africa is now an approved distributor of Jimi IoT security solutions such as body-worn cameras, PTT walkie-talkies over GSM and specialised CCTV cameras.
Read more...
---
Opportunities on the edge
Issue 9 2020 , Editor's Choice, IT infrastructure
The ability of organisations to realise business value from data increasingly depends on their capacity to collect, process, store and analyse it at the edge.
Read more...
---
Think data protection first, POPIA compliance will come
Issue 9 2020, AVeS Cyber Security , IT infrastructure
Rather than focusing only on compliance, use POPIA as an opportunity to sharpen your organisation's data protection capabilities.
Read more...
---
TRENDnet introduces ONVIF conformant Smart Surveillance switches
Issue 7 2020, TRENDnet , IT infrastructure
Gigabit PoE+ Smart Surveillance switches support PoE self-healing and integrated camera management features, and are ONVIF Profile Q conformant.
Read more...
---
First Distribution to distribute Video Storage Solutions
Issue 8 2020 , News, CCTV, Surveillance & Remote Monitoring, IT infrastructure
First Distribution has signed an agreement to distribute the entire Video Storage Solutions (VSS) product line of video surveillance appliances.
Read more...
---
COVID-19 will foster much needed collaboration in the future of work
Issue 7 2020 , IT infrastructure
Business leaders are starting to discuss the lessons learnt from these challenging times and how they can be used to shape the future world of work.
Read more...
---