printer friendly version
Lightweight interview recorder
November 2000
Security Services & Risk Management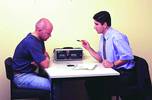 NEAL recently launched its new lightweight interview recorder, specifically designed for use in commercial investigations, at Securex 2000.
NEAL interview recorders provide two identical copies of the interview which have time and date stamping for authenticity. At the end of the interview, one cassette can then be sealed and archived while the second offers a working copy which can be used for transcription as well as duplication for the interviewee/employee.
Many commercial organisations in the UK are now beginning to tape record investigative and disciplinary hearings. The advantages perceived by security officers in moving to audio taping are the accuracy of statement recordings as well as the obvious benefit of time and money saving. A complete and accurate recording of a disciplinary hearing can therefore eliminate later disputes. It reduces the extent to which either party can challenge the discussion that occurred within the hearing.
The recording of important personnel interviews is also prevalent amongst Human Resource departments, and adheres to the same principles of efficiency and fairness. Research recently published by Ernst & Young shows that 84% of severe frauds within UK organisations are committed by their own employees. In order to prevent dishonesty and reduce risks, an increasingly popular method is to trace the problem right back to the initial stage of employee recruitment.
Choosing the right candidate remains a difficult and hazardous procedure. An employee appointed on the basis of fictitious qualifications could prove to be costly in the future.
Tape recording of personnel interviews ensures that there is no misunderstanding upon what employer and employee have agreed. This is an impartial method of obtaining a full record of the interview in a neutral environment.
NEAL has been supplying every UK police force with recorders which comply with the stringent requirements of the Police And Criminal Evidence (P.A.C.E.) Act for over 10 years. Although the use of recording systems by UK Police is a requirement by law, it is now becoming well accepted within commercial organisations which also want to follow codes of best practise.
For more details contact Olivier Diesnis: tel: (0944) 191 418 1000 fax: (0944) 191 418 1001, e-mail: od@canford.co.uk
Editor's note:
Many countries have taken a lead from the UK and have approved the use of interview recording. The Dutch, Belgian and Austrian police forces have been using interview systems for the past few years. Recently, French authorities voted that child witness interviews should be tape recorded. Outside of Europe, Australia has been recording suspects for 10 years.
However, South Africa has yet to take any steps towards implementing such a system. At present, the SAPS has an interview recorder from CAnford under evaluation. In a country, such as South Africa, where individual and constitutional rights takes centre stage, interview recording is a technology that should be in use.
Further reading:
Putting secondary storage to work
September 2019 , IT infrastructure, Security Services & Risk Management
By 2022, more than 80% of enterprise data will be stored in scale-out storage systems in enterprise and cloud data centres, up from 40% in 2018.
Read more...
---
ContinuitySA offers Complete Continuity Practitioner in October
September 2019, ContinuitySA , Training & Education, Security Services & Risk Management
ContinuitySA is offering its popular five-day Complete Continuity Practitioner Programme on 21-25 October 2019 at its offices in Midrand.
Read more...
---
Security workforce compliance tool
September 2019 , Security Services & Risk Management
To maintain service excellence across a security workforce is impossible without the help of information systems and technology.
Read more...
---
Call back the past
September 2019, SCAN RF Projects , Security Services & Risk Management
Two-way radios are still very relevant in the security world and have gone through significant advances over the past few years to enable them to keep up with the expectations of people in today?s connected world.
Read more...
---
Proficient operational security management
September 2019 , Security Services & Risk Management
The quest to establish an organised and integrated security operations programme based on a Plan-Do-Check-Act (PDCA) cycle for continuous improvement is paramount for a successful security operation.
Read more...
---
Increase security efficiency, decrease costs
September 2019 , Security Services & Risk Management, Integrated Solutions
Trackforce offers customisable mobile and web applications to increase security operational efficiency and lower costs.
Read more...
---
Accurate guard tracking and management
September 2019, Secutel Technologies , Security Services & Risk Management, Products
There are many challenges when it comes to effectively managing and tracking a guarding workforce in real time.
Read more...
---
X-rays in 3D
September 2019, XPro Security Solutions , Editor's Choice, Security Services & Risk Management
Hi-Tech Security Solutions asked Greg Dixon, director of XPro, for some insights into X-ray scanning and its pros and cons in today?s volatile world.
Read more...
---
Smart Inspection Unit developed by Roteck
September 2019 , Editor's Choice, Security Services & Risk Management
Roteck has announced a portable personnel and bag scanning unit that can easily be transported, set up and used in almost any location.
Read more...
---
Mobile guards on patrol
September 2019, Dahua Technology South Africa , CCTV, Surveillance & Remote Monitoring, Security Services & Risk Management
Dahua Technology developed mobile ?Video Guards? along with a complete solution for a security service company in Germany.
Read more...
---