printer friendly version
Lenel integrates wireless access control technology
October 2003
Access Control & Identity Management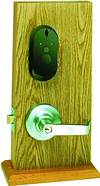 Lenel Systems International recently announced that it has integrated into its OnGuard total security knowledge management solution Wyreless Access peripherals from Recognition Source, the leader in wireless solutions for access control applications. The result is an access control solution that combines the power and reliability of wired access control with all of the benefits of wireless technology.

Lenel has taken its OnGuard total security knowledge management solution and the Wyreless Access product line to the next level in system integration. By developing a direct RS485 interconnect to the Wyreless Access panel interface module (PIM-485-16), the number of PIMs required for a system is reduced by up to a factor of eight.
"We are very excited that Lenel has partnered with Recognition Source to provide wireless access control using their LNL-500W gateway interface module," explained Fred Conforti, president of Recognition Source. "This will substantially reduce the cost per door. It makes Wyreless access affordable at every access point in a system - doors, elevators and gates. In addition to the time and cost savings, a burdensome amount of hassle will be removed from the integrator's life."
"This is Lenel's first wireless offering, and we chose to integrate Recognition Source's Wyreless Access technology because of its reliability and reputation for quality," said Rudy Prokupets, Lenel's chief technology officer and executive vice president of research and development.
"The use of wireless solutions greatly simplifies the installation of access control systems, by virtually eliminating the need for wiring from the control panels to all points of access or security monitoring. Systems can now be installed in days instead of weeks, or weeks instead of months," Prokupets added.
All of the devices needed for door control and monitoring are built into the Wyreless Access peripheral called the modular integrated reader lock. Incorporating access control at a door merely requires removing the old lock hardware and installing the new modular integrated reader lock hardware. A door installation can be completed in less than an hour, compared to several hours in a wired application. For gate retrofit applications, the need for trenching is eliminated. For elevator applications, the need for travelling cabling is eliminated. And for remote doors in adjacent buildings, the need for overhead wiring is eliminated.
"The alliance between Recognition Source and Lenel will benefit both integrators and end-users since Wyreless Access devices can eliminate 67% of the devices usually needed to incorporate access control at a door, and up to 99% of the wire that is needed in a wired system installation," explained Conforti.
The wireless transceivers, which combine high transmitter power with high sensitivity receivers, give reliable and broad coverage. The use of spread spectrum technology with encrypted signals incorporating PIN numbers, random addresses, time slots and deliberate requests for commands, ensures the security of the system. Patented energy saving technology enables the power supply to give up to four years of battery life with up to 20 000 operations per year.
For more information contact Phil Mailes, Lenel Systems International, 0944 1483 815230, phil@lenel.com, www.lenel.com
Further reading:
You cannot bribe a computer
Access Control & Identity Management Security Services & Risk Management
Corruption is a cancer that destroys the prospects and stability of countries and businesses. It widens wealth gaps and punishes the poor. It costs countries many billions in lost revenue.
Read more...
---
Heightening physical security at military base
Turnstar Systems Access Control & Identity Management Government and Parastatal (Industry) Products
Turnstar Systems recently installed two 3-metre Velocity Raptor traffic spikes at the South African National Defence Force (SANDF) Randfontein military base on Gauteng's West Rand.
Read more...
---
Zero Trust to dominate 2023
Cyber Security Access Control & Identity Management
Traditional ways of safeguarding data are no longer sufficient in 2023. Zero Trust has emerged as a more proactive way for businesses to keep their systems, data, and networks protected against compromise.
Read more...
---
Turnstar opens an office in the UK
Turnstar Systems News Access Control & Identity Management
Turnstar Systems recently established an office in the Greater Manchester borough in the North East of England, as part of the company's ongoing expansion strategy.
Read more...
---
Enkulu Technologies to distribute Brazil's Control iD
News Access Control & Identity Management Products
Enkulu Technologies has been appointed as the first South African distributor of Control iD products; a Brazilian company offering a T&A range of solutions based on its range of biometric products.
Read more...
---
HID Technology Seminar
Technews Publishing HID Global News Access Control & Identity Management Products
HID Global's technology seminar introduced partners and distributors to the company's new Signo range of readers and highlighted the benefits and global growth of mobile access credentials.
Read more...
---
Celebrating a successful year
Gallagher Technews Publishing News Access Control & Identity Management Products
Gallagher Security hosted an end-of year event at the Steyn City Equestrian Centre in which it thanked its partners for another successful year and provided a glimpse into what the company will be releasing in 2023.
Read more...
---
Innovation and service, 37 years and counting
Technews Publishing Impro Technologies Access Control & Identity Management Integrated Solutions
Innovation, simplicity and trust underpin the nearly 40 years of success of local access control brand, Impro Technologies, which is still run as an independent entity despite being acquired by ASSA ABLOY in 2016.
Read more...
---
Access control for one of Britain's oldest boarding schools
Access Control & Identity Management Education (Industry) Products
In 2022, Christ's Hospital School, which hosts 18 boarding houses on site, needed to replace its access control security system with a new solution that would be simple to manage and maintain.
Read more...
---
Improving safety and security
Gallagher Education (Industry) Access Control & Identity Management Integrated Solutions
Education facilities have more than enough to deal with when it comes to allocating budget. Security often seems to be the last item on the agenda but is more important than ever.
Read more...
---