printer friendly version
Multimedia videoconference system
August 2003
IT infrastructure
With its unique MPEG4 audio and video coding, the new Sony PCS-1P videoconference systems are able to deliver high quality audio and video.
"An increasing number of corporate companies, educational establishments, scientific institutions and medical practitioners are using videoconferencing to improve their internal as well as external communications - bringing people together to share ideas and make decisions, wherever they are in the world," comments Sony Business SA product manager, Dave Schultz.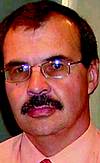 Dave Schultz
Quick and easy to set up, the compact PCS-1P plugs into a standard office network, ISDN network or connects to the Internet to deliver high quality audio, video and data conferencing without requiring special cabling or difficult configuration. The broadcast-quality picture and ability to reach speeds up to 2 Mbps on IP networks and up to 768 Kbps on ISDN, set the PCS-1 unit apart.
Explains Schultz: "Up to two PCs or notebooks can be connected simultaneously, allowing presenters to switch seamlessly between PCs and transmit screen images at the touch of a button. With two monitors connected, one screen can display data presentations while the other displays video and audio of the presenter. Larger images can be displayed by connection to an external data projector, television or plasma screen."
Other features include:
* Multipoint videoconferencing - The PCS-1P can connect up to six international locations into one meeting instantly. All participants can be seen on one TV monitor in the Sony 5+1 continuous presence mode, while the high resolution data or whiteboard drawings are projected via the second monitor or projector.
* Digital whiteboard support - Further improving the natural interactivity of a face-to-face meeting, a Mimio Xi Digital Whiteboard can be connected directly to the PCS-1P, allowing handwritten notes, drawings and diagrams to be displayed in realtime. Notes and other annotations can also be captured by the PCS-1P and stored to Memory Stick for sharing, storage or wider distribution.
* Super acoustic system support - The Sony CTE-600 Audioconference device can be added to provide every participant in the room with superb quality microphone and loudspeaker audio reproduction. Alternatively, up to five separate microphones can be connected to ensure that every voice in the room is heard clearly.
* Encryption - The PCS-1P supports the Advanced Encryption Standard (AES) to make sure that confidential information stays secure within your conferences.
For more information contact Sony Business SA, 011 690 3200.
Further reading:
AI and self-healing
Issue 7 2020 , IT infrastructure
Storage infrastructure that has in-built capacity as well as the ability to self-heal and self-tune is critical.
Read more...
---
Understanding the need to secure your SD-WAN platform
Issue 7 2020 , IT infrastructure
SD-WAN functions need to be virtualised to keep up with evolving security threats and to control the cost of updating and upgrading security elements.
Read more...
---
Software-defined everything
Issue 7 2020 , IT infrastructure
BCX prepares businesses for the future with the launch of its Multi Domain Software Defined Network, applying intent-based networking throughout the enterprise.
Read more...
---
Beating the recessionary blues
Issue 6 2020 , IT infrastructure
Most companies are looking to eke out savings by sweating technology assets a bit longer and by trimming operating costs.
Read more...
---
Designing a modern security network
Issue 6 2020, Regal Distributors SA , IT infrastructure
Traditionally security networks have served us well, but with the rapid advancements in technology it may be time to review the requirements for your security network.
Read more...
---
Home-grown, cloud-based safety and security solutions
Residential Estate Security Handbook 2020 , IT infrastructure, Integrated Solutions
BeSecure has taken security and communications technologies and turned them into what is best described as care and safety solutions for the estate community in South Africa.
Read more...
---
Bringing the wonders of fibre to your estate
Residential Estate Security Handbook 2020, Vox Telecom , IT infrastructure
The Hi-Tech Security Solutions' Residential Security Conference in Durban was a magnificent event where Vox showcased its visitor management solution.
Read more...
---
Protecting your electrical equipment
Residential Estate Security Handbook 2020, BFR Digital, PSS Distributors , IT infrastructure
Load shedding is a constant danger as the surges that occur when the lights come on cause damage to electronic equipment, including security equipment, unless it is protected.
Read more...
---
Hunting for backdoors in counterfeit Cisco devices
Issue 5 2020 , IT infrastructure
F-Secure's investigation highlights challenges facing organisations that discover counterfeit devices in their IT infrastructure.
Read more...
---
5G brings immediate opportunities for SA
Issue 6 2020 , IT infrastructure
The recent launch of 5G technology in South Africa presents several highly attractive opportunities for consumers, carriers and industry at large.
Read more...
---