printer friendly version
Expandable control panel
June 2003
Access Control & Identity Management

The CS250 security panel from GE Interlogix is an 8-zone control panel that can be expanded to up to 16 or 24 zones by adding either one or two 8-zone hard-wired input expanders or one or two RF (wireless) gateways.
Each RF gateway supports up to 8 or 16 RF devices such as PIRs, door/window detectors, smoke detectors, shock sensors acoustic glassbreak detectors as well as up to 16 RF keyfobs. Patented Learn-Mode Technology ensures the ease and reliability of installation. Each device has its own factory-programmed identity so the receiver 'learns' the identity of each device, dramatically reducing installation time and eliminating programming errors in the field. The gateway monitors the alarm, battery, tamper and supervisory status of each transmitter. In addition, it reports any change in status to the panel, which takes action according to the programmed zone types.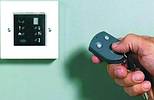 Flexible zone configuration
All zones can be freely programmed as any of the following types: burglary, exit/entry (x 2), access, 24 hour, lifesafety (fire, medical, personal attack), tamper, keyswitch, emergency and timed door. In addition, a dedicated output for fire detector power with reset control allows the connection of 2 or 4 wire smoke detectors.
Integrated communicator
An integrated fully featured communicator and modem embraces a wide range of applications. The communicator offers a choice of five formats for alarm reporting including Voice Protocol for use with a voice module. Available as an optional accessory, this module provides the end user with an attractive alternative to central station reporting by sending pre-recorded messages to friends or neighbours.
Programming made easy
The panel can be programmed in several ways to suit your application. On-site, the LCD keypad offers full programming possibilities using an intuitive menu structure. Alternatively, by using a serial interface, the panel can be connected directly to a PC for programming using our Windows-based software package. Off-site, the same software package allows remote programming and the upload and download of panel data by dial up connection via the on-board modem.
Remote diagnostics
Whilst on-line, several key parameters of panel operation can be verified without having to visit the installation. This includes the display of mains power status and battery voltage, the loop-state and resistance value of each zone, the state of all outputs and the system state of both areas and the common area.
User friendly
To provide error free operation for the end user, there is an optional infrared keyfob which can be used with the LCD/LED keypad or arm/disarm station for turning the system on and off and generating lifesafety alarms. Up to 16 infra-red keyfobs can be used per system. As an alternative, everyday tasks such as arming and part-arming can be set up as a one touch operation by using the three freely programmable Function Keys which are incorporated on the LED or LCD keypads.
For more information contact Brett Birch, GE Interlogix, 011 805 1590.
Further reading:
A contact-free hotel experience
Issue 7 2020, Technews Publishing , Access Control & Identity Management
Check-in and go straight to your room without stopping at the reception desk at Hotel Sky in Sandton and Cape Town.
Read more...
---
AI digitises coronavirus management
Issue 7 2020, NEC XON , Access Control & Identity Management
NEC XON is using NeoFace Watch and specialised thermography cameras to measure temperature and identify employees and visitors.
Read more...
---
Combining visual and IR face recognition
Issue 7 2020, Suprema , Access Control & Identity Management
The FaceStation F2 offers face recognition and anti-spoofing performance.
Read more...
---
Anviz unveils FaceDeep5
Issue 7 2020, ANVIZ SA , Access Control & Identity Management
Anviz Global has unveiled its new touchless facial recognition identity management and IoT biometric device.
Read more...
---
Touchless biometric options
Issue 6 2020, Entry Pro , Access Control & Identity Management
When it comes to estate access control management, the foremost topic of conversation at the moment seems to be the importance of touchless biometrics.
Read more...
---
Fast access to Kevro production facilities
Issue 6 2020, Turnstar Systems , Access Control & Identity Management
Employee and visitor access at Kevro's Linbro Park premises in Gauteng is controlled through eight Dynamic Drop Arm Barriers from Turnstar.
Read more...
---
Know your facial recognition temperature scanner
Issue 6 2020, ViRDI Distribution SA , Access Control & Identity Management
Facial recognition with temperature measurement is, for the most part, available in one of two technologies – thermopile and thermography/IRT.
Read more...
---
Suprema integrates with Paxton's Net2 access control
Issue 6 2020, Suprema , Access Control & Identity Management
Suprema has announced it has integrated its devices with Paxton's access control system, Net2.
Read more...
---
Contactless check-in at hotels
Issue 6 2020 , Access Control & Identity Management
Onity has delivered the DirectKey mobile access solution to hotel chains around the globe, which allows for contactless check-in and property access.
Read more...
---
UFace facial recognition now in SA
Issue 6 2020, Trac-Tech , Access Control & Identity Management
Trac-Tech has secured the distribution rights to the UFace range of contactless biometric facial recognition and identity management IoT devices.
Read more...
---