printer friendly version
IP - the way ahead
June 2003
Products
Like it or not, IP is with us, big time, in the security and surveillance arena. I was asked by the organisers of IFSEC 2003 to arrange a network knowledge educational zone at the recent exhibition held at the NEC in Birmingham, England. The objective was to provide the technical and non-technical with a friendly non-jargon overview of IP technology as well as an opportunity for hands selection for those that wished to view various manufacturers products side by side.
Last year at IFSEC there were two or three handfuls of manufacturers showing off their IP products. This year there were more than 100 very serious and influential manufacturers and suppliers pitting their wits and displaying their wares to the 20 000 or so visitors to the exhibition. Next year I would put a few 'bob' on there being a separate networking (IP) village for exhibitors to show their stuff.
So, what is IP?
IP simply means Internet protocol and we, the industry, seem to have adopted the word IP to actually mean sending packets of information over data computer data networks. In simple terms everything has been converted to a digital format.
Audio (voice), until very recently, was mostly recorded and transmitted by analog methods. The digital revolution soon changed all that and now voice over IP is something that is commonly accepted just about everywhere.
Is it secure? Well, to be blunt, no! But you can certainly put in procedural systems to make the transmission of security data as secure as is possible.
Can I use it over existing structured cabling? Intruder alarm and perimeter alarm equipment - yes. You can send intruder alarm signals back to a central monitoring station through the Internet (for example using Internet Explorer) IP may also be transmitted through conventional telephone lines, free space transmission and direct structured cabling systems using UTP (unshielded twisted pair) or fibre optical cable.
CCTV pictures - yes. You can send video pictures from the camera to any monitoring station worldwide in a matter of seconds, in the same way that voice or alarm signals are transmitted ... incredible - but true.
What do I need to use it? You need to have a video server/codec (a box that transforms the video image from analog to digital) or an IP camera that sends out a digital signal directly from the camera.
''Wait a minute,'' I hear you cry. "Are CCD (charge coupled device) cameras not digital anyway?" Well, no, they are not necessarily so. Let me explain: DSP (that is digital signal processing) in cameras has been with us for a long time. It essentially means that the reflected image that comes through the lens and onto the face of the CCD is made up of varying light shades - which is analog. The electronic circuitry within most good cameras is able to intelligently do some very clever digital processing and send the information out onto the back of the camera that will be hooked up to a twisted pair, fibre or coaxial connection...which is analog!
You need a method of transporting the data. UTP (unshielded twisted pair) is a one very common form of transportation. Fibre-optic is another popular backbone.
In many cases the cabling around a company's premises may already comprise a suitable structured cabling medium that takes standard data and that may also be capable of taking the security information around.
This is an area where IT and security managers may come to verbal fisticuffs.
* IT managers may be a trifle jealous and covet the needs of the company's data streams which may probably result in stopping over-zealous security managers 'borrowing' current installed structured cabling systems.
* Security managers most probably need CCTV images as well as fire and intruder alarm reporting that needs loads and loads of the IT manager's available resources.
Of course, to ease any tensions between IT and security, you can always have your own structured cabling system!
Routers, hubs and switchers will be needed to take the information from one area to another.
It may be more convenient to take the information via the web browser route, for example. (Make sure if you want realtime you have the transportation medium to support your wishes! It is unlikely that you will get a full picture with high resolution at realtime over the Internet just yet.)
Realtime is expressed as a minimum of 25 pictures per second (even Walt Disney, back in 1937, used 24 pictures a second in cartoon format to bring Snow White to life).
Watch out for specsmanship! It is so easy to get bamboozled in the early days. Many people quote fps. Does this mean fields or frames? I personally prefer digital speak to be termed as pps - pictures per second.
Build your own operational requirement, be adamant that if your security needs to have pictures recorded in realtime, then spell out that you need a minimum of 25 pps. There are some excellent systems that perform to this specification and provide picture quality that exceeds SVHS.
You need a method of displaying the information. Computers incorporating GUIs (graphic user interface) are the most commonly employed display methods used in modern security control rooms today. (Do not worry! For those traditionalists you can have a magic box at the receiving end and display the pictures on a standard monitor. (Do not be too surprised if the quality is not as good as when you had dear old analog! There are a lot of IP systems which do have somewhat 'iffy' resolution criterion... It is definitely a case of spend your money wisely and select a system that is at least as good as the analog.)
Is IP as good as analog technology? Some systems are much better.
Is it cheaper? Well, it could be! Take for example some very enterprising manufacturers producing excellent servers with built in hot swappable hard disk DVRs providing users with a highly intelligent, practical and economical solution to security needs.
Watch out for the economical-with-the-truth salesman's approaches like: "Genuine imitation leather coats for sale sir!"; "Cluster of solitaire diamonds cheap!"; "Realtime streaming video over 10 base T networks."
Watch out for the low cost imitations. It may prove to be the old adage of buying cheap proves to be expensive.
Why do I need to use it? Why did you change from vinyl to CD in 1986 to listen to your favourite music? Why did you choose to use VHS tape instead of Betamax or Philips 2000 to record and watch your TV programmes?
The same answer can be given to IP ... because soon there will be little choice. The technical and commercial world are driving us digital and it will not be too long before we have to accept the inevitable changes.
My questions? How will you react to the changing market? Are you ready to embrace the new technology and when are you likely to consider it? Otherwise, will you elect to move over for the IT and communications/networking specialist to take over the security and surveillance roles of the company?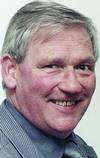 Mike Tennent
About the author: Internationally acclaimed Mike Tennent is a director of Tavcom Training. Tavcom Training is a leading UK security systems training company. The company provides expert tuition to installers, operators and managers of all types of security systems, including CCTV, access control, intruder alarms and digital IP. Its range of BTEC certificated courses are recognised and respected worldwide. Tennent will be in South Africa as a keynote speaker at the 'Defining international CCTV best practice' conference on 7-8 September 2003.
For more information contact sales@tavcom.com
Further reading:
Rugged and durable work phones
Issue 7 2020 , Products
The Cat S42 features toughness and proven durability that makes it an essential everyday work phone, especially for more demanding environments.
Read more...
---
Professional device management for the installer/service provider
Issue 7 2020, Hikvision South Africa , Products
Hik-ProConnect is a convergent, cloud-based security solution that helps manage services for your customers and expand your business though subscription services.
Read more...
---
New Hikvision AcuSense solution
Issue 7 2020, Hikvision South Africa , Products
AcuSense series products are aimed to be the ideal choice for accessible and intelligent security systems.
Read more...
---
Cost-effective face recognition terminal
Issue 7 2020, Hikvision South Africa , Products
New face recognition terminal is an access control device integrated with a temperature screening function.
Read more...
---
Cynet introduces integrated XDR, MDR and Response Automation
Issue 7 2020 , Products
Cynet 360 Version 4.0 unveils incident engine with full response automation in unified cyber-threat solution, setting the standard for XDR offerings.
Read more...
---
TRENDnet's free VMS offering
Issue 6 2020, TRENDnet , Products
Free VMS with live view for up to 64 cameras and mobile app for IP camera management and setup now available from TRENDnet.
Read more...
---
Temperature measuring camera
Issue 6 2020, Dahua Technology South Africa , Products
Dahua Technology has announced the release of its Handheld Thermal Body Temperature Measurement Camera.
Read more...
---
Standby, rechargeable lamp
Issue 6 2020 , Products
Energizer's brightest, new standby rechargeable lithium-ion powered lamp is now available, boasting a runtime of five hours and is up to twelve times brighter than a standard LED.
Read more...
---
New solar powered camera
Issue 6 2020, LD Africa , Products
The biggest advantage of a solar powered security camera is that it can be used to monitor the off-grid places or remote areas.
Read more...
---
Long-distance UHF readers
Residential Estate Security Handbook 2020 , Access Control & Identity Management, Products
The U1000 and U2000 are long-distance RFID access control systems with an IP66 protection certification.
Read more...
---