printer friendly version
Abloy padlocks - the key to high security locking
May 2000
Products
The Abloy range of high security padlocks is generally acknowledged to be the finest padlock on the market, in terms of strength, durability and versatility. Dr Michael Gordon, Managing Director of Lockwise, proud representative of Abloy in South Africa for nearly three decades, highlights some of the reasons why.
Strong and durable
Says Gordon, "Abloy padlocks are made of a chrome plated brass or steel body, with a shackle made of boron steel. This dramatically increases resistance to attack by cutting or pulling and it actually gets harder when sawn or drilled."
All padlock components are made of noncorrosive materials, so the locks will not rust and will operate in the most extreme conditions. The unique Abloy disc mechanism means no pins and springs to rust or get clogged from dirt and dust. "The disc system is generally accepted to be pick proof. When combined with Abloy protection plates, the padlocks offer an unrivalled level of security," he says.
Unrivalled versatility
"The Abloy Exec key ensures no unauthorised key duplication. Padlocks can be keyed 'alike' (one key will operate all padlocks) or 'master' keyed into a simple or complex 'master keyed' system. Incredibly, all locks in the Abloy range, including door locks, office furniture locks and electric locks can be keyed into a simple system and your key can only be duplicated on your authority. The padlocks are also insurance approved."
Rekeying saves thousands
"With traditional padlocks, a lost key or a staff change usually means destroying and replacing the lock. Not so with Abloy padlocks," says Gordon. "Abloy padlocks can be rekeyed to a new combination, without replacing the padlock body itself. The locking core is removed from the padlock, a new combination of discs is inserted and in essence you have a new padlock and at a fraction of the price of what a new padlock would cost.
"In an extensive master system, this could save a business literally thousands of rands in locking costs," says Gordon.
"We recently rekeyed a whole system of padlocks for a mine. The padlocks had first been purchased 15 years ago and are still fully functional. With the rekeying the locks have a new high security key and will probably be good for another 15 years. Talk about value for money!," he adds.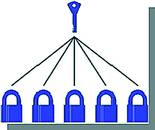 Keyed alike - one key opens many locks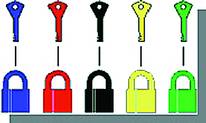 Keyed different - each key opens only one lock

Central Locking - many keys open the same lock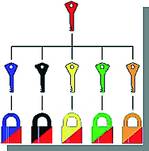 Master keying - each key opens only one lock and there is a a masterkey to open all locks

Grand master keying -a grand system of many masterkeyed systems. It may also have keyed alike and central locking components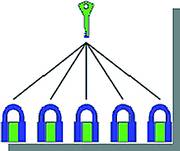 Rekeying - the Abloy discs and keys are changed in an existing lock body, (lost keys)
For details, contact Dr Michael Gordon, Managing Director of Lockwise on tel: (011) 786 9192, fax: (011) 786 9178 or e-mail: lockwise@icon.co.za
Further reading:
New LPR camera from Axis
October 2019, Axis Communications SA , Products
Dedicated licence plate camera for capturing clear images and easy integration with third-party software.
Read more...
---
The importance of XDR for cyber protection
October 2019 , Cyber Security, Products
35% of South African organisations are expecting an imminent cyberattack and a further 31% are bracing for it to happen within a year, according to local research conducted by Trend Micro.
Read more...
---
Arteco launches new management platform
CCTV Handbook 2019, Arteco Global, Technews Publishing , CCTV, Surveillance & Remote Monitoring, Products
Arteco has released its latest management platform, Omnia, designed to be faster and more responsive to operators? needs.
Read more...
---
TruVision licence plate cameras
CCTV Handbook 2019, UTC Fire & Security SSA , Products, CCTV, Surveillance & Remote Monitoring
TruVision ANPR cameras offer functionality for applications where vehicle access management is required based on licence plate.
Read more...
---
Edwards Public Address & Voice Alarm System
October 2019 , Security Services & Risk Management, Products
Carrier has added the Public Address & Voice Alarm (PAVA) range to its fire product offerings.
Read more...
---
Your business needs synchronised security
September 2019 , Cyber Security, Products
This complete security portfolio from Sophos offers endpoint, servers, firewall, Wi-Fi, mobile, email and encryption that is fully scalable to grow as your business does.
Read more...
---
Sarix Professional Series 3 IP cameras
September 2019, Pelco by Schneider Electric , CCTV, Surveillance & Remote Monitoring, Products
Offered in mini-dome, bullet, box, and wedge configurations, the Sarix Professional (Pro) Series 3 Fixed IP cameras deliver a set of features and performance at affordable price points.
Read more...
---
The future of connectivity in South Africa
September 2019 , IT infrastructure, Products
Next-generation technologies will drive real transformation in companies. Organisations across all industries must prepare to enter the next phase of the digital future, says Matthew Hall, product director at Rectron.
Read more...
---
Uniview LPR camera
September 2019 , Products, CCTV, Surveillance & Remote Monitoring
Uniview has released a new LPR (licence plate recognition) camera in South Africa with high capture and recognition rates.
Read more...
---
Improving access in mines
October 2019, Astra Fasteners , Mining (Industry), Access Control & Identity Management, Products
The VP1 controller provides full access control and remote monitoring of intelligent locks without having to wire into a network or install, manage and maintain software.
Read more...
---