printer friendly version
Strathclyde Police get it all on tape
May 2000
IT infrastructure
Following a report of Her Majesty's Inspectorate of Constabulary, Strathclyde Police in Scotland have started to implement constant video and audio monitoring to cover the prisoner charging area.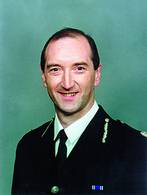 Assistant Chief Constable Colin McKerracher, Strathclyde Police in Scotland
The key objectives of the installations are to enhance the security of staff and property, as well as offering improved safeguards for police officers, detainees and others who have responsibilities within the custody area. Assistant Chief Constable Colin McKerracher declared, "To safeguard the rights of public and police alike, a quality and reliable record of events which will withstand critical and informed examination, is of paramount importance". In order to achieve this, the system must provide the highest quality of audio and video taped evidence.
Realtime video and audio monitoring
The charge desk area is recorded in realtime using the NEAL video and audio monitoring equipment providing a 24 h continuous log of recordings. Unlike lapse time, realtime recording offers a complete and impartial account of all events in the custody area, thus removing any opportunity for false allegations to be made successfully.
The clarity of hi-fi quality audio sound on video transports ensures that charge procedures are strictly adhered to, subsequently preventing disputes. Two colour cameras give sufficient detail to differentiate between bank notes, etc. Monitors can be also seen by offenders when being charged. It has been proven that prisoners tend to behave in a more appropriate manner when they see themselves on screen.
In order to guarantee the total protection of police officers and suspects, every movement within corridors, holding areas and access doors is monitored by a second recording unit associated to a high-speed multiplexer and eight colour cameras.
An overlap between video tapes ensures uninterrupted recording. The next cassette automatically starts in a cascade effect two minutes before the end of the previous cassette. This to ensure that no valuable information can be lost.
Authenticity?
For complete authenticity, the NEAL custody recording units burn into the video image the full time and date as visual characters. The time and date is also fully synchronised to the VITC (vertical interval time code) signal which identifies each video frame every 0,04 s. A programmable identification number is also burnt into screen. This can be used to verify the precise location of where the recordings were made. The result - what has occurred, where and when - ensures the possibility of allegations is reduced to the absolute minimum.
McKerracher concluded, "Within Strathclyde Police, the unique design and mode of operation of the CCTV equipment - in combination with the adoption of strict CCTV - management procedures achieves its objectives."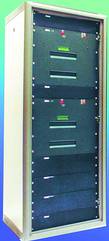 The NEAL video and audio monitoring units installed in Scotland
For details contact Olivier Diesnis on tel: (0944) 191 418 1000, fax: (0944) 191 418 1001 or e-mail: od@canford.co.uk
Further reading:
Integrated facilities management solutions
Issue 2 2021 , IT infrastructure
Tsebo Facilities Solutions provides a smart remote monitoring solution that will increase efficiency and, most importantly, mitigate risk.
Read more...
---
Creating hyper-aware industrial facilities
Issue 2 2021 , IT infrastructure
Jacob Chacko expands on what a cognisant industrial site is and why edge technology and the Industrial Internet of Things (IIoT) are relevant to it as well as hyper-aware industrial facilities.
Read more...
---
Cisco and AMD improve performance, security and hybrid cloud operations
Issue 2 2021 , IT infrastructure
Cisco has announced?an expanded engagement with AMD?to help businesses?accelerate advanced digital experiences?and improve hybrid cloud operations
Read more...
---
GJD unveils new Network Bridge product
Issue 2 2021 , IT infrastructure
GJD has announced the launch of its new Network Bridge, designed to easily connect GJD IP devices with third-party video management software and network compatible products, including Avigilon and other proprietary CCTV systems.
Read more...
---
Backup servers with free Altaro software
Issue 2 2021 , IT infrastructure
Altaro Physical Server Backup enables you to easily restore a physical server on your network and access it on your existing virtual environment, as a virtual disk or fully functional virtual machine.
Read more...
---
Vehicle-to-office connectivity
Issue 2 2021 , IT infrastructure, Mining (Industry)
A large coal and heavy minerals mining company in South Africa is rolling out a mine-wide wireless digital connectivity networking solution that interconnects the various employees' mobile devices to monitoring systems on vehicles, mining equipment and conveyor belts throughout the mine.
Read more...
---
Introducing Video Storage Solutions
Issue 1 2021 , Integrated Solutions, CCTV, Surveillance & Remote Monitoring, IT infrastructure
Video Storage Solutions (VSS) was formed with the single objective of providing system integrators who are part of the Milestone Community with verified video recording and storage appliances. VSS is distributed in South Africa by First Distribution.
Read more...
---
Used electronics present security concerns
Issue 1 2021 , IT infrastructure
Employers have a legal obligation to clean old IT devices professionally and ensure that all data is erased from them prior to decommissioning and disposal or redistribution.
Read more...
---
CAPEX vs OPEX
Issue 1 2021 , IT infrastructure
With the rapidly accelerating pace of digital transformation last year, many organisations were forced to invest in data storage infrastructure, however, these businesses often face the dilemma of whether to opt for a solution acquired as a capital expense or operating expense.
Read more...
---
How technology enables better healthcare
Issue 1 2021 , IT infrastructure
With the need for digital acceleration to support the healthcare landscape since the onset of the COVID-19 global pandemic, technology has played a critical role to improve the standards of patient healthcare and enable health workers.
Read more...
---