printer friendly version
Ilco Unican's millennium provides smart security at Memorial University
May 2000
Access Control & Identity Management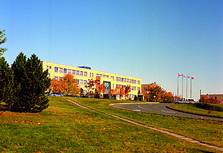 Philip Smith, Investigations Officer with Campus Enforcement and Patrol at Memorial University of Newfoundland (St. John's), is implementing Ilco Unican's millennium access control system one building at a time. While doing so, he's adding some unique twists.
To enter a building, students, faculty members and university employees swipe a multi-technology card, referred to as the MUM Smartcard, through an Ilco Unican lock. The magnetic stripe is used for access control via the millennium system while the Schlumberger smartcard portion serves as a debit card for photocopy machines, food concessions, parking lots and phone card with the local provider.
"We now have four academic and three residential buildings on our Windows-based Ilco Unican millennium access control system," reports Smith. "At present, we are using the system exclusively for access control of the exterior doors. Very likely, though, we will take the system further at some point. We leave the doors open from 07h00 to 23h00 during the week and until 18:00 on weekends. At the appropriate time, doors automatically lock. That saves time. Our Memorial foot patrol can then concentrate on patrolling interiors."
When and if a door is left open or even ajar, an alarm system sounds and patrols immediately check out the problem. Although these buildings are now integrated into the on-line system, some additional buildings won't be.
"We have a couple of remote buildings which will be standalone in nature. However, they will still use the same cards and users won't know the difference," says Smith. Even with the individual Ilco Unican standalone systems, audit trails and time zones can be incorporated. All of the major attributes of the on-line system are available except realtime monitoring. As importantly, the standalone units can be easily incorporated in the millennium system at any time.
Both the on-line and future standalone systems incorporate flexible time zones and access groups, including holiday and vacation blocks. In standard configuration, Smith can control up to 100 access points with up to 10 000 users and 2000 audit records per access point from a single PC. Importantly, all locks and readers will work even if the main PC loses power or gets separated from the rest of the system.
For details contact Bernard Fournier of Ilco Unican on tel: (091) 514 735 5410, fax: (091) 514 735 8862, e-mail: bfournier@ilcounican.com or visit www.ilcounican.com
Further reading:
A contact-free hotel experience
Issue 7 2020, Technews Publishing , Access Control & Identity Management
Check-in and go straight to your room without stopping at the reception desk at Hotel Sky in Sandton and Cape Town.
Read more...
---
AI digitises coronavirus management
Issue 7 2020, NEC XON , Access Control & Identity Management
NEC XON is using NeoFace Watch and specialised thermography cameras to measure temperature and identify employees and visitors.
Read more...
---
Combining visual and IR face recognition
Issue 7 2020, Suprema , Access Control & Identity Management
The FaceStation F2 offers face recognition and anti-spoofing performance.
Read more...
---
Anviz unveils FaceDeep5
Issue 7 2020, ANVIZ SA , Access Control & Identity Management
Anviz Global has unveiled its new touchless facial recognition identity management and IoT biometric device.
Read more...
---
Touchless biometric options
Issue 6 2020, Entry Pro , Access Control & Identity Management
When it comes to estate access control management, the foremost topic of conversation at the moment seems to be the importance of touchless biometrics.
Read more...
---
Fast access to Kevro production facilities
Issue 6 2020, Turnstar Systems , Access Control & Identity Management
Employee and visitor access at Kevro's Linbro Park premises in Gauteng is controlled through eight Dynamic Drop Arm Barriers from Turnstar.
Read more...
---
Know your facial recognition temperature scanner
Issue 6 2020, ViRDI Distribution SA , Access Control & Identity Management
Facial recognition with temperature measurement is, for the most part, available in one of two technologies – thermopile and thermography/IRT.
Read more...
---
Suprema integrates with Paxton's Net2 access control
Issue 6 2020, Suprema , Access Control & Identity Management
Suprema has announced it has integrated its devices with Paxton's access control system, Net2.
Read more...
---
Contactless check-in at hotels
Issue 6 2020 , Access Control & Identity Management
Onity has delivered the DirectKey mobile access solution to hotel chains around the globe, which allows for contactless check-in and property access.
Read more...
---
UFace facial recognition now in SA
Issue 6 2020, Trac-Tech , Access Control & Identity Management
Trac-Tech has secured the distribution rights to the UFace range of contactless biometric facial recognition and identity management IoT devices.
Read more...
---