printer friendly version
Convergence rules
March 2012
Integrated Solutions
We have been talking about convergence and the integration capabilities of IP-based security solutions for a long time, but 2011 has arguably seen the greatest proof that the traditional security industry and the IT industry are converging.
For one, we saw an increase in the number of IT distributors spending money on strengthening their physical security divisions, Mustek and Pinnacle come to mind. Now another IT distributor, Westcon, has bought Sentronics to bolster the integrated solutions it offers clients, and IT service provider EOH bought Stanley SA for a similar reason.
Hi-Tech Security Solutions spoke to the people involved in the Stanley Security Solutions and Sentronics deals to find out more about what they hope to achieve.
EOH and Stanley
Given Stanley's long history in the access control market and its ability to integrate complete security solutions into a single, managed solution, the company would be a good option for someone looking to extend their service provision into the security arena. Stanley also has a history of good customer relationships built on its business model of renting solutions to customers – the customer pays a monthly fee and Stanley takes care of the technology and support required to keep it all working.
Mike Lotter, MD of Stanley Security Solutions SA says the company dates back to the 1940s when it distributed typewriters, among other products, before expanding into clocking and communications over the years. In the 1990s, Stanley entered the time and attendance (T&A) market and towards the turn of the century began integrating payroll systems with enterprise applications such as SAP etc.
Mike Lotter
Asher Bohbot, CEO of EOH says the decision to buy Stanley was an easy one. Access control today is already integrated into other IT systems if it is to be of value to the client.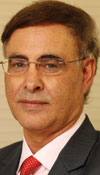 Asher Bohbot
From EOH's perspective, when looking at Stanley's operations, Bohbot says as it is already in the technology business in its access and security functions, so the fit was obvious. Security today, whether access control, biometrics, identity management or building management systems, is all based on technology. It therefore makes no sense to have a separation between IT and security technology by using separate service providers to handle the two tasks.
With the convergence of technologies growing at a rapid pace and since EOH and Stanley already share common customers to which they could add more value together, the fit was natural.
And Bohbot and Lotter not only consider the convergence between IT and security. Included in the term is the full spectrum of security products from access control and surveillance, IT solutions, plus building management (Stanley launched a BMS division under Tim Timmins last year), HVAC (heating, ventilation, and air conditioning), power management and sustainability.
Multiple advantages
Lotter adds that many of the traditional T&A players in the local industry have been bought over the last few years. In most instances, they were bought by existing security companies. Lotter sees this as a mistake (or as an advantage to Stanley) as this gives rise to conflicts between the buyers' guarding divisions that want to put more guards in the field, and the digital security division that wants to encourage a move to technology. There is also a distinct difference in the way technology companies approach their markets compared to the way security firms operate.
He adds that Stanley needed a parent company that would not only understand technology and the challenges of continually meeting customer requirements, but also the need to understand R&D to advance the technology and services it could offer. As a technology company, EOH understood this perfectly, along with the need to develop people along with technology.
"Now we are in a group that allows us to extend out technology advantage and offer clients a complete end-to-end solution, whether the customer wants an in-house or outsourced solution," adds Lotter. "Furthermore, being in the EOH group boosts our BEE credentials substantially, this opens the door to new areas of business in future, in particular in government."
Excited about the future in EOH, Lotter adds that Stanley's staff complement has already grown by 15% since the takeover.
Bohbot adds that Stanley will remain an independent company within the EOH group in its Intelligent Infrastructure Division, from where it will continue to serve the African market. It will continue trading under the Stanley name for the near future, but will be renamed.
EOH has been in the IT business for over 13 years and has grown into one of South Africa's largest service providers through a combination of organic growth and acquisition. The Stanley acquisition fits into this category and we may see further purchases to build on this first foray into the security market.
Westcon and Sentronics
Westcon SA is one of South Africa's biggest ICT distributors. The company consists of a number of divisions, with Westcon Security recently acquiring Biodata. With the purchase of Sentronics, which will be run as an independent company running Westcon's surveillance arm, the company now also has a substantial foot in the physical security world.
Jacques Malherbe, CEO of Westcon SA, says Westcon has a long history of value-added distribution in South Africa. He notes, however, that Westcon's definition of value is different to many of the other distributors in the market. The traditional value-adds, such as training, presales support, available stock and so forth are simply the basics for Westcon. To succeed the company needs to go a step further. Moreover, as the world moves to cloud computing, the distribution game will have to change if companies are to continue to succeed in a differently structured world.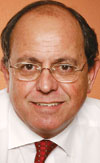 Jacques Malherbe
Malherbe adds that Westcon's divisions align themselves to global trends as set by the global 'Gorilla vendors'. For example, Cisco is one of the gorillas and it has noted that security, video, data centres and virtualisation, as well as collaboration are some of the global ICT trends of the future.
Taking these trends, he also notes that the convergence of technologies is now aggressively growing across multiple sectors. All kinds of applications and devices will need to be integrated into business and personal computing infrastructures. This naturally also applies to video, which includes video conferencing, but also mobile services, television and security functions.
When looking at video surveillance, it not only requires physical security skills and products, but is connected to the broader ICT world of servers and other infrastructure components. More importantly, video surveillance only delivers more data to a world already suffering from information overload. Connecting your video data to other sensors and software packages will see more technology used in intelligently analysing the information to drive other, sometimes automated responses. This will require more skills and more technology, delivered via integrated solutions. Westcon, with Sentronics, is well placed to take advantage of these changes.
While Sentronics will operate as an independent company, Malherbe says Westcon's business units cooperate in delivering complete solutions to custom-ers, from the basic cabling infrastructure through to servers and software in control rooms, and now surveillance solutions. So while Sentronics is a viable business alone, it adds value to Westcon and also benefits from its association with the group.
The benefit to Sentronics customers, according to Bernard Senekal, founder and MD of Sentronics, is that the company can now offer a full, integrated solution comprising the best technology in the world, instead of having to rely on third parties to handle IT and networking. For Westcon, Sentronics will be able to use video as a catalyst to drive converged sales in the IT arena, again from a single source.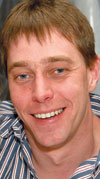 Bernard Senekal
Another benefit customers will find from the acquisition is that Westcon has a well-structured services division focused on channel enablement. This business unit offers broader pre- and post-sales support to channel operators than Sentronics on its own could.
Keep the DNA
Malherbe states that Westcon believes in retaining the DNA of the companies it acquires as this experience is vital to the success of the company. Some general functionality, such as back-office functions will be handled by Westcon, but the intellectual property that made the company a success will remain in Sentronics, which will be run by its existing management.
Importantly, Sentronics itself will expand into the cloud arena and offer surveillance solutions in the cloud in the form of surveillance as a service. Moreover, as with EOH, Malherbe notes that further, small acquisitions may be forthcoming to support Sentronics's growth.
Senekal adds that Sentronics will aggressively promote video as a service in the future, offering the full spectrum of solutions required for these implementations, from fibre cabling to storage and, of course, the video components.
At the end of the day, customers will be the ultimate beneficiaries in being able to obtain complete solutions as well as support from one distributor with a global reach. And according to Senekal, taking Sentronics beyond the South African borders is on the cards for the company's growth plans, which is now made easier through the long reach of Westcon. He says the Middle East and South America are looking tempting.
Credit(s)
Further reading:
System integrators and surveillance
Technews Publishing Stallion Security G4S Secure Solutions SA Integrated Solutions
Hi-Tech Security Solutions asked two system integrators if they are seeing an upturn in the market and if projects are back on track despite the economic slowdown and supply chain chaos?
Read more...
---
2022 trends in video surveillance
Eagle Eye Networks Editor's Choice CCTV, Surveillance & Remote Monitoring Integrated Solutions
Eagle Eye Networks predicts what will impact the video surveillance industry in the coming year and how to seize opportunities and forge a path to success, even amid ongoing uncertainties.
Read more...
---
Leaning into the edge
Technews Publishing Axis Communications SA Forbatt SA Hikvision South Africa Editor's Choice CCTV, Surveillance & Remote Monitoring Integrated Solutions IT infrastructure
Video storage and analytical processing, with the help of artificial intelligence on the edge, is simple today with the powerful and advanced camera technology we have available.
Read more...
---
Brewing a surveillance solution
CCTV, Surveillance & Remote Monitoring Integrated Solutions Products
VIVOTEK architects a surveillance enhancement solution for a century-old Japanese brewery comprising 260 devices, including 10 PoE network devices managed using the VAST 2 video management system.
Read more...
---
Supporting security officers
Betatrac Telematic Solutions CCTV, Surveillance & Remote Monitoring Integrated Solutions
Body-worn cameras provide a wide range of benefits to security companies and BetaTrac has recently seen a substantial increase in demand.
Read more...
---
Edge AI helps you re-imagine your security
CCTV, Surveillance & Remote Monitoring Integrated Solutions
Edge AI is a system that uses machine learning algorithms to process data generated by a local hardware device to make independent decisions in real time, without having to connect to the cloud or the internet.
Read more...
---
AI in video analytics
Axis Communications SA CCTV, Surveillance & Remote Monitoring Integrated Solutions
AI (artificial intelligence), has been developed and debated ever since the first computers were invented, and while the most revolutionary incarnations are not yet here, AI-based technologies are widely used today.
Read more...
---
An open OS and camera app store
CCTV, Surveillance & Remote Monitoring Integrated Solutions
Need new AI analytics? Azena's open OS and app market allows you to pick and choose AI apps and install them on your camera with ease.
Read more...
---
Tracking surveillance into the future
Technews Publishing Bosch Building Technologies Cathexis Technologies Axis Communications SA Arteco Global G4S Secure Solutions SA Editor's Choice CCTV, Surveillance & Remote Monitoring Integrated Solutions
Hi-Tech Security Solutions asked six industry experts to join us around a table to discuss the state of the surveillance industry and where it is going.
Read more...
---
Integrated personal security that travels with you
Editor's Choice Integrated Solutions Smart Home Automation
Individuals can take their security with them when travelling with the new Nomad all-in-one integrated security solution that keeps you and your belongings safe.
Read more...
---