printer friendly version
IFSEC SA 2011
November 2011
Conferences & Events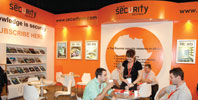 With IFSEC SA 2011 behind us, it is time to look at a few of the highlights from the show. As always, Hi-Tech Security Solutions was there, wandering around making a nuisance of ourselves and the following article is a short overview of some of the happenings and announcements that caught our eye. Naturally we cannot include everything that happened, but in this we provide a glimpse of IFSEC 2011.
The good news is that the show was a success, even though there were murmurs about the new location. The organisers, Montgomery Africa announced that the roughly 200 exhibitors at the show saw a record number of visitors with approximately 6214 delegates (a 6,4% increase on last year's 5844) entering the halls of Gallagher Convention Centre between 6 and 8 September. When including the OSH Expo Africa as well as the inaugural Facilities Show Africa, which were both co-located with IFSEC at Gallagher, the total number of visitors climbs to 8402.
Centurion
Among the new products on display at the Centurion stand was the company's sliding gate operator, the D10 Turbo. With a top speed of 50 m/minute, this device can open a five metre gate in six seconds. Furthermore, with wiring being an albatross around the necks of many an installer, the completely wireless SMARTGUARDair was also introduced with the express purpose of making keypad installation a simpler, while improving the functionality of the original SMARTGUARD. The SMARTGUARDair is powered via two alkaline batteries, offers fifteen programmable channels, and offers an expected battery life of two years at up to 300 uses per day.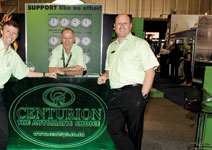 And while there was a significant international presence at the show, there was also a large contingent of local manufacturers, from hardware and software developers that export globally, such as Cathexis, through to access control manufacturers like Turnstar, also a global player.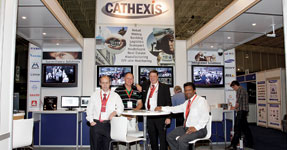 Sentronics
Sentronics and eThele represented IPSecurity Center by CNL at IFSEC South Africa. CNL is a global provider of Physical Security Information Management (PSIM) software and this technology is deployed to secure major cities, critical infrastructure and global commerce.
Sentronics was also present on the Milestone stand alongside DDN Storage and Dilopt Analytics. The HD market into which it is moving is heavily dependent on storage performance, capacity, reliability and scalability. DDN Storage provides scalable, efficient storage solutions by offering customers a competitive advantage through resolving performance and capacity scaling challenges.
Uniclox
James Oliver from Uniclox says, "Next year, we would like to see more company representatives from the mid-sized companies and even SMEs. We feel that many visitors assume that this level of high-tech security is strictly for the larger enterprises, when in fact there are also numerous cost-effective solutions and ideas to assist small companies."
Elvey
Not only did Elvey take the prize for best overall stand at this year's show, it also gave away some prizes. Clive Lotter from Exodus Communications was the winner of the home entertainment system, worth R25000; while Wynand Potgieter was the winner of a Dell laptop.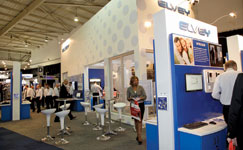 HID Global
HID Global was out in force, showcasing the latest advances in physical and logical access control solutions as well as secure issuance. Some of the items on show included:
* HID Global iCLASS SE reader platform.
* HID Global FARGO printers.
* Asure ID card personalisation software.
* naviGO 2.0 credential management.
Imperial Armour
Imperial Armour, a local manufacturer of protective gear for the global market, held a dramatic launch in the afternoon to introduce its new Elite Force range of tactical military wear for urban warfare and special operations. If you need a bulletproof laptop bag, you know where to go.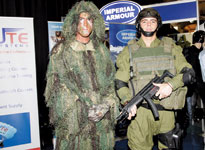 FSK and Secequip
While both FSK and Secequip were exhibiting under their own banners, the fact that their stands were connected gave us a hint that they were more than competitors. We received news at the show that Amecor, FSK's holding company, had acquired Secequip. The two companies will continue operating as separate entities, but have agreed to stop throwing pies at each other.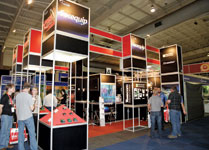 Norbain SA
A runner-up in the large stand awards, which was won by ADI, Norbain was a significant presence at IFSEC. It focused on a host of products, especially its low cost Vista in-house brand of IP cameras, now in its second version. Also, Norbain SA announced it is distributing the Risco brand. One more for the pot.
Milestone
Milestone was on the show too, giving us an overview of a few announcements it has and will be making in the near future. These include some upgrades to its VMS offering, making it cheaper to manage more cameras with less. There are some significant price reductions and functionality enhancements also on the boil which will make Milestone's XProtect a no-brainer for small and mid-size companies.
And the winner is
At the exhibitors' dinner, the organisers announced the winners of the best stand awards.
* For stands 18 square metres and under, 3M won with Imperial Armour the runner up.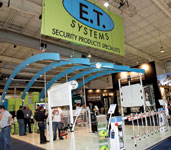 * For stands between 18 and 80 square metres, ET Security Systems won, with Softcon the runner up.
* For stands 80 square metres and over, ADI was the winner and Norbain SA the runner up.
* And the overall Best Stand award went to Elvey.
Given the standard of many of the stands on the show, these are sure to be controversial awards, but congratulationsto the winners and to everyone that put so much into their presence at IFSEC SA 2011. The overall exhibition space is definitely a winner.
Credit(s)
Further reading:
From the editor's desk: Maybe I'm too old?
Technews Publishing News
There are many companies these days touting their ability to securely authenticate people via mobile devices (or selfies), claiming that it is secure and easy. Some banks are even allowing people to ...
Read more...
---
ESDA's annual charity fundraiser
ESDA (Electronic Security Distributors Association News Conferences & Events Associations
The ESDA Annual Charity Fundraiser, part of the Electronic Security Distributors Association's Golf Day, will take place at Benoni Lake Golf Course on Wednesday, 21 September 2022.
Read more...
---
IDEMIA and Ideco demonstrate their value stacks
Technews Publishing Ideco Biometrics IDEMIA Conferences & Events Access Control & Identity Management News
Ideco and IDEMIA recently hosted a travelling show where attendees were given an update on the companies, as well as the full value stack they offer.
Read more...
---
Sustainability, trust and predictability
Technews Publishing Bosch Building Technologies Conferences & Events CCTV, Surveillance & Remote Monitoring News Integrated Solutions
The future for Bosch Building Solutions is focused on predictive solutions based on sustainability and trust in an AIoT world of cloud services.
Read more...
---
Networked devices increase cyber risks for building systems
Technews Publishing News
Building managers need an integrated approach with IT professionals and clear lines of responsibility to ensure optimal facilities management and cybersecurity.
Read more...
---
Specialised surveillance and communications
Technews Publishing Editor's Choice News Integrated Solutions Residential Estate (Industry)
Hi-Tech Security Solutions spoke to Arcanum Africa's Peter Stolwerk and Aaron van Schaik to find out a bit more about the company and the unique products it is bringing to the local market.
Read more...
---
From Hill Street Blues, to Hillbrow, to managing risk for BMW
Technews Publishing Editor's Choice News Security Services & Risk Management
Jane-Eleanor Morrison's success story starts from growing up in the stressful pre-democracy times in KZN, moves through a successful career in SAPS. to BMW South Africa where she is now the risk control manager.
Read more...
---
Hard times, increased crime
Technews Publishing Security Services & Risk Management Integrated Solutions IT infrastructure
Hi-Tech Security Solutions spoke to Mezuzah Security Services to find out what is happening in the real world, and how security companies are dealing with the added pressure inherent to the South African market.
Read more...
---
The cost of safety
iFacts Technews Publishing Security Services & Risk Management
In June 2022, the South African police statistics showed that crime had increased significantly. According to the SAPS, 6083 people were murdered over the quarter (up 22%), the equivalent of 68 people a day.
Read more...
---
Passion, drive and hard work
Technews Publishing Editor's Choice CCTV, Surveillance & Remote Monitoring Security Services & Risk Management
Colleen Glaeser is a leader in the security market, having made her mark in the male-dominated security industry through determination and hard work, along with a vision of making the world a safer place.
Read more...
---