printer friendly version
Collaboration is crucial
October 2011
News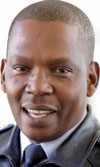 After spending seven years shaking up the system in the Western Cape, Lieutenant-General Mzwandile Petros was a welcome addition to the ranks when he took up his post of Gauteng's new provincial police commissioner on 1 September 2010. Rampant crime and a province living in fear is just the kind of challenges Petros likes to sink his teeth into.
Petros' appointment was not only good news to the citizens of beleaguered Gauteng, but the business sector let out a collective sigh of relief that here was their knight in regulation issue dusky blue.
Petros jumped straight into his role as defender of the public with the statement: "There will never be a safer South Africa without a safer Gauteng. Gauteng produces the worst criminals, and they sometimes move to other provinces to commit crime there." It is purported that about 50% of South Africa's crime is committed in Gauteng.
Reports indicated that international drug syndicates operate from Johannesburg to other parts of the world and firearms belonging to the police and army were easily accessible to criminals in the province. Listed amongst the top 10 crimes in Gauteng are murder, hijacking, robbery with aggravating circumstances, sexual offences and residential and business robbery.
A plan of action prioritised an increased police visibility. "The best way to fight crime is to prevent it. The visibility of the police is the deterrent to crime. Police patrol vehicles should be visible in all sectors and that is an order, not a request," said Petros.
Partnership
Speaking at the Retail Risk conference held in Johannesburg in early August, Petros said that the 2010 FIFA World Cup security provided by the SAPS stands as a testament to the ability to successfully coordinate the strengths of the public-private partnership between the SAPS, the citizens of the country and businesses.
"However, the challenge was, and remains, ensuring the sustainability of this cooperative relationship. Therefore, we have put a strategic plan together that is known as our 2020 Vision and which addresses how we should systematically tackle the activities of the criminal element. Underlining this vision is the importance of developing and nurturing a symbiotic relationship between the law-keeping forces of the SAPS and the people of South Africa to tip the balance of power away from the criminals," said Petros.
According to Petros the following have been identified as the major crime generators:
* Illegal liquor outlets.
* Drug outlets.
* Firearms.
* Bank followings (following people from the bank home or to their business).
* Illegal mines.
* Spaza shops.
* Hijacked buildings and hostels.
* Shopping malls.
* Second hand dealers.
"A large complicating factor for those driving the 2020 Vision is the corruption within the SAPS' own ranks," said Petros. "We are not only fighting a battle against the criminals, but also against those members of the SAPS who choose to collaborate with them. With the President's vision outcome 3, that: 'All people in South Africa (are and) feel safe', it is contingent upon us to eradicate this corruption if we are to be successful. To date more than 256 police officers have been arrested for corruption and corruption-related crimes in Gauteng alone."
Petros pointed out that as crime spiralled out of control in Gauteng, the advent of the Gauteng Co-Created Policing Strategy was necessitated. "In essence, this strategy relies completely on a shared responsibility between organised labour; organisations such as BAC, SABRIC, CPFs and DOCS; internal staff of the SAPS (to date more than 25 000 members were engaged and informed on the strategic direction the Province is taking).
The process
"The SAPS is not a self-sustaining business that generates an income and relies on profits for sustainability. We are driven solely by the funding we receive from the taxes and levies paid by citizens and businesses. Businesses therefore have the right to demand and expect a service that protects their people and assets," he said.
The process begins with a systematic arrangement of the SAPS communicating to its stakeholders how it will deal with crime. This includes information on access to the law-keeping service, capacitating statistics on crime, an integrated approach, communication, and increasing control of those who are commanding the strategy. Regular monitoring of crime would help the police to correctly diagnose problems.
Following the outlining of this information sharing, the SAPS would then physically put service delivery into action. "We need to satisfactorily fulfil various demands for service," said Petros. "These include increased visibility of police officers; quick response times; integrity of officers, whereby they should be perceived as actually investigating crimes; properly conducted investigations; increased safety; access to services – identifiable access points where citizens can go to report crimes; deploying officers and aid to areas where they are most needed."
Amongst other hot spots that Petros has identified and tackled in the year he has been in office, is the fact that there were no police patrol vehicles on the dangerous sections of highways where robberies, hijackings and murders took place. "This has been rectified by investing in new vehicles that target these specific areas. The result is a very pleasing drop in crime in these previously 'no man's land' areas."
Another initiative has been the institutionalising of Sector Policing by rebranding most police vehicles, complete with dedicated cellphones and cellphone numbers on it, so that instead of calling the highly criticised 10111 contact centres, residents and businesses could call the police officers in their respective areas to improve response time on crimes.
"This is sector policing at work and these vehicles have been deployed to all areas, especially those where high levels of crime make it at times impossible for people to feel safe and secure as incidents have been part and parcel of their daily lives. The vehicles also pick up the slack where areas are not sufficiently serviced by a permanent police station," Petros explained. Farming organisations, for example, Agri Gauteng and SA were consulted and a rural safety strategy focusing on the needs of the rural community, with vehicles specially bought that are fit for the terrain, was implemented.
Ten point plan
When consulting the community, they indicated they need proper investigation and constant feedback from the detectives. A 10-point plan for detectives, which focuses on ensuring quality investigations, recruiting and training quality investigators, developing a better informer network and feedback to complainants, was developed.
Another area of concern for the SAPS is the 'hijacking' of buildings. "We find many larger buildings in the CBD have been invaded by people who are simply not paying rent. In order to deal with this threat to revenue and property for building owners, we have set up base camps in Booysens, Tembisa and Hillbrow as well as in Sunnyside, Pretoria. By putting feet on the ground, we are aiming to neutralise the situation. Incidentally, some of these buildings have become the home of illegal drug labs, so our special operations division is developing intelligence to counter this problem," Petros added.
Petros explained that a command centre comprising the provincial operations room, a war room (cluster operations room) and a surveillance support centre will coordinate all activities to ensure that various divisions throughout Gauteng are on the same page. "This will effectively alleviate any duplication of effort and ensure that our resources are optimally utilised."
In effect this command centre will form the brain of the SAPS by combining the collective efforts and intellectual property of the Commercial Crime division, LCRC (Local Criminal Record Centre), DPCI (Directorate for Priority Crime Investigation), VISS, video surveillance unit, Crime Intelligence Division (profiling).
"It is our aim, between 2010 and 2014 to reduce serious crime by 4-7%, contact crime by 34% and trio crimes by 31%. In order to do this we will throw all our available resources at the criminal force, but we need businesses to assist us by providing us with potential leads, gathering evidence which can be used for arrest and prosecution of alleged offenders, and by having realistic expectations of the limitations within the SAPS," Petros concluded.
Further reading:
Paxton opens first experience centre in South Africa
Paxton News Access Control & Identity Management
The new Paxton Experience Centre in Johannesburg is now open and welcoming security installers and end users who want to see Paxton's products in action.
Read more...
---
Paratus signs re-seller agreement with Starlink for Africa
News IT infrastructure
Pan-African telco and network services provider Paratus Group announced it has entered an agreement as a distributor for Starlink's high-speed services across the African continent, available immediately in Mozambique, Kenya, Rwanda and Nigeria.
Read more...
---
4IR is opportunity
News
In South Africa, digitalisation remains 'at a nascent stage' which means significant work still has to be done when it comes to addressing skills development around 4IR in the country.
Read more...
---
Five ways to reduce your cyber insurance premiums
Security Services & Risk Management News
With the global costs of cybercrime expected to soar to $13 trillion within the next five years, cyber insurance is booming as organisations try to mitigate the risk of financial losses.
Read more...
---
Client satisfaction boosted by 85% at Thungela Mine
Thorburn Security Solutions News Security Services & Risk Management Mining (Industry)
Thorburn Security, a division of Tsebo Solutions Group, has announced its recent collaboration with Kwa-Zulu Natal security company, Ithuba Protection Services, as part of its Enterprise Supplier Development (ESD) initiatives across Africa.
Read more...
---
Fidelity SecureFire steps into critical fire response space
News Fire & Safety
With the majority of fire stations around the country being crippled by a lack of resources to offer effective responses, Fidelity Fire Solutions has launched its own 'first responder' model, Fidelity SecureFire.
Read more...
---
The state of edge security report
News IT infrastructure
Edge computing has grown from being a niche use case in a handful of industries to offering a major opportunity for enterprises across industries to spread computing power around the world.
Read more...
---
CHI selects NEC XON as trusted cybersecurity partner
News Cyber Security Industrial (Industry)
CHI Limited, Nigeria's leading market player in fruit juices and dairy products, has engaged in a strategic cybersecurity partnership with NEC XON, a pan-African ICT systems integrator.
Read more...
---
Collaboration delivers integrated and holistic security
Guardian Eye CCTV, Surveillance & Remote Monitoring News Integrated Solutions
Guardian Eye and Lytehouse have partnered to integrate their speciality solutions and provide a holistic security offering that overcomes the fragmentation of security systems and services.
Read more...
---
Kaspersky appoints new GM for Africa
News Cyber Security
Kaspersky has announced the appointment of Andrew Voges as the new General Manager for Africa to boost regional market positioning and enterprise protection.
Read more...
---