printer friendly version
Driving security: iLegal 2011
September 2011
News
The Latin phrase 'Quis custodiet ipsos custodies' can be translated as 'Who will guard the guards themselves', or more commonly, 'Who watchers the watchers'. This is a question the security industry has to face on a daily basis.
Presenting at this year's iLegal conference on 25th October 2011 at the Southern Sun OR Tambo, Leo Nardi will extract pearls of wisdom from his years in the industry and discuss what contribution the disabled can make to a CCTV surveillance operation. Based on his own experience, he will discuss the operational, practical and legal issues involved in a successful surveillance operation.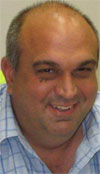 A South African and Italian, Nardi did his post-matric studies in Italy while working for an electronics R&D company. He did his Italian national service with the Folgore Parachute Brigade, part of Italian Special Forces. On his return to South Africa, he continued to work for an electronics design and manufacturing company that was heavily involved in law enforcement electronics for both local and foreign markets. He also joined up as a SAPS Reservist (and is still active) where he was involved in technical projects.
He joined Justicia in 2000 as an electronics manager/investigator and in 2005 was contracted by Justicia to Toyota SA in Durban as an investigator/technical support specialist. Towards the end of 2006, the title of CCTV surveillance manager was added to his portfolio.
He is currently responsible for staffing and managing the Toyota control room as well as consulting on the technical upgrade of the security systems.
For more on this cannot-be-missed conference, go to www.ilegal.co.za
Further reading:
Spend on cloud to accelerate across Africa in 2023
News
More than two-thirds of companies using cloud computing across major African markets plan to increase their spending on cloud services in 2023.
Read more...
---
ChatGPT's impacts will be social, not technical
News
ChatGPT is truly a remarkable achievement, an artificial intelligence (AI) that you can have a conversation with and ask to do everything from writing essays to coding computer programs.
Read more...
---
Artificial intelligence in Africa: levelling the narrative
News
While AI can benefit multiple industries, in Africa the key sectors that stand to gain are financial services (specifically fintech) and agriculture.
Read more...
---
Improving data security for a hybrid society
News
Researchers from Tokyo University of Science develop a method that can perform computations with encrypted data faster and at a lower cost than conventional methods, while also improving security.
Read more...
---
Cybersecurity in 2023: The latest trends and developments
News
In 2023, experts predict that several trends will shape the cybersecurity landscape, including the growing use of artificial intelligence (AI), the increasing focus on the Internet of Things (IoT), and the rise of quantum computing.
Read more...
---
SAN market set for growth
Technews Publishing News IT infrastructure
Storage-area network (SAN) market to hit US$ 26,86 billion in revenue by the end of 2029 due to factors like widespread adoption of Hybrid SAN-NAS solutions.
Read more...
---
Enterprise threats in 2023
News Cyber Security
Large businesses and government structures should prepare for cybercriminals using media to blackmail organisations, reporting alleged data leaks, and purchasing initial access to previously compromised companies on the darknet.
Read more...
---
Trends in the proptech industry for 2023
News
By mixing real estate with technology to optimise industries, create new ones, and generate efficiencies or capabilities that improve revenue generation, something as fundamental as the concept of parking has been turned on its head.
Read more...
---
31 percent of all IoT SIMs managed with third-party IoT CMPs
News Integrated Solutions
Berg Insight recently released new findings about the market for IoT connectivity management platforms (CMPs), a standard component in the value proposition from mobile operators and IoT MVNOs around the world.
Read more...
---
Off-highway vehicle telematics systems
News
The installed base of off-highway vehicle telematics systems to reach 12.2 million units worldwide by 2026, says Berg Insight.
Read more...
---