printer friendly version
Driving security: iLegal 2011
September 2011
News
The Latin phrase 'Quis custodiet ipsos custodies' can be translated as 'Who will guard the guards themselves', or more commonly, 'Who watchers the watchers'. This is a question the security industry has to face on a daily basis.
Presenting at this year's iLegal conference on 25th October 2011 at the Southern Sun OR Tambo, Leo Nardi will extract pearls of wisdom from his years in the industry and discuss what contribution the disabled can make to a CCTV surveillance operation. Based on his own experience, he will discuss the operational, practical and legal issues involved in a successful surveillance operation.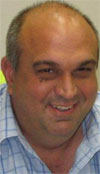 A South African and Italian, Nardi did his post-matric studies in Italy while working for an electronics R&D company. He did his Italian national service with the Folgore Parachute Brigade, part of Italian Special Forces. On his return to South Africa, he continued to work for an electronics design and manufacturing company that was heavily involved in law enforcement electronics for both local and foreign markets. He also joined up as a SAPS Reservist (and is still active) where he was involved in technical projects.
He joined Justicia in 2000 as an electronics manager/investigator and in 2005 was contracted by Justicia to Toyota SA in Durban as an investigator/technical support specialist. Towards the end of 2006, the title of CCTV surveillance manager was added to his portfolio.
He is currently responsible for staffing and managing the Toyota control room as well as consulting on the technical upgrade of the security systems.
For more on this cannot-be-missed conference, go to www.ilegal.co.za
Further reading:
Paxton opens first experience centre in South Africa
Paxton News Access Control & Identity Management
The new Paxton Experience Centre in Johannesburg is now open and welcoming security installers and end users who want to see Paxton's products in action.
Read more...
---
Paratus signs re-seller agreement with Starlink for Africa
News IT infrastructure
Pan-African telco and network services provider Paratus Group announced it has entered an agreement as a distributor for Starlink's high-speed services across the African continent, available immediately in Mozambique, Kenya, Rwanda and Nigeria.
Read more...
---
4IR is opportunity
News
In South Africa, digitalisation remains 'at a nascent stage' which means significant work still has to be done when it comes to addressing skills development around 4IR in the country.
Read more...
---
Five ways to reduce your cyber insurance premiums
Security Services & Risk Management News
With the global costs of cybercrime expected to soar to $13 trillion within the next five years, cyber insurance is booming as organisations try to mitigate the risk of financial losses.
Read more...
---
Client satisfaction boosted by 85% at Thungela Mine
Thorburn Security Solutions News Security Services & Risk Management Mining (Industry)
Thorburn Security, a division of Tsebo Solutions Group, has announced its recent collaboration with Kwa-Zulu Natal security company, Ithuba Protection Services, as part of its Enterprise Supplier Development (ESD) initiatives across Africa.
Read more...
---
Fidelity SecureFire steps into critical fire response space
News Fire & Safety
With the majority of fire stations around the country being crippled by a lack of resources to offer effective responses, Fidelity Fire Solutions has launched its own 'first responder' model, Fidelity SecureFire.
Read more...
---
The state of edge security report
News IT infrastructure
Edge computing has grown from being a niche use case in a handful of industries to offering a major opportunity for enterprises across industries to spread computing power around the world.
Read more...
---
CHI selects NEC XON as trusted cybersecurity partner
News Cyber Security Industrial (Industry)
CHI Limited, Nigeria's leading market player in fruit juices and dairy products, has engaged in a strategic cybersecurity partnership with NEC XON, a pan-African ICT systems integrator.
Read more...
---
Collaboration delivers integrated and holistic security
Guardian Eye CCTV, Surveillance & Remote Monitoring News Integrated Solutions
Guardian Eye and Lytehouse have partnered to integrate their speciality solutions and provide a holistic security offering that overcomes the fragmentation of security systems and services.
Read more...
---
Kaspersky appoints new GM for Africa
News Cyber Security
Kaspersky has announced the appointment of Andrew Voges as the new General Manager for Africa to boost regional market positioning and enterprise protection.
Read more...
---