printer friendly version
Driving security: iLegal 2011
September 2011
News
The Latin phrase 'Quis custodiet ipsos custodies' can be translated as 'Who will guard the guards themselves', or more commonly, 'Who watchers the watchers'. This is a question the security industry has to face on a daily basis.
Presenting at this year's iLegal conference on 25th October 2011 at the Southern Sun OR Tambo, Leo Nardi will extract pearls of wisdom from his years in the industry and discuss what contribution the disabled can make to a CCTV surveillance operation. Based on his own experience, he will discuss the operational, practical and legal issues involved in a successful surveillance operation.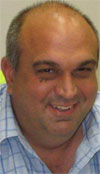 A South African and Italian, Nardi did his post-matric studies in Italy while working for an electronics R&D company. He did his Italian national service with the Folgore Parachute Brigade, part of Italian Special Forces. On his return to South Africa, he continued to work for an electronics design and manufacturing company that was heavily involved in law enforcement electronics for both local and foreign markets. He also joined up as a SAPS Reservist (and is still active) where he was involved in technical projects.
He joined Justicia in 2000 as an electronics manager/investigator and in 2005 was contracted by Justicia to Toyota SA in Durban as an investigator/technical support specialist. Towards the end of 2006, the title of CCTV surveillance manager was added to his portfolio.
He is currently responsible for staffing and managing the Toyota control room as well as consulting on the technical upgrade of the security systems.
For more on this cannot-be-missed conference, go to www.ilegal.co.za
Further reading:
Johnny Aucamp joins iPulse exco
News
Johnny Aucamp has joined iPulse Systems as its chief sales officer (CSO), adding a massive boost to the executive team.
Read more...
---
From the editor's desk: Security and resilience
Technews Publishing News
It's often said that South Africans are a resilient bunch, and history has proven this correct. When it comes to security, both cyber and physical, resilience is key to an effective defensive plan. ...
Read more...
---
Hikvision aims for solutions
Technews Publishing Hikvision South Africa Editor's Choice CCTV, Surveillance & Remote Monitoring News Integrated Solutions Conferences & Events
Hikvision recently held a roadshow titled Industry X, where the company highlighted its latest products and solutions, supported by partners and distributors.
Read more...
---
Olarm launches PRO 4G communicator
Olarm News Perimeter Security, Alarms & Intruder Detection Products
Olarm has announced an additional 4G/LTE version of its Olarm PRO smart communicator. It is aimed at areas suffering from poor connectivity by providing support for 4G, 2G and Wi-Fi networks.
Read more...
---
ADI Expo returns to South Africa
Technews Publishing ADI Global Distribution News
September saw the return of the ADI Expo to South Africa. The Johannesburg event was held at the Focus Rooms and the Durban event, two days later, at the Southern Sun Elangeni & Maharani.
Read more...
---
Technoswitch Awards dinner for 2022
Technews Publishing News Fire & Safety
Technoswitch hosted its fifth awards dinner at Montecasino in September, where customers and suppliers celebrated a year of success.
Read more...
---
Suprema joins FiRa Consortium
Suprema News Access Control & Identity Management
Suprema recently became a member of the FiRa Consortium, a consultative body that establishes standards for ultra-wideband (UWB) technology, the next generation of wireless communication.
Read more...
---
Reliable, low-maintenance video appliances
Technews Publishing Editor's Choice CCTV, Surveillance & Remote Monitoring News IT infrastructure Products
Symetrix, part of the Agera Group, has added the AES range of video recording servers, storage appliances and workstations to its portfolio.
Read more...
---
ZYTEQ Fire Engineering Summit 2022
ZYTEQ Fire Fire & Safety News
Cape Town-based ZYTEQ Fire hosted its inaugural Engineering Summit at the Commodore Hotel in Cape Town and the Leonardo Hotel in Sandton, Johannesburg.
Read more...
---
Nomad launches early adopter programme
Editor's Choice News Integrated Solutions Smart Home Automation
Participants in Nomad's Early Adopter Programme will receive 10% of their volume order to facilitate testing before the commercial launch later this year.
Read more...
---