printer friendly version
Dallmeier introduces Panomera
August 2011
CCTV, Surveillance & Remote Monitoring
Panomera is a new HD camera technology developed for the all-encompassing video surveillance of expansive areas. With Panomera, huge widths, as well as areas with large distances can be displayed with a new resolution quality. And in actual use, the sensor system demonstrates numerous advantages over previous solutions. A huge area can be surveyed from a single location, and depending on the customer's needs, the resolution can be scaled nearly limitlessly.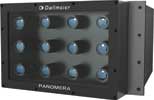 Panomera, a multisensor system with up to 51 megapixels in real-time
More than just megapixels
With Panomera, huge widths, as well as areas with large distances can be displayed with a new resolution quality (up to 51 megapixels). This can be done in real-time and with high frame rates of up to 30 fps. In so doing, Panomera surpasses the conventional HD 1080p standard, redefining the often heard term: high resolution. Anyone who has seen Panomera live can quickly attest to the 'aha effect' that begins where HD and megapixel cameras reach their limits.
Panomera in comparison to previous systems
In the past, in order to ensure this type of comprehensive surveillance of wide areas, basically three options were available: The first option consisted of installing a large number of single cameras that then either work individually or are linked via a management system. A second option involved controllable PTZ cameras, with the third option consisting of 180°/360° cameras. So what is the difference between Panomera and these systems?
Panomera vs HD cameras
With Panomera, the same area can be surveyed from a single location as with several HD cameras distributed over several locations. This offers two advantages: On the one hand, in some areas it is simply not possible to use more than one camera, since there are not enough installation sites or the required infrastructure (cables, electricity, etc,) cannot be created to the necessary extent. This means that Panomera provides images for areas that otherwise could not be monitored at all. On the other hand, since fewer camera installation locations are needed, the requirements for the infrastructure are lower, along with expenditures for servicing and maintenance.
Panomera vs PTZ cameras
PTZ cameras have a definite disadvantage: The operator must constantly decide between the overall view and a detail view. For instance, if the operator wishes to survey a certain area in more detail and zooms into it, only this detail is recorded. This means that later, no recording of the overall scene exists, so that incidents in other areas may be overlooked and can no longer be reconstructed. Here, Panomera works differently: Regardless of the part of the surveillance area the operator focuses on at a particular moment, with Panomera, the overall action is recorded at all times – with maximum resolution of detail. As a result, an incident can also be reconstructed in detail after the fact, no matter where it occurred.
Another advantage of Panomera is its multicast and multi-user capability: In contrast to PTZ cameras, with which only one operator can pan, tilt or zoom, with Panomera, an unlimited number of operators can navigate across the entire scene independently of each other. Although all operators are connected with the same camera, each of the individual users can select their view individually and zoom or pan as they desire. As a result, a range of different areas can be surveyed in detail at the same time. A sophisticated user management system makes it possible to assign different viewing rights to every workstation. Different users can be given individual user profiles that include authorisations for specific system functions.
In contrast to PTZ cameras, Panomera has no movable mechanical parts, which means there is no wear, extending the camera's lifetime.
Panomera vs 180°/360° cameras
At first glance, they may appear to be the ideal solution for surveying wide areas: 180° or 360° cameras that provide a comprehensive bird's-eye view. However, these cameras are only designed for short distances, for instance, for monitoring foyers or entryways. With some models, the fisheye effect, which distorts the picture at the edges, is also a problem. This is not the case with Panomera, since the edges are clearly defined, without distortion. And most importantly, with Panomera it is possible to survey and record huge areas with top quality (better than HDTV). In addition, with Panomera, the specific quality needed for a particular distance can also be individually adjusted. The multisensor system can be specifically scaled to meet any requirement posed by the customer.

Where in the past, numerous camera masts had to be installed, with Panomera a single installation site is enough
The lens
For the following explanation, let us reacquaint ourselves with a notion that may seem obvious at first glance: While a real scene is three dimensional, in the camera display, it is only depicted two-dimensionally. For conventional HD or megapixel cameras, this means that the indicated resolution, let us say, 12 megapixels, is evenly distributed on the entire viewing angle. The farther you now 'move to the back' of the scene, meaning, zoom into the picture, the higher the loss of detail, causing the picture to become blurry.
Panomera solves this problem with a new lens and sensor concept. With innovative geometric construction principles, Panomera uses its megapixels such that even objects that are farther away can be displayed with the same resolution as objects in the foreground of the picture.
Another advantage of this sensor concept is a substantially higher dynamic range. Panomera works with several sensors, each of which selects its own exposure strategy in order to achieve ideal saturation. While with other cameras an average value is determined, Panomera can make distinctions more effectively: Light areas are exposed for a shorter time and dark areas for a longer time. As a result, situations with a large dynamic range can also be recorded with good quality, without overexposure or drowned black areas.
Another outstanding feature of Panomera is its high light sensitivity.
Intelligent video analysis
With one Panomera system, a huge area can be surveyed from a single location in extraordinary detail. This offers tremendous advantages, especially for management and for video analysis: Movements of objects, such as people or vehicles, can also be reconstructed over long distances without any gaps in the recording or camera switching. Of course this is fully automatic thanks to intelligent video analysis.
Depending on the area of application, the customer can choose from among different Panomera models, whether for expansive wide areas, long distance areas or challenging smaller surveillance areas. To this end, as already described above, Panomera can be individually adapted to the customer's needs at all times.
For more information contact Dallmeier Electronic GmbH & Co.KG, +49 941 8700 0, presse@dallmeier.com, www.dallmeier.com
Further reading:
Efficient storage for security
Issue 7 2020, Dell EMC , CCTV, Surveillance & Remote Monitoring
There is a dramatic increase in the amount of storage and computing power required to support today's safety and security systems.
Read more...
---
Safe restaurant reopening technology
Issue 7 2020, Dahua Technology South Africa , CCTV, Surveillance & Remote Monitoring
Denmark's Arkaden Food Hall makes use of Dahua People Counting and Flow Control solution for safe reopening.
Read more...
---
Forbatt SA invests in South Africa's security industry
Issue 7 2020, Forbatt SA , CCTV, Surveillance & Remote Monitoring
Forbatt SA is set to offer an improved service to the industry by making sure it has the products and solutions the industry needs, as well as a new showroom.
Read more...
---
Analytics with your existing cameras
Issue 7 2020, Secutel Technologies , CCTV, Surveillance & Remote Monitoring
With SecuVue from Secutel Technologies, it is possible for any business to monitor their offices, warehouses or stores remotely, from any part of the world.
Read more...
---
Consolidating control rooms and service delivery within a COVID-19 environment
Issue 6 2020, Leaderware , CCTV, Surveillance & Remote Monitoring
It is essential to have informed, coordinated and professional responses within control rooms at this time of increasing turmoil.
Read more...
---
Technology driving the healthcare industry
Issue 6 2020, Duxbury Networking , CCTV, Surveillance & Remote Monitoring
Seeing cameras as sensors opens up new possibilities, and each one of them responds to typical demands inside a hospital, clinic or nursing home.
Read more...
---
Turn cameras into traffic sensors
Issue 6 2020, Duxbury Networking , CCTV, Surveillance & Remote Monitoring
Safer communities and cities are achieved through a mixture of technology and human resources, working together in a holistic manner.
Read more...
---
Mobotix thermal technology increases security
Issue 6 2020, Duxbury Networking , CCTV, Surveillance & Remote Monitoring
Installations, machinery, equipment and material available on company premises require effective and cost-efficient protection. In addition, operational safety, optimisation of workflows and protection ...
Read more...
---
Getting a visual on Covid-19 screening
Issue 6 2020, Graphic Image Technologies , CCTV, Surveillance & Remote Monitoring
Should organisations be investing in thermal camera technology to simply contain and limit the spread of the virus?
Read more...
---
Flexible temperature screening options for challenging times
Issue 6 2020, Hikvision South Africa , CCTV, Surveillance & Remote Monitoring
A thermal imaging camera is an effective screening device for detecting individuals with elevated skin temperature. This type of monitoring can provide a rapid screening approach in high-traffic areas.
Read more...
---