printer friendly version
Open-area smoke imaging detection webinar
August 2011 Fire & Safety, Videos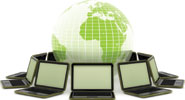 Xtralis, the company behind VESDA, introduced its OSID (open area smoke imaging detection) technology designed for open spaces where fire detection presents unique challenges to the African community via a webinar hosted by Hi-Tech Security Solutions. In the course of the 45-minute presentation, Rob Galic, director, OSID business development at Xtralis took attendees through the challenges all companies face in protecting large open spaces from fire.
Galic examined solutions such as aspirating smoke detection, beam detection and linear heat detection, discussing the pros and cons of each when it comes to protecting large areas. He then introduced OSID.
OSID, put simply, is a projected beam smoke detector designed to detect smoke along the entire path of the light beam. It uses an emitter ('transmitter') to project the beam and a CMOS imager ('receiver') to receive it at the other end.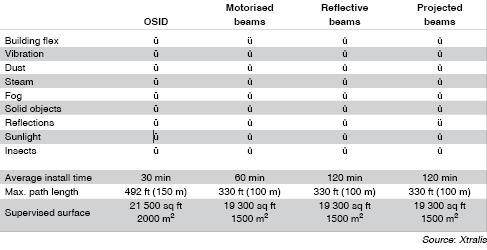 Table 1. OSID in comparison
The emitters transmit dual frequency beams, ultra violet and infra-red, while Xtralis's smart algorithms are used to detect even small amounts of smoke and reject dust and other false alarms. The imager uses a CMOS imaging chip which allows for digital imaging and algorithms instead of photodiodes.
Galic added that OSID installation is intuitive because exact alignment between the imager and emitter is not required. An imager can locate and lock in an emitter that is only roughly aligned thanks to the imager's wide field of view. And because OSID uses a wide-angle imaging sensor, its sophisticated algorithms can compensate for vibrations and building movement. A significant benefit of OSID is its volumetric coverage. As many as seven emitters can be placed within the field of view of a single imager, each placed at different heights. The imager's large viewing angles, both horizontal and vertical, enable three-dimensional area coverage for design flexibility and additional deployment savings.
The benefits of OSDI can be summed up as follows:
* Fast, reliable standard sensitivity detection with absolute calibration.
* Full immunity to vibrations and extreme building movement.
* Complete resistance to dust, steam, fog, condensation and other obstructions.
* Full immunity to reflections.
* Simple installation, commissioning and maintenance to dramatically lower costs.
* Consistent performance in any ambient lighting or total darkness.
* 3-D volumetric coverage for design flexibility and additional cost savings.
Galic adds that the financial benefits are also substantial:
* Low implementation costs – simple, fast installation and alignment:
* Only the imager unit is wired.
* Power supplied from panel.
* Fast and simple coarse manual alignment.
* Can be aligned without power to the detector.
* Cost-effective detection for challenging buildings.
* Multi-emitter solution provides 50% better coverage than spot and beam detectors.
* 3-dimensional emitter arrangement allows wide coverage.
* Extra layers of detection provide faster detection time.
* Lower maintenance cost for larger areas:
* Test filter at the imager or emitter.
* No misalignment and no intervention costs.
Technoswitch launches OSID
Shortly after the webinar, local Xtralis distributor, Technoswitch announced the launch of OSID in South Africa. The company confirmed that, in its simplest configuration, "OSID by Xtralis uses one imager, a camera-like device with a wide field of view, and a wired or battery-powered emitter roughly aligned on the opposite wall within the protected area. The emitter sends both infrared and ultraviolet coded light signals to the imager. If the light reception is altered due to the presence of genuine smoke particles, the imager will go into alarm. The novel use of dual light frequencies in an open-path device enables OSID to discriminate between real smoke and other objects, including insects, steam, condensation and dust, thus drastically reducing false alarms."
Industries and applications
Technoswitch says OSID is ideal for use in a wide range of industries and applications. These include atriums, domes and large rooms in:
* Airports.
* Train stations.
* Shopping centres.
* Stadia.
* Educational facilities.
* Hotels, convention centres and office buildings/complexes.
* Entertainment venues.
* Warehouses and production floors.
"We are very pleased to be able to offer OSID to the South African market. OSID replaces current technologies used in open spaces, providing a superior sensitivity and more robust solution yet at the same time reducing the lifetime cost of the system", says Brett Birch, business development manager for Technoswitch. "Furthermore OSID has already won two prestigious awards, the first being the Judge's Choice Award at the ISC West 2011 New Product Showcase in Las Vegas in April and followed this with the Fire Excellence Award in the Best Detection and Alarm Product category at Firex in Birmingham in May this year.
For more information on OSID please visit www.technoswitch.co.za or www.xtralis.com
Credit(s)
Further reading:
Technoswitch partners with UK's Hyfire
Technoswitch Fire Detection & Suppression News Fire & Safety Products
UK-based wireless fire technology pioneer Hyfire, has confirmed partnership agreements that will see its products sold in South Africa, for the first time, through local fire and safety stalwart, Technoswitch.
Read more...
---
Bespoke fire-risk systems for agri and food processing
Fire & Safety
ASP Fire highlights its specialised expertise in the agri and food-processing industries, where compliance is vital to save lives, reduce the costs of fire damage, and protect equipment and buildings from major damage.
Read more...
---
Incorporate fire safety in the design phase
Fire & Safety
ASP Fire CEO Michael van Niekerk says companies can prevent their infrastructure project from going up in flames by incorporating fire safety in the design phase.
Read more...
---
Fire-fighting force at Vergelegen
Editor's Choice Fire & Safety Residential Estate (Industry)
Vergelegen wine estate in Somerset West, and its neighbours, are set to enjoy greater peace of mind this summer, thanks to the delivery of a brand new fire truck .
Read more...
---
Rhino103 extinguishing control panel
Technoswitch Fire Detection & Suppression Fire & Safety Products
Technoswitch has released the Rhino103 extinguishing control panel range, designed and manufactured in South Africa to comply with EN54 parts 2 and 4, and EN12094.
Read more...
---
Technoswitch partners with Ciqurix for video fire detection
Technoswitch Fire Detection & Suppression News Fire & Safety
Technoswitch is pleased to announce the signing of an exclusive distribution agreement with Ciqurix (UK), a leading supplier of video fire detection products.
Read more...
---
Fire protection for new Fuchs warehouse
Fire & Safety
The new warehouse at Fuchs Lubricants South Africa in Isando, Johannesburg, not only incorporates the latest technology but complies with stringent fire detection and prevention requirements.
Read more...
---
Fire-safety risks during load shedding
News Fire & Safety
The current load shedding implemented by electricity utility Eskom, as it faces unplanned breakdowns, poses a heightened fire risk for homeowners and their families.
Read more...
---
FlameSpec flame detectors from Technoswitch
Technoswitch Fire Detection & Suppression Fire & Safety
The FM-approved FlameSpec detectors address slow-growing fires and fast eruptions of fire while maintaining high performance and reliable detection in all weather and light conditions.
Read more...
---
Improved hydraulic performance and efficiency
Johnson Controls Global Products Fire & Safety
Tyco 5.8K LFII sprinkler from Johnson Controls Global Products brings improved hydraulic performance and efficiency to residential fire protection.
Read more...
---