printer friendly version
OHAS compliant
July 2011 CCTV, Surveillance & Remote Monitoring, Security Services & Risk Management, Mining (Industry)
No longer just a tool for detecting, monitoring and preventing theft and fraud, CCTV surveillance is finding increasing popularity as an aid to ensuring OHAS (occupational health and safety) compliance by companies and their employees. Hi-Tech Security Solutions takes a closer look at how CCTV can decrease health and safety risks on site.
According to recent research, slips, trips and falls at work account for up to a third of all major workplace injuries every year. They are also the most common cause of injuries in the workplace and can happen virtually anywhere within (or outside) a facility.
The Occupational Health and Safety Act of 1993 stipulates that employers have a responsibility to:
(1.a) identify the hazards and evaluate the risks associated with such work constituting a hazard to the health of such employees, and the steps that need to be taken to comply with the provisions of this Act;
(1.b) as far as is reasonably practicable, prevent the exposure of such employees to the hazards concerned or, where prevention is not reasonably practicable, minimise such exposure.
In turn though, the Act also requires that employees have a responsibility to (amongst others):
(a) take reasonable care for the health and safety of himself and of other persons who may be affected by his acts or omissions;
(1.c) carry out any lawful order given to him, and obey the health and safety rules and procedures laid down by his employer or by anyone authorised thereto by his employer, in the interest of health or safety; if any situation which is unsafe or unhealthy comes to his attention, as soon as practicable report such situation to his employer or to the health and safety representative for his workplace or section thereof, as the case may be, who shall report it to the employer; and
(1.d) if he is involved in any incident which may affect his health or which has caused an injury to himself, report such incident to his employer or to anyone authorised thereto by the employer, or to his health and safety representative, as soon as practicable but not later than the end of the particular shift during which the incident occurred, unless the circumstances were such that the reporting of the incident was not possible, in which case he shall report the incident as soon as practicable thereafter.
Similarly, the Mine Health and Safety Act (MHSA) states that: "The primary responsibility for ensuring a health and safe working environment in mines is placed on the mine owner. The Act sets out in detail the steps that employers must take to identify, assess records and control health and safety hazards in the mine".
Unfortunately, even when companies do comply with the regulations and institute measures to ensure a safe workplace environment; employees often bend the rules to suit themselves. Primary motivating factors can be lessened discomfort (caused by personal protective equipment, or PPE) or reduced hassle by taking shortcuts.
Workmen's Compensation and similar insurance-related organisations like the Federated Employer's Mutual Assurance Company Limited annually pay out huge sums of money to claimants. In some instances, steps taken by employers to ensure monitoring of adherence to safe working practices could have (1) possibly prevented the accident occurring in the first place or (2) could have highlighted fault on the part of the employee with this forming the basis for dispute of claims.
Taking back control
Hi-Tech Security Solutions spoke to Kevin Monk, technical director at Bidvest Magnum Group, about the problems with non-compliance.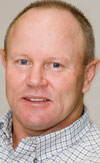 Kevin Monk
Organisations often incur financial losses associated with occupational injuries and illnesses, expenditures that come straight out of company profits. These losses include costs such as legal fees, fines, compensatory damages, investigation time, lost production, lost goodwill from the workforce, from customers and from the wider community.
Monk said that ignoring the risks involved in the daily running of your business also impacts on the following:
* The health and safety of employees and others (contractors, customers, visitors and the community).
* Your reputation, credibility and status.
* Public and customer confidence in your organisation.
* Your financial position.
* Damage to plant, equipment and the environment.
"In addition, poor occupational safety and health performance results in a cost to the State (for example, through social security payments to the incapacitated, costs for medical treatment, and the loss of the employability of the worker)," he added.
"If potential hazards or risks are not properly managed, they will result in loss to organisational resources. In some cases the consequence could be detrimental to man as well as the environment."
Monk's suggestion is to consider installing a CCTV system in areas where risks are perceived or known to be higher in terms of potential injuries. "Companies need to look outside the box with regard to the use of CCTV systems. While they will always be used predominantly in the detection, monitoring and recording of nefarious deeds, they also have a large role to play in terms of compliance to health, safety and environmental concerns in the workplace."
He points out that client companies are responsible for ensuring that all documentation from the contractor, such as the 37.2 and 16.1, is in order.
Keeping track
Monk said that the benefits which can be derived from installing a CCTV system for this purpose far outweigh the initial cost of installation."It is also applicable to any industry you can think of. We have clients in the FMCG, mining, industrial warehousing and food and beverage industries, to name a few. Obviously, the point of application will vary from client to client and application to application, but the basic tenets are similar."
Monk says that the mining fraternity is by far the strictest in terms of compliance to SHEQ issues. Risk assessments form an integral part of each mining operation and the subsequent processing facilities. "The mining sector drives all other industry in terms of SHEQ compliance. A risk permit needs to be completed and submitted when work is undertaken. This risk permit outlines the level of PPE needed on site and all incidents are carefully analysed to assess where the onus lies for responsibility. There are simply no shortcuts allowed in mining and CCTV plays a large role in determining responsibility and non compliance."
Other areas where CCTV has proved to be extremely useful in policing problems include the recording of footage when LP gas leaks or explosions occur. The cameras can be deployed to these areas to provide critical visual information on the source of the hazard as well as to determine where personnel are situated for search and recovery purposes. This footage is also useful when mop-up operations need to be orchestrated.
In the industrial arena, CCTV has proved effective in providing coverage in areas where, for instance, forklift drivers are operating their equipment irresponsibly. "By using cameras to record and playback such evidence, guilty employees can be reprimanded and suitably punished. This gives credence to any HR or IR cases that may be brought against such employees," said Monk.
Monk said that in large shopping centres, the use of escalators is often where people are negligent. "CCTV will indicate to shopping centre security staff and management incidences where due care was not exhibited by the public, thus shifting the onus to the escalator user, rather than mall management.
"In another instance, our client, a large refinery, had expressed concern that employees were not using handrails installed for their own safety, and clearly indicated as such. They wished to minimise the incidences of slipping and falling so we installed cameras at strategic areas and used the footage to bring errant employees to task."
Where there is smoke …
While issues such as safe work practice are the primary objectives of a CCTV system installed to ensure adherence to the OHAS or MHSA Acts, there are other health-related benefits to be derived from utilising CCTV.
Monk cites a large distribution centre as an example of how CCTV can provide tangible benefits to company management. "A number of employees were discovered to be smoking in a no smoking area. Obviously, when you are dealing with food, the strictest hygiene standards need to be in place and smoking on the job is not one of these standards. In addition, the cameras recorded instances of employees not wearing the stipulated PPE. Both scenarios were addressed and resolved painlessly and quickly and the employees are now aware of big brother monitoring them."
Monk emphasises that when CCTV is used within a facility, irrespective of the reasons for its use, sign boards clearly notifying people of the presence of surveillance cameras should be placed at a number of strategic places throughout the facility.
Practice what you preach
Monk points out that it is contingent upon the owners of CCTV installation companies to put their money where their mouths are with regard to using CCTV as an aid to reducing workplace accidents. "How often does one see an installer working up a ladder with no helper present at the bottom to hold the ladder? Sadly, this happens frequently and safety inspectors at client companies should be on the lookout for such infringements on their premises.
"Essentially, CCTV installers should practice safe procedures when installing systems. This is important both from their own personal perspective as well as to ensure the safety of the client's employees. At the end of the day, therefore, they should lead by example.
"Workplaces with active safety and health leadership have fewer injuries, are often considered by employees to be better places to work and have more satisfied and productive employees. This is applicable both to clients who invest in a safe and healthy work environment, as well as to the CCTV installers themselves," said Monk. "It is a known fact that these employees return to work more quickly after an injury or illness and produce higher-quality products and services."
ROI
Monk said that there is no doubt that safe environments improve employee morale, which leads to increased productivity and better service. "Businesses operate more efficiently when they implement effective safety and health management systems.
"So by following the simple steps of undertaking a comprehensive risk assessment and applying a suitable monitoring and policing system to ensure adherence to the basic safety requirements, companies are guaranteed to recoup their investment in a surveillance system within a short period of time, while simultaneously making the workplace a more appealing environment to be in," he concluded.
OSH Expo Africa 2011 makes it debut alongside IFSEC
Ross Cullingworth, commercial events director at Montgomery Africa (organisers of IFSEC) said that the OSH Expo Africa 2011 show is the culmination of an obvious marriage between Montgomery Africa and its UK partners, United Business Media (UBM).
"UBM Live's extensive experience in providing media solutions for the health and safety market, combined with Montgomery Worldwide's knowledge of and expertise in the African market, will provide a platform for industry professionals involved in occupational health and safety to explore the latest products, services and innovations within the market; network with peers and take advantage of an extensive educational programme," said Cullingworth.
With the increasing importance of compliance with health and safety legislation and a rapidly developing infrastructure and multinational investment in sectors such as mining, construction, manufacturing, utilities, oil, gas and transport, South Africa offers a great opportunity for health and safety suppliers and service providers.
Safety and health issues encompass a broad range of industries – from construction and manufacturing, right through to the oil and gas, transport, communications and utilities sectors.
OSH Expo Africa will be hosted in a completely separate hall alongside the Facilities Africa Show. "Lexis Nexis will be hosting a three-day seminar programme covering topics such as compliance, managing legislative change, striving for safety excellence, and connecting corporate risk management to shop floor safety. There will also be a seminar theatre where a number of talks and demonstration sessions will be hosted by the likes of the Department of Labour and Ansell," Cullingworth added.
Bookings for the show are accelerating with commitment already received from the Kimberly Clarke, 3M, Nebosh, Honeywell, Dekra, IRCA, H.A.S.S. International, HSE Solutions, Noise Clipper, Safety Jogger, Ho Cheng Safety, Drug Detection International and IOSH.
Further reading:
The importance of correct specifications
Issue 2 2020, Sensor Security Systems , CCTV, Surveillance & Remote Monitoring
To prevent the incorrect specification of CCTV equipment, Sensor Security has a comprehensive checklist to complete.
Read more...
---
Dahua unveils core products for 2020
Issue 2 2020, Dahua Technology South Africa , CCTV, Surveillance & Remote Monitoring
Dahua Technology unveiled its 2020 core products in Intersec Dubai, enabling and accelerating its AIoT transformation.
Read more...
---
Wireless HD CCTV network
Issue 2 2020 , CCTV, Surveillance & Remote Monitoring
Infinet Wireless' wireless solutions have been deployed in Ipswich town centre to improve safety and ensure hassle free HD surveillance.
Read more...
---
Hikvision launches LED display product line
Issue 2 2020, Hikvision South Africa , CCTV, Surveillance & Remote Monitoring
Hikvision has launched a full range of internally manufactured LED displays, providing high-definition colour imaging.
Read more...
---
End-to-end surveillance upgrade
Issue 2 2020 , CCTV, Surveillance & Remote Monitoring
An upgrade of a video surveillance solution composed of video management software and 425-plus new cameras has transformed security operations for the Central Bank of Jordan.
Read more...
---
Reinventing network camera security
Issue 1 2020, Axis Communications SA , CCTV, Surveillance & Remote Monitoring
Now in its seventh generation and celebrating its 20th anniversary, the Axis ARTPEC chip was launched in 1999 designed to optimise network video.
Read more...
---
Cloud-based fleet and driver management
Issue 1 2020, Graphic Image Technologies , CCTV, Surveillance & Remote Monitoring
Graphic Image Technologies (GIT) has announced the availability of a cloud-based dashcam designed to improve on-the-road behaviour and assist in improving fleet management.
Read more...
---
Cathexis specialises in integration
Issue 1 2020, Cathexis Technologies , CCTV, Surveillance & Remote Monitoring
The integration of multiple systems is intrinsic and essential to the goal of creating an effective and efficient operational environment.
Read more...
---
Do wireless networks meet modern surveillance demands?
Issue 1 2020, Duxbury Networking, RADWIN , CCTV, Surveillance & Remote Monitoring
It is predicted that video will account for 15,1 zettabytes (1 zettabyte = 1 trillion gigabytes) of data annually, which is more than any other IoT application.
Read more...
---
Traffic doesn't have to be this way
Issue 1 2020, Dahua Technology South Africa, Axis Communications SA , CCTV, Surveillance & Remote Monitoring
More effective traffic management is something that would save us all a lot of frustration and wasted time, and it's one of the areas where AI and big data can have a significant impact.
Read more...
---