printer friendly version
Belden connects with the mining industry
June 2011 Products, IT infrastructure, Mining (Industry)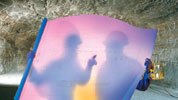 In the mining industry, environmental conditions are extremely harsh. Therefore mining remains one of the most challenging industries for industrial networking.
When active device and media installations operate in these severe environmental conditions underground, cabling, connectivity and networking devices must endure the destructive effects of dust, dirt, dampness and corrosion, threatening equipment and performance. In some mines, caustic chemicals and potentially explosive ambient conditions exacerbate the threat. Industrial communications and control networks are expected to operate consistently and reliably under these extreme conditions. Given these environmental risks, it only makes sense that industrial network systems must be exceptionally rugged and durable to meet the strict safety regulations imposed by the mining industry. Any physical deterioration or failure in key components can lead to unreliable network performance and/or safety issues, and may ultimately lead to loss of critical data, costly downtime, or even catastrophic failure.
Mining sites operate around the clock and breakdown or communication failure is not allowed. Maximum productivity with minimal downtime is a key goal, and 24/7 network performance and reliability are critical to achieving that goal. If a switch, connector or cabling system fails, the cost of parts replacement and repair represents only a tiny fraction of the overall costs associated with production downtime – it will quite possibly mean unplanned downtime, an increased risk of recurring repairs, and a lowering of the level of safety in the mine. Belden switches, connectivity and cabling products are designed to effectively eliminate network downtime inside the mine, keeping information flowing at all times, ensuring a superior performance in safety and production. They are manufactured to comply with the applicable standards of the mining industry.
In mining, uncompromising safety is paramount above all other considerations. Real-time data streaming, monitoring and communication is of upmost importance to ensure high standards of safety and avoiding tragic accidents underground. Therefore, all Hirschmann networking products have been designed with full redundancy. Data is transmitted between the controllers and the remote I/O stations via fail-safe redundant optical fibres. In addition, the danger of explosion, inherent in many mining applications, requires networking products to operate safely in potentially hazardous environments. The Belden product families meet and exceed these requirements. They are designed to give you maximum uptime and maximum peace of mind. Belden's highly reliable industrial-grade solutions keeps information flowing at all times, streaming data about the status of workers, equipment and safe working conditions.
Mines often have multiple mining sites and underground mining operations, so the breadth of the information monitoring problem can be rather extensive and complicated. Actual mining is done several kilometres from the control room; therefore communication has to be fast and effective to ensure that information is readily available where and when it is required underground. All of the mine equipment and environmental information need to be available without interruption in order to support operating decisions and to avoid compromising safety. All of these tasks and needs are difficult to deal with without reliable signal transmission components.
For more information, contact Vladimir Milovanovic, IAC, +27 (0)12 657 3600, vladimir@iacontrol.co.za
Credit(s)
Further reading:
FaceDepot-7B
Issue 1 2020, ZKTeco , Products
The FaceDepot-7B is an indoor facial recognition station with a slim design and 7-inch display.
Read more...
---
SpeedFace-V5
Issue 1 2020, ZKTeco , Products
The SpeedFace-V5 is a starter facial recognition terminal with a 5-inch touch display, multiple verification options with fingerprint, RFID and facial recognition.
Read more...
---
Walk-through metal detector and turnstile
Issue 1 2020, ZKTeco , Products
The MST150 is a turnstile from ZKTeco, designed with a built-in metal detector which enhances security levels and boosts the efficiency of security checkpoints. By combining inspection and access control, ...
Read more...
---
Duxbury Networking launches Solar Switch
November 2019 , IT infrastructure, Products
Duxbury Networking has launched its Solar Switch with tailored capabilities for applications in less-accessible areas where electricity is not available or not reliable.
Read more...
---
TruVision licence plate cameras
November 2019, UTC Fire & Security SSA , Products, CCTV, Surveillance & Remote Monitoring
TruVision ANPR cameras offer functionality for applications where vehicle access management is required based on licence plate.
Read more...
---
Cable theft detection and alerting system
November 2019, Elvey Security Technologies , Products
Cable theft monitoring and alerting system makes use of Permaconn devices and the Pocket Secure app for real-time alerting.
Read more...
---
IP video intercom system
November 2019, Hikvision South Africa , Products
Hikvision has released its second-generation IP video intercom system designed for door entry communication including video and security access.
Read more...
---
Camera Nest enclosure improves accessibility
November 2019, Elvey Security Technologies , Products
The launch of the South African made Camera Nest fundamentally changes the surveillance mounting and installation method.
Read more...
---
Live vehicle monitoring in estates
November 2019 , Products
The eTrac from BetaTrac allows estates to not only register vehicles as they enter the estate, but track their movements while there.
Read more...
---
Secutel's new bodycam
November 2019, Secutel Technologies , Products
The SecuTraq MP 5 all-in-one bodycam is a workforce tracking and management solution that empowers and protects your workforce.
Read more...
---