printer friendly version
Cooling the thermal craze
May 2011
CCTV, Surveillance & Remote Monitoring
Hi-Tech Security Solutions has taken the next step in providing our print and online readers with the latest in trends and technologies by hosting our first in-house webinar.
A webinar is simply a seminar consisting of presentations and a question-and-answer session, except that attendees avoid the traffic and are able to spend an hour or so watching the webinar via their own computers. We also provided a toll-free number attendees could dial in to get the audio if they did not have audio capabilities on their computers. The advent of decent broadband connectivity in South Africa has made webinars a possibility and Hi-Tech Security Solutions decided to take the bull by the horns and use this technology to get more information to our readers.
Like most new technologies, this bull provided more resistance than we expected and we had a few problems on the day, including some people who could not log on, some who received the images but no audio, some who dialled in to hear country music but no talking, and some technical mishaps that no-one has been able to explain. We also underestimated the number of people who would attend. Traditionally webinars have a 30% attendee rate, meaning 30% of the people that register actually sign in. We had an unexpected 75% sign-in rate, which also caught us off guard.
Nevertheless, the webinar went ahead and those that received the images and sound were positive about the process. For those who were unable to attend, or who were frustrated by technical failures, we will be archiving a recording of the Webinar on our site as soon as we can re-record the UK contributor's presentation. Readers will be able to listen to the entire webinar and download additional information from the presenters.
In the meanwhile, here is a short review of the webinar. Our three guest presenters were Roy Alves from Axis Communications, David Montague from Flir (who logged in from the UK), and Francois Malan from Johannesburg-based systems integrator, Camsecure.
Dark and challenging conditions
Roy Alves from Axis Communications started the webinar with an introduction of thermal cameras. He explained that thermal imaging creates a picture of heat rather than light. All objects have a certain temperature and emit waves of energy called infrared radiation. Hot objects emit more energy than cold objects. A thermal imager translates these energy waves into a viewable image, which shows a 'heat picture' of a scene. It requires no light source, which is one of thermal's benefits.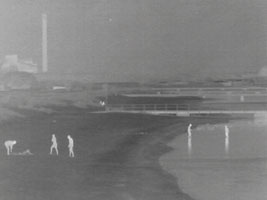 Thermal cameras at work. Source: Axis
More than 60% of all thermal imaging sensors are used in military applications at the moment and it is only recently that the costs of thermals have come down so as to be viable in more commercial environments.
The real benefits of thermals is that they are able to detect objects, human or not, 24x7, whether in the midday sun or in the dark of night. This means those with nefarious intent are not able to hide from thermals and these cameras will produce an image even if pointing into a strong light source, such as an oncoming car.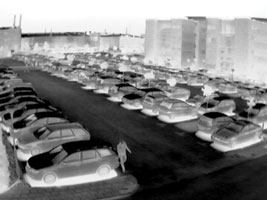 Thermal cameras at work. Source: Axis.
Of course, thermals have their weaknesses. Glass, for example, blocks thermal radiation, while concrete and marble acts as a mirror for thermal imaging.
Moreover, since glass blocks thermal radiation, it stands to reason that normal camera lenses are not used in these cameras. Thermal camera lenses are made from Germanium, which accounts for the high price of thermal cameras.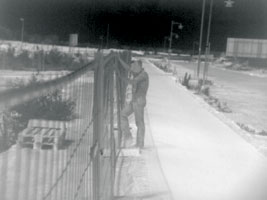 Thermal cameras at work. Source: Axis
Alves also noted that users can purchase cooled or uncooled cameras. Uncooled thermals offer longer ranges and clearer viewing. Most of the commercial applications today are uncooled, which offers ease-of-use benefits, but need a little maintenance every now and then.
Other benefits from thermal cameras Alves highlighted included:
* Ease of integration: Existing IP infrastructure can be used; as can Power over Ethernet technology.
* Optimisation of storage and bandwidth efficiency: H.264 compression is available as is multiple video streams in H.264 and Motion JPEG.
* Access to software solutions: Third-party software solutions from application development partners are available. They are also ONVIF compliant.
Some of the applications driving the uptake of thermals in the commercial world include commercial and consumer driver's vision enhancement, aircraft vision enhancement, thermography, fire fighting and law enforcement, as well as security and surveillance.
Alves closed his presentation with a brief look at some case studies of thermals in action.
Looking back and forward
David Montague, sales director for Flir was next, all the way from the UK. Montague looked back at the history of thermal cameras and then looked at what is available today, a vast difference in technology. Flir was the pioneer of thermal technology and it is only recently that it has had competitors in this fast-growing market.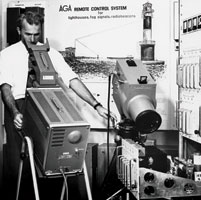 Old-time thermals. Source: Flir
He specifically noted that uncooled products made thermal cameras well suited to the commercial market. Research has resulted in some spectacular capabilities in thermals, not all of which are available for commercial use yet. Some of these include lens options ranging from 9 mm to 1100 mm and the ability to detect a human at up to 18 km when using a cooled camera. Using uncooled devices allows for detection of a human at up to 2 km, depending on the lens.
Portable handheld devices can detect a man at over 1 km and can be purchased for approximately $5000, Montague said. There are also different resolutions available, delivering different quality images as the images show.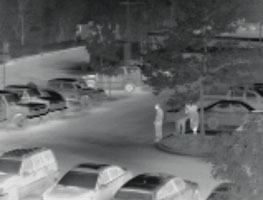 160x140 Resolution. Source: Flir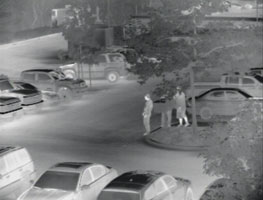 320x240 Resolution. Source: Flir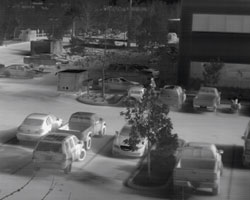 640x480 Resolution. Source: Flir
Issues that are driving the adoption of thermal technology include the global threat of terrorism, and what Montague calls 'the grab culture' and the resulting increased crime rates.
In summarising, Montague provides the following insights into thermal cameras:
* Thermal imaging is often the preferred solution for commercial perimeter protection.
* Cost advantages are seen over a period of three to five years.
* They are environmentally beneficial, there is no need for lighting, it boasts low power consumption and little maintenance.
* Thermal cameras work effectively with analytics.
* Thermals can see long distances.
* They can operate covertly.
* They need no light at all.
Integration challenges
Francois Malan from local integrator Camsecure ended the presentations with a brief look at some of the thermal implementations Camsecure has been involved in. Of the projects Malan has been involved in, the following tasks have benefitted from thermal technology:
* Anti-poaching patrols.
* Crane operators (industrial and mining).
* Perimeter (mining and high-security areas).
* Open spaces where thermals were used to protect resources.
Malan notes that not all thermals are equal and when choosing the technology for a specific project, customers need to consider many options to ensure they purchase the solution that will deliver the results they require. Some of the issues to consider include:
* IP vs. Analogue. This decision can impact the image quality and usability of the image after the fact.
* Power over Ethernet (PoE). Running electrical cables may be overkill in some situations when a single Ethernet cable can deliver all the power certain cameras require.
* Contrast. Ensuring the camera and the lens provide the right contrast in each situation is important as it can result in better detection from analytics applications.
* Resolution. Similarly, the right resolution can be the difference between a useful image and a failed installation.
* H.264 vs. MJPEG. Compression can affect the bandwidth and storage requirements and the image quality if not configured correctly.
* Edge analytics and recording. In some instances is might prove wiser to have the images stored and analysed on camera rather than in a central location.
Finally, Malan talked about three challenges most implementers will face in projects involving thermals:
* Wireless. Wireless networks can be unstable and frame loss can influence analytic performance. As a wireless network shares its bandwidth with all devices that use it, there may also be times when there is limited bandwidth for video. Wireless systems also require power cables to the cameras or some impressive battery or solar power (see image).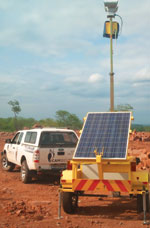 Solar powered thermals. Source: Camsecure
* PTZ cameras. When using a combination of colour and thermal cameras, users will experience high power consumption. The more you move the devices, the more power you use.
* Installation. There are many issues to consider in the implementation of thermal (and other) cameras. When working remotely, Malan suggests checking your IP cameras and radios for their external power voltage requirements when using solar power. He also notes that masts must not move as this can affect the image and analysis. Additionally, he warns of dead spots: mast cameras can look up and down the perimeter, but what about directly in front of the mast?
A question and answer session ended the webinar. Hi-Tech Security Solutions thanks our presenters for their time and effort. Keep an eye out for the next Hi-Tech Security Solutions webinar, which will be presented after we have beaten the technical gremlins to death.
Additionally, should you have any areas of the security market you would like to see us examining in more depth via a webinar, feel free to contact [email protected].
Credit(s)
Further reading:
Hikvision unveils first 'True 8K' NVRs
Hikvision South Africa CCTV, Surveillance & Remote Monitoring Products
The new M-Series NVRs can be used with a host of Hikvision cameras, and are ideal for environments where a wide field of view and extremely high image resolution are needed.
Read more...
---
AI in video analytics
CCTV, Surveillance & Remote Monitoring Integrated Solutions
AI (artificial intelligence), has been developed and debated ever since the first computers were invented, and while the most revolutionary incarnations are not yet here, AI-based technologies are widely used today.
Read more...
---
Milestone flies a Kite for small businesses
Milestone Systems CCTV, Surveillance & Remote Monitoring
Milestone Systems introduces Milestone Kite for small to medium-sized businesses and organisations, supporting 6000+ camera models from 100+ manufacturers.
Read more...
---
Railway AI-enabled video analytics
Rugged Interconnect Technologies CCTV, Surveillance & Remote Monitoring
The Rugged Computing Group has announced the AVA-RAGX, a fanless AIoT video analytics platform for railway applications, paired with Nvidia's Jetson AGX Xavier platform.
Read more...
---
No supply chain delays from Germany
Dallmeier Electronic Southern Africa News CCTV, Surveillance & Remote Monitoring Products
Dallmeier announces that its complete Domera single-sensor camera family is available without delivery problems for installers and channel partners.
Read more...
---
Hikvision releases eDVR Series with eSSD technology
Hikvision South Africa CCTV, Surveillance & Remote Monitoring Products
Hikvision recently added the eDVR Series to its expanding portfolio of security solutions for SMBs, offering compact, durable, easy-to-use and energy-efficient solutions.
Read more...
---
Axis announces W101 body-worn camera
Products CCTV, Surveillance & Remote Monitoring
Axis Communications has designed a body-worn camera, the Axis W101, that has an operating time of up to 17 hours with over 12 hours at 1080p.
Read more...
---
Adding value to SMB applications
Hikvision South Africa CCTV, Surveillance & Remote Monitoring Products
Hikvision designed its PT cameras to provide affordable choices for SMBs, and to pave the way to easy installation and reliable security with flexibility and convenience.
Read more...
---
Going beyond security
Milestone Systems CCTV, Surveillance & Remote Monitoring Products
Milestone Systems reveals plans to bring its pioneering video technology beyond the traditional security market with new specialised solutions, including a special healthcare solution.
Read more...
---
Adding value to SMB applications
Hikvision South Africa CCTV, Surveillance & Remote Monitoring Products
Hikvision designed its PT cameras to provide affordable choices for SMBs, and to pave the way to easy installation and reliable security with flexibility and convenience.
Read more...
---