printer friendly version
Hurry up and wait
May 2011
News
There is a veritable storm brewing in the security industry as disgruntled training providers and confused training candidates pose the question: "What has happened to the registration of the proposed SASSETA Skills Programmes (SA registered unit standards) Levels 1 to 5?" Hi-Tech Security Solutions spoke to the SAIS liaison person to SASSETA, and a registered training provider about the current status of industry training.
Background to training and learnerships
In a research article written in 2007 by Prof Anthony Minnaar, with contributions by Prof Kris Pillay (both from the Department of Security Risk Management, School of Criminal Justice, College of Law, University of South Africa), some background to the current training curriculum is provided. Both authors debate the functions and role of the Private Security Industry Authority (PSIRA) in controlling, regulating and monitoring the activities of the private security industry in South Africa.
"The Security Officers Board Training Committee (SOBTC) developed specific curricula and contents for each category of guards (A-E). It must be noted that this training programme was developed during the apartheid period where the threat of guerrilla attacks were a regular occurrence. Hence the nature, style and content of the material were particularly oppressive and it portrayed black South Africans as the threat.
"Even after the promulgation of the Private Security Industry Regulation Act No. 56 of 2001, these grades continued to be used and it was still being recognised as the official training programme by the newly created Private Security Industry Regulatory Authority (PSIRA) that replaced the old Security Officers Board and the Security Officers Interim Board. Indeed this became problematic since the new government placed strong emphasis on skills development and black economic empowerment.
"To facilitate this process the Department of Labour introduced Sector Education and Training Authorities (SETAS) whose primary role was to register, accredit, assess and moderate all learnerships, skills training courses and training providers. They were also allowed to issue certificates to successful candidates who passed various learnerships and skills courses. The Safety and Security SETA (SASSETA) was charged with the responsibility of managing skills programmes and learnerships for the private security industry. This training tried to involve each industry far more than previously since each SETA was supposed to promote learnerships by:
* Finding workplaces where learners can do practical work.
* Supporting people who create learning material.
* Helping to wrap up learnership agreements.
* Registering learnership agreements.
"A Memorandum of Understanding (MoU) was signed between SASSETA and PSIRA on 4 July 2005 and a joint communiquéé on this was issued on 6 October 2006. In terms of this MoU, SASSETA was to assume the quality assurance function of all training conducted in the security industry. Whilst the Private Security Industry Regulation Act (Act No. 56 of 2001) stipulated the requirement that all those who fall within the definition of 'security service provider' (which includes persons providing training in the security field) must comply with the registration provisions and be registered with PSIRA before becoming active in the industry, SASSETA will, in terms of the MoU, quality assure all education and training in the security industry."
"The new security training regulations were published for public comment as far back as 2009 (Government Gazette 32670 of 30 October 2009) SETA's have now been transferred from the Department of Labour to the Department of Higher Education," added Terry Scallan, the SAIS liaison person to the SASSETA.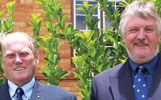 Terry Scallan, the SAIS liaison person to the SASSETA and Errol Peace, SAIS (South African Institute of Security) chairman and director of BTC Training
At the time of writing this report, it was intended that: "However, as the specific unit standards for all the different training programmes for the security industry are being developed PSIRA will, in the near future, repeal the Training of Security Officers Regulations 1992, and replace the minimum training requirements for security service providers with an outcomes-based system built on unit standards and qualifications registered on the National Qualifications Framework (NQF), at the South African Qualifications Authority (SAQA) and quality assured by SASSETA.
"It must be remembered that PSIRA, via its legislative authority, will ultimately determine when and how the new structures will be implemented. Clearly there will be different views on how much time should be allowed for the change-over process, varying from those that want to get it over and done with to those that believe a longer term, phased in approach should be adopted. Above all, what must be remembered is that PSIRA has the final say, and one can only believe that if the industry takes too long to get their training structures sorted out, PSIRA could start losing patience."
However ...
Ironically, although neither Sam Chauke, director of PSIRA or Zongi Baloyi, CEO of SASSETA were available for comment, it would seem that the patience being lost is on the part of industry. Scallan is frustrated over the lack of urgency displayed by PSIRA.
"Industry together with the SASSETA and PSIRA formed a task group back in 2006 to formulate the new security training regulations. A unilateral decision was taken to replace the existing PSIRA Grades E to A with SASSETA Skills Programmes Levels 1 to 5. We at SAQA had previously developed two national security qualifications – the National Certificate in General Security Practices, which is a one-year national qualification; and the Further Education and Training Certificate in Specialist Security, also a one-year course," said Scallan.
"We then proposed to replace the E, D and C qualifications with Skills Programmes 1, 2 and 3 respectively, which would be derived from the National Certificate in General Security Practices (124 credits). Each skills programme carried credits towards the national qualification. Learners would also be given the choice to do each programme in isolation if they were not intending to work towards the complete National Qualification. Grades B and A would then be replaced by Skills Programmes 4 and 5 that were derived out of the FET Certificate in Specialist Security.
"All of these programmes, and additional programmes such as an FET Certificate in Electronics Security (for gate automation, CCTV, electronics security technicians etc.), which have since been identified and developed, and were published for public comment. We have had feedback from industry and we forwarded these programmes to PSIRA for adjudication and presentation to the Minister for promulgation. To date we are still waiting with bated breath for finalisation," Scallan complained.
"We are therefore currently sitting with a situation where the security industry, which is estimated to be the second largest industry in South Africa, continues with the PSIRA Grades training. Our security officers, who are responsible for the protection of lives, property and assets continue to have this inadequate training recognised. Sadly, these qualifications can be purchased at low cost from unscrupulous vendors who obviously fail to see the potential for disaster this poses."
Scallan said that he is unclear as to why the Skills Programmes have not been submitted to the Minister for approval. "It appears that PSIRA and the Minister feel that the new skills programmes are too costly and are too long in duration. The present training material is presently being reviewed by SASSETA with a view to streamlining and therefore reducing the cost and duration. This would still not affect the promulgation of the new regulations.
"SASSETA in my opinion has done its part and the onus of legislation and thereby providing quality and skills development training for the security industry now rests with PSIRA and their Minister," said Scallan.
Frustration in the industry
Errol Peace, SAIS (South African Institute of Security) chairman and director of BTC Training, echoes Scallan's frustration. "What are we supposed to do when candidates ask for a Grade E qualification? Although the new Skills Programmes have not yet been promulgated, once they are, the Grade E will become obsolete and the candidate will then need to fork out more money to become certified to SASSETA standards.
"There is so much confusion in the industry at present and this is exacerbated by the street corner con artists who sell the qualifications at bargain basement prices. This can only result in all training providers being labelled as devious," Peace added.
"As a training provider we are finding it next to impossible to comply with legislation. We are forced to deal with two different Government departments – PSIRA and SASSETA – who between them need to bring some semblance of sanity and order back into the industry. Fortunately, we subscribe to the Code of Ethics of SAIS, affording members some form of protection and the promise of aiming for the common goal of bringing standardisation of high-quality training programmes to industry."
Another bone of contention for Peace is that there is currently no security industry representation on the PSIRA Board. "We need somebody who can represent the interests of the wide spectrum covered by the security industry. This would include guarding; training; electronics installation; electronics sales; locksmiths; electronic detection equipment manufacturers; surveillance manufacturers, sellers and installers. In addition, we need the same level of representation on the Chamber Board to look after the interests of the industry."
Steve Conradie, CEO of SIA, said that SIA is concerned about the funds that are allocated to the Private Security Industry for training purposes. "This is an issue that needs more focus and attention. The security industry needs to know on an ongoing basis how these funds are being allocated so we can see some measurable improvement in the levels of skills training."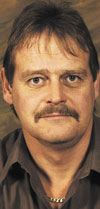 Steve Conradie
Both Peace and Conradie are enthusiastic about the imminent formation of the Security Training Providers Alliance (STPA). "The STPA stamp of approval on a training provider's letterhead will indicate compliance to a stringent set of regulations and give us the credibility we so urgently need in the marketplace," Peace concluded.
Further reading:
Industrial control systems under attack
News Cyber Security
According to Kaspersky ICS CERT statistics, from January to September 2022, 38% of computers in the industrial control systems (ICS) environment in the META region were attacked using multiple means.
Read more...
---
The future of AIoT
Hikvision South Africa News CCTV, Surveillance & Remote Monitoring
Hikvision hosted its 2022 Shaping Intelligence Summit in Bali, Indonesia, on 29-30 November, where the company, its customers, and technology and solution partners, looked into the future of AIoT and explored paths to shared success.
Read more...
---
Top fraud trends to watch in 2023
News Security Services & Risk Management
Even though financial concerns remain a significant obstacle for companies in implementing new anti-fraud technologies, 60% of businesses expect an increase in their anti-fraud technology budgets in the next two years.
Read more...
---
Be cautious when receiving deliveries at home
News Perimeter Security, Alarms & Intruder Detection Security Services & Risk Management
Community reports of residents being held up at their gate when collecting fast food deliveries at home are once again surfacing.
Read more...
---
Securiton and Dallmeier announce partnership
Dallmeier Electronic Southern Africa News
Securiton AG Switzerland is now integrating the Panomera and Domera camera systems from Dallmeier to ensure its customers benefit from the highest standards of privacy and security.
Read more...
---
KPMG 2022 CEO Outlook, South African edition
Editor's Choice News
Mid-November saw the release of the latest KPMG 2022 CEO Outlook, South African edition, aptly sub-titled 'Potential Growth in Uncertain Times'.
Read more...
---
Mending Africa's digital infrastructure gaps
News
inq. Fabric is the first African-developed cloud connectivity, network-as-a-service software for automated provisioning and routing.
Read more...
---
Suprema renews international privacy and security standard certifications
Suprema News Access Control & Identity Management
Suprema has simultaneously renewed two important international standard certifications regarding information security management (ISO/IEC 27001) and privacy information management (ISO/IEC 27701).
Read more...
---
Technoswitch partners with Ciqurix for video fire detection
Technoswitch Fire Detection & Suppression News Fire & Safety
Technoswitch is pleased to announce the signing of an exclusive distribution agreement with Ciqurix (UK), a leading supplier of video fire detection products.
Read more...
---
From the editor's desk: No fond goodbye
Technews Publishing News
      Welcome to the final issue of Hi-Tech Security Solutions for 2022. Personally, I have absolutely no regrets seeing this year ride off into the sunset, or preferably be set on fire. However, it is the ...
Read more...
---