printer friendly version
Disaster management and CCTV
April 2011
CCTV, Surveillance & Remote Monitoring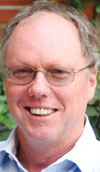 Views of a tsunami wave washing cars and debris across Sendai airport runways and access areas stunned viewers around the world along with some of the recent footage of Japan's disasters. Like much of the footage, some of this was taken by members of the public who are increasingly recording events on mobile phones or cameras and transmitting these onto the Internet or sending them to commercial TV stations.
However, one of the most prominent views appeared to be from a CCTV camera overlooking the runway. It brought to mind how little one actually sees of disasters on CCTV cameras compared to the public recordings. There have been some examples of cameras viewing things like the Haiti earthquakes, terrorist bombings and others, but these tend to pale into comparison with the flood of Youtube and other public forums. We hear so much about CCTV and how widespread and invasive it is, but when there is an emergency there is so little coverage.
CCTV has always been seen as a closed system, but with increasing use of IP systems and remote surveillance, and an increasingly networked environment, it has become far more integrated into the open networks and more general access. People can review workplaces from home and there is already widespread international CCTV monitoring of sites, even to the extent that members of the public are given the chance to monitor shops and enterprises in other countries on an organised basis.
Typically, CCTV operations have been reluctant to share their footage. Confidentiality for personnel and the system capacity has led to restrictions on release. However, in the same way that other resources can be drawn on in emergencies, it is worth considering that CCTV offers some of the best eyes on the ground in emergency situations that are possible.
The use of CCTV for emergency and disaster management purposes has been recognised fairly widely within the municipalities including flooding, fire, and more recently the stadium security with the World Cup. This typically involves dedicated municipal or police owned and controlled systems. A major world cup venue where the CCTV system went down for a short time resulted in major uproar as the executive staff realised they had lost their 'eyes' on the scenes and just how important CCTV really was. Often people have to miss something to realise just how important it is. These kinds of situations show how important CCTV is for social disaster management and intervention.
City centre, police and emergency response CCTV facilities are all critical in handling disasters of whatever form. However, in some cases the disaster affects the very CCTV systems that are supposed to be viewing them. For example, one of the requirements in the UK is that chemical plant emergency control rooms should not be placed in the centre of the plant – they simply become too vulnerable in the event of an explosion.
This is unlike crime scenarios where in the UK police are increasingly making attempts to map CCTV coverage by both public and private facilities. In many cases, these efforts provide the potential to review footage and follow suspects across parts of town that are not covered by city cameras. The widespread use of cameras belonging to companies and private facilities in monitoring of members of the public is likely to create a strongly negative response if implemented on a live and ongoing basis. It raises all sorts of privacy issues and intrusions into personal lives. However, in the event of a crime, police are authorised to access such information.
Indeed, the UK has been an example of thousands of hours of private video being accessed to resolve terrorist incidents in particular. It was a couple of seconds of footage from a shop that gave the initial clues which led to the apprehension of the Brixton Bomber in the UK some years ago.
Extended footage from various sources may be invaluable not just for solving crimes, but also for monitoring emergency situations. Often such CCTV systems near disaster sites or potential disaster sites continue to run and gather information on the site or surroundings that could be invaluable to emergency responses. Whether it is monitoring nuclear power stations, fuel storage facilities, chemical plants, rivers and potential flood areas, company or private facilities may be able to provide information to emergency command centres that could be critical in facilitating an effective response. This is particularly relevant where the systems on the disaster site themselves are compromised by the disaster.
The access to extended public and private CCTV coverage for safety and disaster purposes is likely to be a fairly complex process. While police would typically access information after the fact and take material for review, emergency responses would need more live access to be effective. This obviously complicates system access and confidentiality issues for the private user.
Camera mapping of areas around the potential high-risk site needs to be done to define what kind of coverage is possible from outside the site and of surrounding areas. The potential for access to such information needs to be determined and the protocols for this needs to be set. Company policies and procedures also need to be defined to allow such protocols and emergency conditions need to be set out that would warrant such access. Company contacts and responsible personnel also would need to be included in databases.
The Japanese crisis provides a good motivational context. With news camera crews currently positioned well away from problematical Japan nuclear reactors and moving increasingly further away, no fly zones over the area, and reduced access to the potential disaster sites, there is a reduction of coverage of what is happening in the area which could inform the general public as well as disaster managers. Where access to surrounding CCTV sites could provide additional information on the crises area and assist with monitoring, CCTV could provide an extremely useful tool to effective disaster response management.
Dr Craig Donald is a human factors specialist in security and CCTV. He is a director of Leaderware which provides instruments for the selection of CCTV operators, X-ray screeners and other security personnel in major operations around the world. He also runs CCTV Surveillance Skills and Body Language, and Advanced Surveillance Body Language courses for CCTV operators, supervisors and managers internationally, and consults on CCTV management. He can be contacted on +27 (0)11 787 7811 or [email protected]
Credit(s)
Further reading:
Smart car parking solution eases traffic flow
Dahua Technology South Africa CCTV, Surveillance & Remote Monitoring Integrated Solutions Products
Ethiopia's first smart parking lot, designed to improve traffic flow and management efficiency, has been built and installed using Dahua Technology's smart parking solutions.
Read more...
---
VMS 7.2 supports the investigation process and adds cloud capabilities
CCTV, Surveillance & Remote Monitoring Integrated Solutions Products
Qognify has launched the second release of its VMS, including extended support for body-worn video, additional functionalities to support investigations, and a new web client architecture. VMS 7.2 addresses the increasing use of body-worn video (BWV) across many sectors.
Read more...
---
The future of AIoT
Hikvision South Africa News CCTV, Surveillance & Remote Monitoring
Hikvision hosted its 2022 Shaping Intelligence Summit in Bali, Indonesia, on 29-30 November, where the company, its customers, and technology and solution partners, looked into the future of AIoT and explored paths to shared success.
Read more...
---
A comprehensive video solution for retail
LD Africa Retail (Industry) CCTV, Surveillance & Remote Monitoring Products
Retail Intellect is a comprehensive, flexible solution for retailers that matches technologies to ensure point-of-sale safety and security with video analytics.
Read more...
---
Understanding customers better using AI
Secutel Technologies Retail (Industry) CCTV, Surveillance & Remote Monitoring Products
With in-store analytics of consumer behaviour, retailers can improve store performance and boost the productivity of their business.
Read more...
---
Benefits beyond just security
CCTV, Surveillance & Remote Monitoring
Store cameras are boosting customer experience and sales, as well as preventing losses, finds market research e-book from IDIS.
Read more...
---
Hikvision unveils first 'True 8K' NVRs
Hikvision South Africa CCTV, Surveillance & Remote Monitoring Products
The new M-Series NVRs can be used with a host of Hikvision cameras, and are ideal for environments where a wide field of view and extremely high image resolution are needed.
Read more...
---
AI in video analytics
CCTV, Surveillance & Remote Monitoring Integrated Solutions
AI (artificial intelligence), has been developed and debated ever since the first computers were invented, and while the most revolutionary incarnations are not yet here, AI-based technologies are widely used today.
Read more...
---
Milestone flies a Kite for small businesses
Milestone Systems CCTV, Surveillance & Remote Monitoring
Milestone Systems introduces Milestone Kite for small to medium-sized businesses and organisations, supporting 6000+ camera models from 100+ manufacturers.
Read more...
---
Railway AI-enabled video analytics
Rugged Interconnect Technologies CCTV, Surveillance & Remote Monitoring
The Rugged Computing Group has announced the AVA-RAGX, a fanless AIoT video analytics platform for railway applications, paired with Nvidia's Jetson AGX Xavier platform.
Read more...
---