printer friendly version
Saxon takes IP to the next level
February 2011
CCTV, Surveillance & Remote Monitoring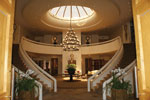 The Saxon ­Hotel is the first hotel in the world to install a full high-definition video surveillance system.
The Saxon Boutique Hotel, Villas & Spa is an international award-winning hotel for top echelon guests such as political dignitaries, royalty, entertainers and other VIPs. Such clientele demand the utmost in security and privacy. The hotel's valuable original African art collection also requires top protection; and the surveillance system simultaneously provides constant overview of all staff shifts and activities to ensure the most effective operations.
Camsecure installed Milestone XProtect Professional software in 2006 as the first stage in the hotel's security system foundation with future-proof flexibility provided by its open IP platform. Upgrades were made in 2008 and 2009 to XProtect Enterprise and additional Axis network cameras were installed, as reported in the May 2009 edition of Hi-Tech Security Solutions.
In 2010, three new luxury villas were built after the hotel bought the adjacent property. Scaling the security solution to the expanded facilities brought the opportunity to leverage the advantages of high definition video by installing Axis HDTV cameras.
The project was guided by the services of CKR Consulting's Logan Naidoo, who made sure the IP infrastructure that supported the HD camera system was able to support the luxury and superior customer service supplied by the Saxon.
Security solution
Francois Malan, technical director at Camsecure, reports: "We now have about 150 HDTV cameras at the Saxon and 40 legacy STD resolution cameras, running with H.264 compression at 8fps to limit the bandwidth and storage space required. In fact, we are using less disk space with HDTV cameras on H.264 than we were using with STD resolution cameras on MJPEG. We are covering much larger areas with a single camera than ever before and recording more pixels for excellent coverage of all entrances for identification purposes."
Malan explains that they chose five Dell power edge servers with direct attached storage on a raid 5 configuration. "The trick is to have fast disks on your primary recording server. We are using SAS drives with 15000 rpm – twice the speed of the standard SATA drives at 7200 rpm.
"Also, we use a Windows 64 bit operating system, giving us more available memory which helps with the read/write buffering process on the disks. The Milestone software also handles the archiving process to the attached storage very efficiently and therefore does not impact on the CPU processing or disk speeds – this is very important when recording HDTV, also since we archive for three months."
Plans are to also use the Axis cameras own built-in motion detection in order to cut down on the processing power required by the recording servers.
"This actually works very well with the Milestone software as you then record from the camera only on event. You set up the event in XProtect and operators can still have a live stream for viewing the video. At the moment the highest CPU usage is around 20%, which goes up some when the client does playback on a large amount of cameras at once," he says.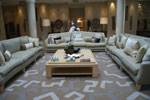 Meeting the highest security demands
Many of the Saxon's high profile guests also travel with their own security personnel. Often these professionals will do pre-visit inspections of the hotel to review their VIP's specific protection requirements.
"Within the security industry, including foreign and police agencies, they know how state-of-the-art our operation is and that it is one of the best possibly available. They are therefore very comfortable with our security measures," asserts Shaun Swanepoel, security manager at the Saxon Hotel. "We run our security preventively and proactively – that is what it is about."
"The open platform network video approach with Milestone at the core allows the expansion over time to cover new property, but also to use new types of cameras that become available. Taking advantage of the latest technologies keeps the business competitive and on the cutting edge to continue providing the best security and service levels for their important guests," concludes Malan.
Expanding IP everywhere
While other hotels may have IP networks for data and security functions, the Saxon has taken it to the next level. The hotel's IP network is part of a larger system that sees everything running on the same IP infrastructure, making maintenance and fault finding all that much simpler. Moving things around is also easier as the system makes all the IP devices on the premises plug-and-play ready, as long as there is a network connection.
The reason for this market leading approach has nothing to do with technology, as the hotel sells a luxury experience, not complex gadgets, but it has to do with making guests as comfortable as possible with seamless services at their fingertips. It also allows the hotel to manage and secure its environment almost invisibly to ensure guests have the best experience every time they stay at the Saxon.
Looking beyond the cameras and control rooms, IP extends as far as the guests television sets, telephones and even the air conditioning.
Returning guests will find that their rooms feel the same as they did the last time they visited as the hotel's management system ensures the air conditioning, music and lighting settings in their rooms are as they were the last time they were there. Even though the hotel has redundant UPS devices and diesel generators to ensure the lights never go out, centralised control means that if any of the hotel's villas are not in use, the power can be centrally switched off until new guests arrive, reducing the Saxon's carbon footprint.
Within the rooms, IP reigns supreme. The guests can control everything electronic in their rooms via a single remote control. This includes the IP television, which offers the full DSTV satellite bouquet as well as movies on demand – supplied over the IP network. Each room also has Internet access, a laptop and a printer.
The last thing a premium guest wants is to have to juggle multiple phones when visiting the country. The Saxon ensures its guests are relieved of this problem by providing them with a mobile phone which transmits voice anywhere on the hotel's property via an internal network. Furthermore, as soon as a guest leaves, the phone continues working over one of the country's cellular networks. The guests need to only carry this one mobile to be contactable anywhere. Of course, they can also make calls with the mobile.
The hotel can also provide users with an application that will allow them to receive their internal calls on their personal mobile phone, reverting to normal communications when they leave the premises.
IP means integration and control
Before moving to the IP system, the Saxon had various systems that required different skills to run. This made managing the hotel and all its services a complex task. With the IP infrastructure, one person is able to manage the hotel from a single PC. The duty manager, for example, works with a tablet PC that provides full, wireless access to all systems at a touch.
Sinisha Kokot, the Saxon's CIO, says the IP system has been designed to give guests the best experience possible, and make providing excellent service easier for staff. To this end, the hotel carefully chose its service provider with the view to implementing open systems and platforms that could be fully integrated into the IP infrastructure.
Further reading:
Camera Selection Guide 2019
September 2019 , CCTV, Surveillance & Remote Monitoring
Read more...
---
The era of smart surveillance
September 2019, Forbatt SA , CCTV, Surveillance & Remote Monitoring, Products
Professionals in the surveillance industry know CCTV is not what it used to be. Smart functions on cameras are no longer nice to haves, they have become a necessity.
Read more...
---
Improved security for Diamond Trust Bank in Tanzania
September 2019, Hikvision South Africa , CCTV, Surveillance & Remote Monitoring, Financial (Industry)
Diamond Trust Bank in Tanzania installed over 1000 Hikvision EasyIP 3.0 cameras in a project to replace its analogue infrastructure and centralise its surveillance security.
Read more...
---
Intelligent analytics and the brains to match
September 2019, Bosch Building Technologies , CCTV, Surveillance & Remote Monitoring, Integrated Solutions
What if the brains behind our security cameras could be trained to improve their cognitive ability to pay attention, learn, and problem-solve according to specific rules and situations?
Read more...
---
AI-powered autonomous Drone-in-a-Box
September 2019 , CCTV, Surveillance & Remote Monitoring, Integrated Solutions
Organisations in the mining, energy and industrial, oil and gas, ports and terminals sectors can optimise security and business operations, whilst reducing risks and operational costs
Read more...
---
Distributed architecture lowers TCO, increases scalability
September 2019, Technews Publishing , CCTV, Surveillance & Remote Monitoring, Transport (Industry)
Faced with a number of security challenges and planned future expansion, a major airport decided it was time to implement a scalable security surveillance solution.
Read more...
---
Cybersecurity for video surveillance systems
September 2019 , Cyber Security, CCTV, Surveillance & Remote Monitoring
Video surveillance systems are increasingly accessible over any IP network, which has led to the rise of potential cyberattack.
Read more...
---
A platform approach to innovation and value
September 2019, Technews Publishing , Editor's Choice, CCTV, Surveillance & Remote Monitoring, Integrated Solutions, IT infrastructure
Moving to the platform model of doing business holds tremendous advantages for end users and smaller developers, but also for the whole technology supply chain.
Read more...
---
Back to manufacturer uniformity?
September 2019, Dallmeier Electronic Southern Africa , CCTV, Surveillance & Remote Monitoring
Decision makers often have to choose between an all-inclusive, complete solution from one manufacturer and the products and services of several different providers.
Read more...
---
Open does not always mean easy integration
September 2019, VERACITECH, Technews Publishing , Editor's Choice, CCTV, Surveillance & Remote Monitoring, Integrated Solutions
Customers who opt for best-of-breed solutions will have to rely on their integrators to develop customised integrated solutions for them.
Read more...
---