printer friendly version
Why Sony?
February 2011
CCTV, Surveillance & Remote Monitoring
With so many CCTV camera options available, Hi-Tech Security Solutions asked what makes Sony different.
With everybody talking about IP and how it is the best option for surveillance cameras these days, Hi-Tech Security Solutions spoke to Adnan Abid and Kaushik Laturkar from Sony Professional Solutions MEA about what makes Sony a good choice for IP surveillance cameras.
Starting from the beginning, Abid says there are two factors to consider when making the choice to go IP: image quality and intelligence.
When looking at picture quality, most people think an impressive resolution is all you need to consider when looking for good images. For Sony, Abid says high-definition (HD) is a given. Megapixel technology was designed for still pictures and does a great job when taking snapshots, but it does not handle video optimally. HD, on the other hand, was designed for video images, which makes sense in security as we generally want video footage of moving people or objects.
HD is also able to handle a higher frame rate along with higher resolution; you do not have to cut resolution to get a clear image. Additionally, HD is more compatible with H.264, the compression technology every company is adopting. Table 1 provides some more basic comparative information.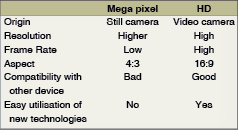 Table 1: Megapixel vs. HD
Currently, 70% of Sony's IP cameras are already HD. The company also has a range of NVRs (network video recorders) as well as software solutions to manage its cameras and adheres to the ONVIF standard to ensure openness and interoperability.
Beyond HD
Abid adds that image quality goes beyond HD. The camera chosen needs to be able to handle different light settings, including rapidly changing lighting – such as when a car drives by at night, blinding most cameras with its headlights.
Sony's background in broadcast technology has taught it how important lighting is and that it is impractical to buy multiple cameras to handle the same images in different lighting conditions. It is also important not to have to reduce the frame rate in poor lighting. You need one camera that functions as well in direct sunlight as in low-lux conditions.
Sony's HD IP cameras incorporate its Exmor CMOS image sensor, which is specially designed for surveillance applications. Exmor empowers cameras with image-enhancement technology, such as View-DR and XDNR (eXcellent Dynamic Noise Reduction). These features do a pixel-by-pixel analysis to reduce noise and compensate for backlight interference (See Image 1).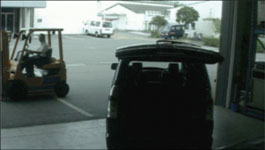 Image 1: Source Sony
The Exmor-based cameras operate at a frame rate of 120 frames per second (fps). Every four frames are analysed at different frequencies and the optimal pixels extracted from each and combined into one frame with optimal resolution. Thus the camera produces an output of 30 optimised frames per second. Of course, once enabled, this is all done automatically, seamless to the user.
Intelligence
The Sony range of IP cameras has built in motion detection technology. While many cameras offer motion detection, false alarms as a result of animals or plant movement are common. To overcome this problem, Sony cameras analyse the last 15 frames of a video to determine whether there has been real movement, such as a person walking, as opposed to repetitive movements one finds in water ripples or waving branches.
Not only will the system detect motion, managers can set the cameras up to raise an alarm when virtual tripwires are crossed or objects are left unattended. There is also a feature to detect when objects are removed from a location without authorisation (See Image 2).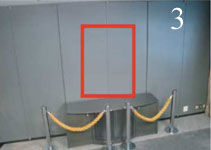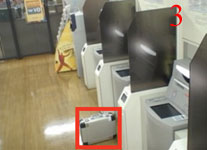 Image 2: Source Sony
A voice feature is also available that will detect noise and raise the alarm if the noise is of a certain tone, such as someone screaming or in distress. The same feature allows operators to communicate via the cameras to raise an alarm or offer guidance to people.
"Each location has its own challenges and therefore requires a specific solution if it is going to gain value from its surveillance implementation," says Laturkar. "Sony aims to understand customers' requirements and provide them solutions to meet their needs. We offer a wide range of products, ranging from cameras to encoders and storage solutions, as well as local expertise to support customers in their decisions, installation and maintenance requirements."
Sony is distributed by Norbain SA, www.norbain.co.za. More information is also available at pro.sony.eu/videosecurity
For more information contact Norbain SA, +27 (0)11 887 1546, mj@norbain.co.za, www.norbain.co.za
Further reading:
Advanced integration and performance with NUUO
July 2019, Forbatt SA , CCTV, Surveillance & Remote Monitoring
Established in 2004, NUUO is a global security industry leader specialising in the manufacturing of open architecture video surveillance products, with deployments worldwide and an ever-growing base of professional industry-experienced staff.
Read more...
---
Dallmeier integrates facial recognition
July 2019, Dallmeier Electronic Southern Africa , CCTV, Surveillance & Remote Monitoring, Products
German manufacturer Dallmeier has announced a development partnership to integrate AnyVision's facial recognition technology into Dallmeier's Hemisphere platform.
Read more...
---
Transom Capital Group Acquires Pelco
July 2019 , News, CCTV, Surveillance & Remote Monitoring
Transom Capital Group (Transom), an operations-focused middle market private equity firm, announced it has acquired Pelco from Schneider Electric.
Read more...
---
Milestone appoints new VP for research and development
July 2019, Milestone Systems , Editor's Choice, CCTV, Surveillance & Remote Monitoring, News
Milestone Systems has appointed Tom Bjerre as its new VP for research and development. He will oversee planning, development, testing and release of Milestone Systems' video management software.
Read more...
---
NIST recommends ONVIF as new standard for FBI
July 2019 , Editor's Choice, CCTV, Surveillance & Remote Monitoring, News
ONVIF's Export File Format is the new standard recommended by the National Institute of Standards and Technology (NIST) for the exporting and playback of video surveillance recordings.
Read more...
---
A smart Industry 4.0 solution
July 2019, Bosch Building Technologies , Industrial (Industry), CCTV, Surveillance & Remote Monitoring, Integrated Solutions
A new customised Industry 4.0 solution consists of the integration between video analytics and warehouse management software which prevents theft, heightens efficiency and improves shipment tracking.
Read more...
---
High standard of safety at printing plant
July 2019, Bosch Building Technologies , Fire & Safety, CCTV, Surveillance & Remote Monitoring, Industrial (Industry)
Bosch implements a networked solution with video-based fire detection for the Mohn Media printing company.
Read more...
---
Surveillance and analytics for security
July 2019, Graphic Image Technologies , CCTV, Surveillance & Remote Monitoring
Public spaces can be made safer almost immediately with smart surveillance technology, and the adoption of CCTV camera systems is exactly the decisive step that is needed to clean up our cities streets.
Read more...
---
People counting for retail success
July 2019, Hikvision South Africa , CCTV, Surveillance & Remote Monitoring, Retail (Industry)
How counting the people who enter your mall or store can help you improve customer experiences and boost your revenues.
Read more...
---
Dallmeier Panomera integrated with Genetec
July 2019, Dallmeier Electronic Southern Africa , News, CCTV, Surveillance & Remote Monitoring
Panomera functionality is now available to the users of one of the most widely used unified security platforms.
Read more...
---