printer friendly version
Megapixel or not?
November 2010
CCTV, Surveillance & Remote Monitoring
Megapixel and high definition (HD) IP cameras, the Cognac and brandy of cameras, are becoming more popular. To ensure there is no confusion, not all megapixel cameras are HD, but all HD cameras are megapixel. HD cameras are megapixel cameras, but also meet HDTV standards. As with so much in the security camera sector, it all depends on pixels – the number of them in this case.
In the early 2000s, a changing of the guard occurred in the electronics industry. Standard definition, which had been the de facto technology for many decades, was joined by high definition. Standard definition (SD) refers to a digital video signal at either 640 x 480 or 704 x 480 lines of resolution.
Typical resolutions of cameras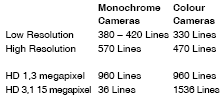 Megapixel network cameras for security surveillance and remote monitoring applications boast more resolution and, therefore, higher quality images. Megapixel units can range from 1,3 to 5, and higher. For most applications, the workhorse is the 1,3 megapixel camera. There are more of these than any others installed. It is the cost effective hook – in addition to price, a 1,3 megapixel camera gives two times (2x) the horizontal field of view of a standard definition camera.
The very high megapixel cameras – 7, 10, and 14 – are aimed at special applications and are not intended for general surveillance. They require more bandwidth and more storage plus the higher resolutions often do not operate at high frame rates, in some cases only at 1-2 fps.
Advantages beyond analogue
Still, increasing the detail or the 'to be monitored' area above analogue capabilities is an advantage. The large image format enables the camera to capture greater detail or offer a wider field of view. Nonetheless, megapixel IP video is digital data that takes up bandwidth so bandwidth management is essential in designing a cost effective IP video system. Most IP cameras have built in bandwidth management, though.
There are typically three methods in which cameras perform bandwidth management.
* Image cropping: When viewing and recording a wide field-of-view, one often views and records much unwanted video, like the sky. Bandwidth management crops out the unwanted portions of the image which results in less bandwidth and more storage.
* Bandwidth throttle: The camera lets the user limit how much bandwidth will be used, eliminating too high of bandwidth use.
* Storage throttle: Similar to bandwidth throttle, the user determines how much storage the camera will use. In low activity areas, the camera can be directed to use less storage; in high activity areas, the camera is directed to use more storage.
A quick caveat on monitors
There are diminishing returns when megapixel camera images are viewed on most monitors. Maximum resolution of the monitor is what you see from the cameras. So, with megapixel cameras, the higher resolutions look the same. The true benefit of higher megapixel resolution is in getting better forensic evidence through the use of digital zoom.
Using digital zoom, the administrator can increase the resolution on the monitor. As long as dark pixels are being uncovered, adding more information to the digital zoom will be beneficial. However, once there are no longer any more dark pixels and the administrator starts magnifying pixels, images will become blurry.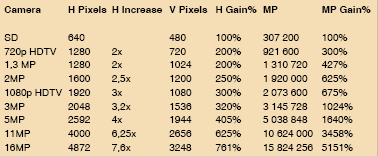 Comparison table of horizontal and vertical pixels
Looking at lenses
There also is the issue of megapixel lenses for HD or megapixel cameras. Without the correct lens, a megapixel camera may not produce the high-resolution images to match the capability of the camera's sensor. When selecting a megapixel lens, make sure the megapixel resolution power extends across the lens's entire field of view, not just in the centre.
Some lenses, often lower priced, produce megapixel resolution only in the centre of the lens; at the periphery, the resolution can be far less.
Lighting limitations
Lighting also can impact the type and placement of security video cameras. No doubt, in the out of doors, day/night cameras have a role to play. Still, there are unique lighting issues related to megapixel cameras. For example, when it comes to obtaining full resolution for higher-rated megapixel cameras, without greater levels of lighting than what is naturally in a scene, the camera will not deliver the optimum resolution.
When it comes to comparing camera sensitivity at low lux lighting levels, be careful, they usually refer to the light at the sensor, not the ambient lighting in any given scene. To get these lux levels at the sensor, the ambient lighting at the scene may have to be many times more.
Figuring frame rates
Frame rate also affects low light performance. The longer the exposure, the better the image a sensor can produce in low light. But, there is a trade-off when it comes to moving images. Go beyond those marketing brochures that show only scenes with no motion when stating low light performance.
In general, frame rate can be a significant issue with megapixel cameras. Many of these cameras can only deliver 12 to 15 frames per second. This may prove insufficient for situations involving small, rapid movements such as dealers dealing cards at a casino table or money counting in the backroom at a bank.
Employ a co-existence strategy
That can also be the case for smaller users. While analogue is less expensive in small installations with less than 30 cameras, there can still be a need for the added benefits of megapixel cameras. In many situations, use of megapixel cameras can reduce the total number of cameras needed. For such circumstances, a co-existence strategy of analogue and digital cameras is a solid one.
Such a strategy extends the life of the existing analogue equipment. In some cases, even the analogue control room equipment can be saved and used to control the new IP cameras, stretching video surveillance budgets. By undertaking a solid site survey, including a risk and vulnerability assessment, organisations are likely to find that many of the locales being viewed will continue to be well serviced by their present analogue cameras while some other areas would be better watched over using megapixel cameras using a co-existence strategy.
Questions to ask
How can an organisation determine whether or not to use megapixel cameras? Answer these questions to get a feeling of what should be discussed with one's integrator:
What is the application?
* What do you want the cameras to see and what is the distance?
* Are cameras needed outside?
* What areas do you want to cover outside?
* Entrances, parking lots, open spaces, fences?
* Do licence plate numbers have to be read?
* What resolution is needed for each camera?
* How many images per second are needed for each camera?
* What is the total number of cameras required?
* Fixed or pan-tilt-zoom (PTZ)?
* What types of cameras are needed: dome/mini-dome cameras? Bullet cameras? Enclosures? PTZs?
* Wall or ceiling mounts?
What is the environment?
* Is there any illumination at night? Are infrared illuminators needed? Day/night cameras? Thermal cameras?
* Are dome cameras appropriate or enclosures for cameras?
* Are heaters or blowers needed due to weather conditions?
* Are cameras in a special environment requiring enclosures, such as explosion-proof housings?
* What type of ceiling and walls are available? (Dropped ceiling, hard ceiling and walls, drywall?)
What are the system requirements?
* What type of wire is needed from the cameras: coax, twisted pair, Cat 5e, fibre-optic? Is it already installed?
* Can power over Ethernet (PoE) be used?
* Where are or will the power supplies be located?
* What types of lenses are needed? Wide-angle, normal, telephoto? Can varifocal lenses be used?
* Can the video management system accommodate the features of the cameras?
* Are licences required for the monitoring software for digital cameras?
* If PTZ cameras are needed, are operators available or will the PTZs be set on an automated panning pattern? Or will the PTZs be digital so they can be zoomed or moved after a recording is made?</i>
The answers will inform whether megapixel cameras are needed or not.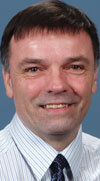 Mark S. Wilson
For more information contact Infinova, +1512-213-4935, markw@infinova.com, www.infinova.co
Further reading:
Elvey partners with HALO
Elvey Security Technologies News CCTV, Surveillance & Remote Monitoring
Elvey Group has partnered with HALO Europe to provide Africa's first body-worn solution with zero upfront costs. This includes an IP68-certified body camera and a 4G-connected device.
Read more...
---
Regal announces new partnership
Regal Distributors SA CCTV, Surveillance & Remote Monitoring
Having a bird's eye view of your surveillance data, with the capability to drill down to the details obtained via connected security solutions, is a game changer for security operators, companies and even officers on the ground.
Read more...
---
Invisible connection and tangible protection via cloud
Dahua Technology South Africa Perimeter Security, Alarms & Intruder Detection CCTV, Surveillance & Remote Monitoring Products
Dahua Technology has launched its AirShield security solution that uses advanced, stable and reliable RF communication technology and cloud services, integrating alarm hubs, various detectors and accessories, with several software apps.
Read more...
---
Hikvision expands solar-powered solutions
CCTV, Surveillance & Remote Monitoring Products
Hikvision is offering a portfolio of solar solutions, the 4G solar-powered camera kit, a wireless bridge, and mobile solar security tower solutions to assist in keeping remote and isolated areas safe in a simple, practical, and cost-effective way.
Read more...
---
Affordable entry-level cameras from Dallmeier
Dallmeier Electronic Southern Africa CCTV, Surveillance & Remote Monitoring Products
Dallmeier has introduced the 'E' version of the DOMERA camera family, offering high image quality with 2 MP and 5 MP resolution, and providing detailed images even in low light conditions.
Read more...
---
The importance of the operator's frame of reference
Leaderware Editor's Choice CCTV, Surveillance & Remote Monitoring Security Services & Risk Management Mining (Industry)
The better the operator's frame of reference and situational awareness, and the more informed they are in dealing with CCTV surveillance in the mining industry, the more successful they are likely to be in surveillance.
Read more...
---
Enhancing surveillance on mines
Avigilon Technews Publishing Axis Communications SA Forbatt SA Hikvision South Africa Bosch Building Technologies Editor's Choice CCTV, Surveillance & Remote Monitoring Integrated Solutions Mining (Industry)
Smart Security approached a number of surveillance vendors to find out what the latest in surveillance technology is that can make a difference to security operations in mines, as well as general operations.
Read more...
---
Surveillance to improve worker safety
Axis Communications SA Mining (Industry) CCTV, Surveillance & Remote Monitoring Integrated Solutions
With substantial deposits of mineral resources, mining is critical for South Africa's economic growth and prosperity; however, mining can be dangerous, especially for the people working on the ground and in the shafts.
Read more...
---
Radar-video fusion camera
Axis Communications SA CCTV, Surveillance & Remote Monitoring Mining (Industry) Products
The AXIS Q1656-DLE Radar-Video Fusion Camera device brings video and radar analytics together in AXIS Object Analytics to deliver detection and visualisation.
Read more...
---
Centralised VMS for multiple sites
Mining (Industry) CCTV, Surveillance & Remote Monitoring
Dispersed mining operation relies on AxxonSoft for centralised video management as well as device health monitoring and the reliable distribution of analytics to various camera brands.
Read more...
---