printer friendly version
Retail security technologies
November 2010 Integrated Solutions, Retail (Industry)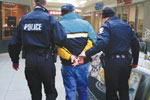 The retail industry, one of the many victims affected in the global financial crisis is now embracing a steady growth rate. According to Statistics SA the volume of retail sales increased by 4,9% year-on-year during the second quarter of 2010.
"Great news," says Valerie Bingham, product manager for Elvey Security Technologies, "provided that the industry keeps ahead of the criminal element, which is notorious for undermining profits through shrinkage and robbery, repeatedly leaving fatalities and devastation in their wake."
Key to limiting the high cost of crime to the retail sector is the implementation of a good security system that extends beyond the traditional panic button and a simple alarm. Considering the cunning nature of criminals, whose focus is on bypassing security measures either undetected or as armed robbers, this is a major challenge.
However, according to Bingham, today's advanced security technology makes it both viable and affordable to stay at least one step ahead of those with evil intentions.
Social hot spots
In the last decade malls have evolved from places to shop, into social gathering spots. These complex environments require comprehensive security strategies borne out of a deep understanding of the diverse security layers involved. These extend far beyond the actual shopping areas to the parking lots and loading bays.
Technology is therefore integral in order for mall management to address intrusion, fire safety, closed circuit television (CCTV), access control and manned guards, which are all critical components of a professional security plan.
As IP (Internet Protocol) technology advances, it is becoming increasingly viable to integrate these elements into a single platform. This makes for easier monitoring and management from one central station and saves costs for the retail chain store or private shop.
Bingham explains: "While telephone lines are used by security companies to monitor various locations, it is the alarm panel that sends opening, closing and test signals to the central monitoring station. Considering that each signal costs the equivalent of a telephone call, the annual cost to a chain store is substantial. The cost-saving benefit of communicating to the central monitoring station via the Internet is therefore very attractive, as is the potential to streamline their security operation."
Besides saving money, IP technology delivers other benefits such as faster data transmission and immediate notification of line interruptions at both the central station and the protected premises.
CCTV (closed circuit television) is another critical aspect of successful retail security. Its presence in shopping centres and malls has resulted in a marked decrease in incidents such as handbag snatching. However, it has had to overcome some major challenges, including the efficacy of monitoring personnel. "Research shows that after 20 minutes, the average operator can only process about 5% of the information on screen. The arrival of video analytics has dramatically reduced this margin for error and in so doing, greatly inhibited criminal activity."
Surveillance, and specifically video analytics, is able to home in on and identify a wide range of security threats. Security staff uses it to quickly and accurately analyse video feeds for irregular behaviour patterns, perimeter violations, licence plate recognition, movement tracking and people counting. It also enables watchers to single out suspects with the minimal fuss.
For retail environments that contain on-site warehouses, Bingham stresses the importance of employing the services of security companies capable of responding to alarm calls within seconds of an alert. To this end, she says the choice of signal receiver is critical. Another important consideration with regard to infrastructural spend is the number of accounts or locations that can be monitored by a single receiver. Modern algorithm design in IP communication can easily handle 1024 IP alarm communications.
She advises clients requiring constant supervision of their alarms to choose a system where the alarm control panel communicates with the monitoring station receiver every 90 seconds. This form of communication blocks any attempts to compromise the security of the premises, whereas unsupervised 'dead lines' can go unnoticed for some time.
Security for the small business
Owners of small businesses who want to be kept informed of events on their premises in their absence will be well served by another form of state-of-the-art technology: video verification. This, explains Bingham, utilises video clips triggered by events such as arming and disarming the alarm system or opening the safe, which can be remotely accessed via the security cameras.
Video verification equipment is driven by a powerful processor capable of connecting up to four cameras for simultaneous transmission and video viewing. These transmissions, which can be sent over the Internet, telephone line, LAN/WAN or cellular connection, enable users to make quick decisions with regard to how best to deal with the situation and how many personnel to deploy. This unique product is designed to connect to virtually any alarm trigger device, she says, noting further that each input is connected to a specific zone sensor that provides triggered video transmission.
Alternatively, small, medium and micro enterprises requiring additional control over their security can take advantage of a unique wireless video verification device that, upon detection, records a 10 second video clip of an incident. This clip is then sent in real-time via the cellular network to the owner's cellphone, enabling him to see who has entered a restricted area such as a store room or safe.
Last but not least, she says CCTV also has a place in small businesses owing to its ability to reduce stock shrinkage and, when necessary, provide the police with evidence pertaining to armed robberies and other incidents on the premises.
Empowering the foot patrol
One of the most effective ways of reducing retail crime is via an integrated security system capable of monitoring the premises, the patrols and the staff, says Bingham. This highly effective technology uses the GSM (Global System for Mobile communication) network, thus making it possible for data to be transmitted through GSM cellular networks and converted into second-by-second updates on a live, Web-based patrol monitoring system.
The benefits are many. These include being able to constantly monitor guards to ensure that they are patrolling as scheduled. For another, the guard can communicate immediately with the control room via panic button should he spot suspicious behaviour or witness a crime in progress. This, points out Bingham, dramatically improves not only the safety of guards but also that of employees and property. What's more, the control room can call a security guard at any time, whether to reassure him that help is on the way, or to advise him of an emergency or unfinished patrol.
For more information contact Elvey Security Technologies, +27 (0)11 401 6700, tasha.smith@elvey.co.za, www.elvey.co.za
Credit(s)
Further reading:
Convergence of cyber and physical security
Integrated Solutions Security Services & Risk Management
The overlap between cybersecurity and physical security will necessitate the integration of cyber and physical security in order to enable the sharing of events to the same security operations centre.
Read more...
---
Elvey partners with HALO
Elvey Security Technologies News CCTV, Surveillance & Remote Monitoring
Elvey Group has partnered with HALO Europe to provide Africa's first body-worn solution with zero upfront costs. This includes an IP68-certified body camera and a 4G-connected device.
Read more...
---
Success in business process best practices
Technews Publishing Kleyn Change Management Editor's Choice Integrated Solutions Security Services & Risk Management
This month we commandeer time with the woman who is spearheading our national conversation on Women in Security, Lesley-Anne Kleyn, to get to know the lady herself a little better.
Read more...
---
Unlock seamless security with integrated products
Secutel Technologies Integrated Solutions Products
By combining SecuVue and Secutraq, Secutel has created a system that enables users to configure analytics, facial recognition, pose detection, and XFS among other security triggers modern service providers require.
Read more...
---
Integrated guarding services
XtraVision Integrated Solutions Access Control & Identity Management Industrial (Industry)
XtraVision offers a few tips on how to go about planning and setting up an integrated approach to sustainable and successful security services, from the initial risk assessment to the technology and people required.
Read more...
---
Paxton secures multi-tenant office in Cape Town
Paxton Integrated Solutions Access Control & Identity Management Products
Cecilia Square in Paarl, Cape Town is an office building from where several businesses operate. The multi-tenant site has recently undergone a full refurbishment, including a complete upgrade of its security system for access control.
Read more...
---
Bi-directional integration of Gallagher and Qognify
Gallagher Integrated Solutions Products
In a world of converging technology ecosystems, siloed solutions are no longer viable; this applies in particular to physical security, where only combined information enables a comprehensive assessment of a situation and a timely response.
Read more...
---
Qognify integrates with Johnson Controls Security Products
Integrated Solutions News Products
The integration of Qognify VMS and Kantech EntraPass enables users to better understand situations based on the synchronisation of event and video data, allowing a faster and more targeted response to event-based scenarios.
Read more...
---
Complex, but critical partner in security
Technews Publishing Bidvest Protea Coin Editor's Choice Integrated Solutions IT infrastructure Mining (Industry)
Smart Security looks at how drones can be applied effectively in mine security operations. The ability to quickly gain a birds-eye view of a situation, whether security, safety or operational in nature, makes drones a significant value-add to mines.
Read more...
---
Enhancing surveillance on mines
Avigilon Technews Publishing Axis Communications SA Forbatt SA Hikvision South Africa Bosch Building Technologies Editor's Choice CCTV, Surveillance & Remote Monitoring Integrated Solutions Mining (Industry)
Smart Security approached a number of surveillance vendors to find out what the latest in surveillance technology is that can make a difference to security operations in mines, as well as general operations.
Read more...
---