printer friendly version
Reducing shrinkage and increasing safety
November 2010
Security Services & Risk Management

Good business is indicated by income exceeding the expenditure. In a retail scenario, the biggest threat to secure income is shrinkage through theft and fraud.
It is important to differentiate between loss prevention and security of retail products. Loss prevention is that series of activities geared towards the reduction or elimination of all potential loss within an organisation. While security is part of loss prevention, it is also on the whole a reactive measure which is aimed at identifying shoplifters and employees under suspicion of internal theft.
Loss prevention would include reductions in actual theft as well as fraudulent activities such as supplier theft; price tag swapping; transfer of expensive items into the containers of lower priced items; deliberate and accidental administrative errors and fraudulent refunding of goods.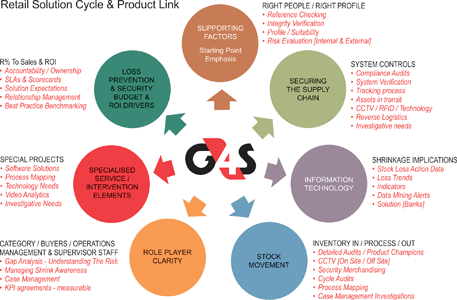 Where does the problem lie?
Another area of contention which needs to be addressed is the allocation of blame of losses primarily on customers (shoplifting). Studies have shown the opposite to be true; more money is lost through employee fraud and theft than by any other single means. It is true that there are more shoplifters than dishonest employees; however, the value of the theft is much higher for employees than for shoplifters.
Interestingly though, the apprehension of shoplifters has a much higher success rate than apprehension of fraudulent employees. In a study undertaken by Ernst & Young in the United States, it was stated that: "Though employees accounted for only one out of every 10 apprehensions, the average value of merchandise recovered was nearly seven times that of the average shoplifter, $1525 and $223 respectively."
Matthew Dyball of Lodge Security said that at least 46% of all retail theft can be attributed to internal sources. "Internal theft only includes incidents where the theft of products takes place by someone directly employed by the business (including staff contracted with another company, such as contract guards or cleaners).
"Most retailers wrongly focus on external theft (the bogeyman of shrinkage) and spend 80% of their budget chasing 20% of the problem. The opportunity for malicious shrinkage can be removed if we start by addressing the causes of non malicious shrinkage, improving controls and the adherence of procedures, in other words good shrinkage results follow good store managers," Dyball explained.
Potential problems often arise in the receiving area. The process is often unstructured, with a marked lack of written policies and procedures. This results in an estimated 10% of retail shrinkage which could, in an average supermarket, amount to over R300 000 annually. Vendor fraud and employee theft are responsible for the vast majority of receiving shrinkage.
When vendors notice that receivers are ignorant of the merchandise they are receiving, they often exploit the situation by either short supplying or charging for goods which are undelivered.
This is where training plays a large role in preventing vendor fraud. By educating employees on the correct procedures to follow and which imminent risks to be aware of, losses can be significantly reduced. Some ideas for reducing this risk include authorised key control by a trustworthy and trained employee; providing employees with clearly written policies and procedures; using technology to track inventory accuracy; moving stock quickly from the backroom to designated secure areas; auditing every quarter, by both internal and external auditors.
Software support
Alex Robinson who heads up the Retail Division at G4S Secure Solutions, agreed that too many companies rely largely on the process to do the work of reducing shrinkage and losses, without having ongoing compliance verification and independent auditing in place to ensure that people are adhering to the processes and policies.
"For some time there has been an international and local migration to software support solutions aimed at enhancing business processes, and identifying security alerts and risks within a business environment. As with any technology-focused initiative the security software platform is being driven by knowing the risk indicators in a given business and adapting the solution accordingly," Robinson said.
"There has been a challenge of differing operating platforms and consequently the reliance, cooperation and support of IT personnel has become more relevant in the overall integration of software applications to existing systems whilst understanding the protocols and functionality link to data mining and incident tracking within a loss prevention strategy," he added.
"The retail environment security software requirements are also being incorporated into Web client presentation layers/intranet/dashboard platforms, allowing quick configuration and integration and excellent performance indicators, with the emphasis being on the 80/20 (80% of the effort is put into 20% of the solutions) principle for corrective action," Robinson explained.
The G4S Profitect retail security solution suite and supporting loss prevention modules, in relevant respective operational areas, all work together as an integrated system and include:
* Point of sale (POS).
* Store inventory.
* Delivery and receiving.
* Warehouse and logistics.
* Purchasing/category/procurement.
Functionality of these modules is supported by and embedded with critical tools of:
* Case management.
* Automated action guidance.
* Reporting and analysis.
* Detection and alerts.
"Most retailers have existing tools to fight shrinkage within their strategy towards loss prevention. Ideally these software solutions would incorporate integration into the other initiatives such as CCTV/video analytics/EAS/biometrics and access control/physical security elements etc," Robinson emphasised.
"As more and more retailers move towards the 'integrated and scientific' method of loss prevention, the risk and threat associated with those who do not adapt increases dramatically. The objective of greater reliance on technology solutions is aimed at delivering real results, providing management with the insight needed to improve the business and, where relevant, to close the loop of evidential needs."
Martin Ochien'g, marketing and strategy director at ADT South Africa concurred with this sentiment of approaching things from an integrated perspective. "Loss prevention and control systems can no longer operate in isolation. In order to reduce pilfering one needs to look at systems which are customised to specific applications, but which all address the human and the technological elements. This should include technological platforms like remote monitoring through CCTV solutions, RFID tagging, electronic access control, and electronic article surveillance, working in close and aligned combination with manned solutions around guarding, monitoring and armed response."
Cash crisis
Richard Phillips, MD of Cash Connect Management Solutions said that, unfortunately, crime which involved the theft of cash, also often involves violence. "Last year saw a recorded 14 530 incidents in South Africa, many of which were achieved through forceful measures. In the retail environment we see theft of cash from cash offices, from tills and from customers."
Phillips said that, according to the SAP, business robbers can be divided into two categories. Most of them rob small and even unregistered businesses (for example, Spaza shops and shebeens), but they also sometimes target medium sized businesses. "They steal mainly cash and cellular phones. That is why they frequently rob cash-based businesses in residential areas. The perpetrators may even be the same criminals who also commit house robbery. This category of business robbers is generally poorly organised and they are usually not linked to organised crime on a higher level.
"A smaller group of business robbers steal from medium sized to large stores or businesses. These groups of frequently 10–15 members operate in much the same way as cash in transit (CIT) robbers. Their targets are specifically cash in bulk, jewellery, expensive computer equipment, cellular telephones etc. Like CIT robbers, these groups are more organised and will either link up with or be a part of higher levels of organised crime.
"In our view there is little doubt that removal of cash from the point of sale and its protection in a SABS certified cash acceptance device of at least category three level construction, managed within an efficient retail cash solutions framework, remains one of the most cost effective deterrents against business robbery," Phillips said.
Cash Connect's solution to reducing cash theft in-store involves supplying a certified electronic safe and educating the store's employees about best business practice pertaining to loss prevention. "We advise staff to empty the tills and deposit the money into a note reader on the electronic safe on a regular basis," said Phillips.
"The cash deposited is immediately tallied and the responsibility for the safety of the cash is effectively shifted from the store to Cash Connect. Thereafter an electronic funds transfer (EFT) is automatically made to the store's bank account and the cash is removed by a CIT company.
"The installation of such a system instantaneously takes the availability of cash away because the cash is now securely held within a categorised safe," Phillips said.
Understanding the risk
Dyball said that the Global Theft Barometer indicates that products most vulnerable to malicious shrinkage are razor blades/shaving products, cosmetics/face creams, infant formula, alcohol, DVDs and CDs. "The acronym 'CRAVED' best explains the characteristics of why these products (hot products) are more likely to be stolen:
Concealable (easy to hide when being stolen)
Removable (easy to remove)
Available (easily accessible)
Valuable (either personally to the thief, or to others who may wish to purchase it)
Enjoyable (the product is enjoyable to own or consume)
Disposable (a ready market for the stolen item exists).
"The ability to dispose of the stolen item is the critical variable in explaining why some products are more likely to be stolen than others. We must understand that shrinkage transcends departmental and company boundaries, it is not just shoplifting, it is not all stores and it is not all products. The 80/20 principle applies (not all products cause shrink, that is, 20% of products cause 80% shrink)," Dyball explained.
Dyball said that we need to understand why people steal and realise that there is a strong psychological component to theft. An international study showed that an overwhelming 79% of workers admit that they have or would consider stealing from their employers. "The real reason people steal is opportunity. When companies make it easy through lack of control, an atmosphere of theft is created. In fact, employees steal to the extent that management permits it. There is no shortcut to prevent it, you have to remove the opportunity, create awareness and achieve their support."
Dyball is adamant that loss prevention should be looked at in an holistic manner. "Managers need to identify the real problem areas instead of simply having a knee-jerk reaction to losses by pointing the finger solely at shoplifting. We need to focus on compliance and identify end-to-end solutions:
* Delivery checks.
* Backroom.
* Product protection.
* Replenishment.
* POS."
Dyball has over 20 years' experience in loss prevention working for retailers, security providers and hot product manufacturers in South Africa and abroad. "We need to understand that security guards and anti-theft gadgets will not solve shrinkage, you need a balanced approach to break the shrinkage life cycle."
Creating an impermeable screen
Shirley Hanson, managing member at Sensis Technologies said: "This is a tough time of year for retailers in terms of an increasing number of smash and grabs, and armed robbery of high value items from retailers. It is particularly jewellery stores and shops that sell computer and camera equipment that are at risk."
Hanson said that her company supplies a product that pumps thermal, non-toxic fog into the environment. "The smoke we produce is unlike pepper spray in that it is not harmful to the eyes or irritating to the throat and lungs. The other problem with pepper spray is that it leaves a residue which will continue to act as an irritant for ages after the event. It is also not suitable for use in areas such as jewellery stores because of the residual layer it forms. We are currently the only company worldwide, whose product is independently certified residue free."
See the Sensis case study 'Blind criminals cannot steal'.
Hanson pointed out that the initial tendency is for fog to rise as it is warmer than ambient conditions, so it is vital to keep introducing fog into the area being protected to allow it to achieve a quiescent state (where it hangs in the protected area rather than rising).
Malcolm Thomas, MD at Transaction Control Technologies (TCT) confirmed this and added that, even though the smoke in the company's SmokeCloak takes about 40 minutes to dissipate completely, it is important to maintain cover until the area has been secured by the relevant security personnel or the SAPS. "Over this 40-minute time period, the vapour will obviously dissipate and may need to be reactivated if the threat is still present. This can be done on site or remotely.
"A newer risk which we view as particularly worrying is that many of the bigger retailers are offering an ATM service at their tills. This is doubly disturbing since the risk of cash theft from banks and cash in transit vehicles has been drastically reduced, thus forcing criminals to find a new source of cash. They are now turning to retail outlets as they are aware that cash is kept in the tills. In many of these stores the security is inadequate to deal with such a threat."
Thomas pointed out that something which was highlighted at the recent Retail Risk conference was the fact that security systems, in the form of technology, are too reactive to threats. "Many of the systems today, such as CCTV, are not an effective deterrent against crime. It is too easy for criminals to disguise themselves and therefore avoid identification and capture.
"What is needed is something that can immediately counteract threat. This could take the form of a fog spray, which results in disorientation and instantaneous lack of visibility. The criminal is left with no choice but to flee, since he can no longer see his prey," he explained. Thomas said that the trend is definitely towards using non-contaminating and harmless fog sprays as opposed to pepper sprays.
Some retailers choose to have remote monitoring and control and they may have PA systems in place that allow security personnel to talk to people in the store. "However, even if you do not elect to have remote monitoring, you can choose an installation which includes additional sensors in sensitive areas that will automatically institute the reactivation of the fog spray when required," Thomas said.
"One of our clients, a high-end jeweller, reported that losses have been reduced by millions of Rands since they instituted a fog spray system. The system can be installed with glass break sensors, panic buttons, CCTV link-up or remote control to cover all possible scenarios. When you can rent a system for a small store for only R440 a month, does it not make sense to make this small investment?" Thomas asked.
Remaining positive
Phillips is optimistic that retail clients are taking heed of warnings to institute integrated loss prevention strategies, a factor he underlines with recently published crime statistics. "There are positive signs that the retail market is starting to respond given that the increase of 4,4% in attacks against business over the 2008/2009 year is an encouraging reversal of the sharp annual increase in criminal attacks that business has been the victim of for the past five years."
"We need to bear in mind that shrinkage causes defensive merchandising, which causes OOS (out of stocks) and reduced sales, which ultimately frustrates the shopper. While designing and recommending loss prevention strategies to retailers, the shopper must always be the first consideration. The last thing you want to do is annoy shoppers with overzealous and intrusive security measures whilst trying to deter shoplifters," Dyball said.
Ochien'g shares a similar sentiment. "Shopping should be a pleasant experience for the retailer's customers. It is already rather stressful to undertake the shopping process without being further stressed out by security measures which are too intense and obvious. Retailers can find successful but unobtrusive ways of monitoring and preventing losses."
Robinson very succinctly summed up the underlying message in retail security risk reduction: "At the end of the day the greatest measure should be on the value of loss reduction benefits across the whole enterprise, efficiency increase of personnel, improved operational compliance and managing daily information within the business."
Further reading:
Convergence of cyber and physical security
Integrated Solutions Security Services & Risk Management
The overlap between cybersecurity and physical security will necessitate the integration of cyber and physical security in order to enable the sharing of events to the same security operations centre.
Read more...
---
Reduce electrical risks in commercial and industrial buildings
Security Services & Risk Management
Eaton's new whitepaper aims to help professionals reduce electrical risks in commercial and industrial buildings and prevent faults that can endanger workers, damage property and disrupt business continuity.
Read more...
---
Sustainability School opens for enrolment
Education (Industry) News Security Services & Risk Management
Three-part programme, first developed for Schneider Electric employees, is now available for free for companies worldwide. Attendees learn how to future-proof their businesses and accelerate their decarbonisation journeys.
Read more...
---
Success in business process best practices
Technews Publishing Kleyn Change Management Editor's Choice Integrated Solutions Security Services & Risk Management
This month we commandeer time with the woman who is spearheading our national conversation on Women in Security, Lesley-Anne Kleyn, to get to know the lady herself a little better.
Read more...
---
Security awareness training
Training & Education Security Services & Risk Management
It is critically important to have a security awareness solution that uses the limited time available to train effectively, and one that provides targeted education that is relevant to users.
Read more...
---
Technology to thwart solar panel thieves
Asset Management, EAS, RFID Security Services & Risk Management Products
A highly efficient industrial network is coming to the rescue of the solar industry, as solar panels, inverters and batteries are being targeted by thieves and threaten to destabilise the industry.
Read more...
---
Banking the unbanked comes with security risks
Financial (Industry) Security Services & Risk Management
As grim as it was, the pandemic of recent years and its resultant global economic crisis were a prime catalyst for record number of first-time bank users, the previously unbanked.
Read more...
---
Security is like infinity
Alwinco Security Services & Risk Management
Security needs constant attention, dedication and input. The scary thing is that most people think that security is something that you buy, install, and then forget about.
Read more...
---
Vulnerabilities in industrial cellular routers' cloud management platforms
Industrial (Industry) Cyber Security Security Services & Risk Management
Research from OTORIO, a provider of operational technology cyber and digital risk management solutions, unveils cyber risks in M2M protocols and asset registration that expose hundreds of thousands of devices and OT networks to attack
Read more...
---
SAFPS to launch a platform to combat fraud
Editor's Choice News Security Services & Risk Management
In response to the growing need for a proactive approach to fraud prevention, the SAFPS is developing a product called Yima, which will be a one-stop-shop for South Africans to report scams, secure their identity, and scan any website for vulnerabilities.
Read more...
---