printer friendly version
Magnum launches integrated security cluster
September 2010 Security Services & Risk Management, Retail (Industry)
The Bidvest Group is a multibillion rand business covering many vertical sectors of the economy, from banking to security. Magnum Shield, a security business within the Bidvest Group recently decided to combine the various security offerings within the Bidvest Group to form a security cluster able to offer integrated security solutions to clients at competitive costs.
The formation of the new Bidvest security cluster, or the Bidvest Magnum Group, as it will be known, was the topic at a recent round-table discussion hosted by Andrew Seldon and Vivienne Dorrington of Hi-Tech Security Solutions. The informal atmosphere enabled the participants to discuss the new grouping of various security companies within the Bidvest Group, and to communicate the group and individual offerings to the market.
The participants were Roy Clarke, operations director for Magnum Shield; Dave Crichton MD of Magnum Shield, who will head up Bidvest Magnum Group, as MD; Kevin Monk, technical director of Magnum Shield, Eytan Nevo, MD of ACTS (African Consultancy for Transportation Security); and Craig Taylor, MD of Bidtrack, previously known as Bandit Vehicle Tracking and Fleet Management.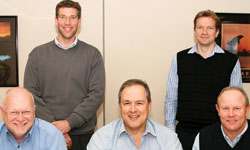 Standing: Eytan Nevo and Craig Taylor. Seated: Dave Crichton, Roy Clarke and Kevin Monk
Synergy, cost savings and improved services
Dave Crichton launched the discussion, stating that many of the security businesses within the Bidvest Group were operating in silos. "Magnum Shield was just a pure guarding company with no technology offering and both the marketplace and Magnum Shield were battling in terms of delivering cost effective solutions for our clients. We found we were missing an avenue to reduce the cost of and dependency on manpower. I think there are technologies out there that can actually complement guarding very well to achieve an optimal spend without compromising security on clients' sites. We have around 2 500 clients out there that require some form of access, perimeter control or CCTV monitoring.
"Provicom, on the other hand, was a standalone business, offering mainly turnkey solutions to clients. Magnum Shield's service offering covered a range of clients from small businesses to large corporations, while Provicom operated mostly on the top-end of the market dealing with the main financial institutions and big retailers, offering a technical solution, from access control to CCTV and evacuation systems etc.
"Those two businesses were just a hand-in-glove fit. The strategy was that Magnum Shield was going to go into that arena in any event and offer technology to its clients, so putting these two businesses together would just get it to the market quicker. Provicom was also struggling with the downturn in the economy, where bigger projects were becoming fewer and smaller, the new market was becoming more competitive, resulting in squeezed margins and the net result was not a good business."
Guards face rising violence
Another good fit was in the monitoring and response market. "Provicom also has an offsite monitoring division, the Joint Operations Centre (JOC), that offers only alarm and offsite CCTV monitoring without armed response," Crichton adds. "Magnum Shield had already made a decision to complement its guarding services with remote monitoring capabilities. In addition, we felt that many crimes were becoming more dangerous and violent and it made sense to take our guards away from harm and put more technology closer to the actual point of contact."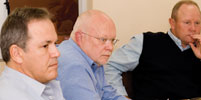 Roy Clarke, Dave Crichton and Kevin Monk
Merging businesses, assets
"Bidtrack was acquired about seven months ago by Bidvest. It was previously known as Bandit Vehicle Tracking and Fleet Management and we are in the process of re-branding it," explains Craig Taylor, MD of Bidtrack. "We provide vehicle tracking and fleet management solutions and within the Bidvest Magnum Group we will be part of the greater security offering."
"It is a recent acquisition within the group and its service offering in terms of a control room is a very critical part of the Bidvest Magnum Group. Moreover, the fleet management technology and the home-grown software that manages the whole service is also a crucial asset to the group," interjects Crichton.
"We already have one client where all three services are offered jointly and that is Bidvest Bank. We want to build on this to offer a common service offering to similar clients, where we can share infrastructure in terms of communication technologies, control rooms and administration, insurance, accounting etc. This will reduce our cost structures, which will keep our prices competitive. More importantly, it will empower us to offer an integrated solution to the clients – a one-stop-shop. This is the big picture concept of where we want to go."
Aviation security
"ACTS is a joint venture between Bidvest and ICTS Europe, reportedly the largest private aviation security company in the world," explains Nevo. "It started in aviation and expanded into other transportation modes.
"ACTS started with airport baggage screening in Johannesburg, Cape Town, Upington, George and Pilanesberg. Towards the end of last year we started with RASCargO, (remote air sampling for canine olfaction), an innovative cargo-screening system that is the perfect solution for cargo security clearance and for fighting contraband smuggling.
"In the future we are looking at expansion into other transport modes and that is what we envisage ACTS looking after within the Bidvest Magnum Group. It can go into areas that are not classical guarding situations, like National Key Points. We are already working at the airports, but we could include maritime security, which I think needs a lot of attention in today's uncertain global security environment."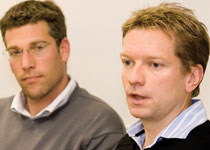 Eytan Nevo and Craig Taylor
Dovetailing the offerings
Right now, the group has two control rooms, one doing vehicle tracking and one doing other security work, including guard monitoring, alarm monitoring etc. There is a possibility that in the future the functions will be replicated in both control rooms, so the group can not only create a Disaster Recovery facility for each control centre, but optimise its spend, employing top-class operators and invest in the best IT and communications infrastructure. The control rooms are state-of-the-art in terms of infrastructure of bandwidth, ADSL, 3G and a wireless failover communication backbone, which is what companies need for remote monitoring.
However, the two services already fit together since the group itself has in excess of two hundred vehicles around the country that need to be monitored, in addition to clients' vehicles out in the field.
Another offering will be armed response for its corporate clients, who currently outsource this service to other companies. The group has armed guards, the training facilities, the vehicles and its guards on site. Now that it has the control centre, it will be able to monitor the alarms and CCTV, and dispatch its own people not only to look after the client's premises, but also its guards if they get into a hostile situation. It would have control over response times and not depend on other service providers to look after its own staff.
There is also a possibility that vehicle recovery could be part of the process with vehicles being tracked and recovered with its own resources.
Up-skilling workers
Kevin Monk adds, "It is always been difficult integrating electronic companies into a guarding company. However, we at Magnum have done this differently. We have started a protégé programme, which takes regional and security managers and starts teaching them about the electronic side of the business – about perimeter detection, alarms, biometrics and access control. We start at grassroots level in up-skilling our guarding side to look at technology options.
"If we go onto a site and there is a problem at the back gate, we do not necessarily want to say the solution is to place a guard there. We want to evaluate it and ask, 'what is the best-case scenario for our client?' Is it a guard or is it a turnstile with two biometric readers and a camera? By bringing together manpower and technology, they both work together to give a stronger solution – a true turnkey solution with guards, technology and monitoring."
Sharing best practice
The creation of the Bidvest Magnum Group enables all the companies within the cluster to share information and extract best practices from one another, and this is another great advantage to both its clients and management.
It will soon be introducing a product called 'Online Intelligence', which will circulate information gathered from various incidents in different economic sectors, whether it be retail, hospitality or financial institutions. This information can share among clients and used to pick up trends in criminal activities and threats.
The group also has a specialist division of investigators, covert operators and undercover agents who gather and analyse this sort of intelligence. Company representatives also sit on various forums, such as banking and mining associations, and share information about different types of threats.
The Online Intelligence database will allow the company to discover and follow trends so that when it goes onto a new site and sees those trends appearing, it will have that information within the database as to what the best defence mechanisms are.
This information can be shared selectively with clients and industry on a general basis, for example, threats appearing in the retail sector, but specifics as to how a particular retailer is reacting to threats will not be shared.
Clients inside, outside the group
According to Crichton, "The Bidvest Group is a large client of the Magnum Shield Group as a whole and of individual companies within the group. Collectively, it is probably our second biggest client. Our biggest client is BHP Billiton but on a single site, it is Impala Refineries.
"While the Bidvest Group presents an opportunity for us, it is critical that the service offered is a value add for the Bidvest client, and that we professionally protect the assets and staff, and optimise the security spend of the greater Bidvest Group. "The Bidvest philosophy is that we do not get business within the group just because of our association with it. Each of our companies within the group has to compete on an arm's-length basis for business. Therefore, providing a high level of service and cutting-edge technology is all part of our focus – we do not get the business just because we are in the club.
"There is still a lot of business within the group that we do not have, which is why combining our skill sets is going to present us with more business opportunities within Bidvest. We aim to offer an integrated solution to our clients and to optimise their security spend without compromising their safety."
Further reading:
Three new portable power stations to ease load shedding
News Security Services & Risk Management Products
EcoFlow has launched three portable power stations that provide sufficient power for consumers wherever they are; the DELTA 2 and RIVER 2 Series are feature-filled power solutions to the volatile electricity supply.
Read more...
---
You cannot bribe a computer
Access Control & Identity Management Security Services & Risk Management
Corruption is a cancer that destroys the prospects and stability of countries and businesses. It widens wealth gaps and punishes the poor. It costs countries many billions in lost revenue.
Read more...
---
How much protection does cyber insurance really give businesses?
Cyber Security Security Services & Risk Management
If organisations don't meet even the minimum requirements of security and data protection, insurance will do them little good. Instead, it needs to be just one part of the digital resiliency toolbox.
Read more...
---
Off-grid power solution for residential estate
Editor's Choice Security Services & Risk Management Residential Estate (Industry) Products
Coral Beach Estate, an upmarket residential estate based in East London, has been struggling with load shedding and power outages due to South Africa's energy crisis, as well as the vandalism of its power infrastructure.
Read more...
---
SafeCity Guarding rolls out across 14 suburbs in Johannesburg
News Security Services & Risk Management
In a major drive to provide communities across Johannesburg with additional safety, Vumacam, in partnership with Fidelity ADT and other security providers across the region, rolled out the innovative SafeCity Guarding initiative in 14 suburbs.
Read more...
---
FleetDomain underpins Afrirent's value proposition
Logistics (Industry) Security Services & Risk Management
Afrirent, a 100% female black-owned fleet management company, has been relying on FleetDomain software for a number of years to help it deliver outstanding service to a growing number of clients.
Read more...
---
Choosing an inferior lithium battery can be detrimental and unsafe
Uniross Batteries Security Services & Risk Management Products
South Africans looking to mitigate the impact of load shedding by installing a solar system for their home must do so through an accredited installer or electrician to avoid insurance claims being rejected.
Read more...
---
Employee screening, a hiring necessity or an invasion of privacy?
Security Services & Risk Management
There is a fine line between checking a potential employee's qualifications and references, and investigating aspects of their lives that have nothing to do with their job application.
Read more...
---
Keeping students, staff and communities safe
Vumacam News CCTV, Surveillance & Remote Monitoring Security Services & Risk Management
South African schools are facing increasing security challenges, making effective surveillance systems more important than ever. To address this issue, Vumacam is offering advanced security solutions with security partners, aimed at keeping students, staff, and the community safe.
Read more...
---
Technology is key to securing physical and cybersecurity
Education (Industry) Security Services & Risk Management
The interpretation of security in educational institutions depends on whom you are talking to and whether their focus is on the physical security of the institution, its assets and its people, or its information and communication technology perspective.
Read more...
---