printer friendly version
Openness, ease, partners and training
September 2010
Integrated Solutions
Hi-Tech Security Solutions recently sat down with Milestone System's sales director, MEA & ANZ, Peter Biltsted and its regional sales manager for Africa, Islem Cherchali, to discuss the company's approach to the security market and what it sees as critical to the future of surveillance.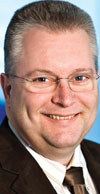 Peter Biltsted
Milestone is an IP company and has been developing open, IP-based video management software for years. It has a direct presence in 14 countries, with distributors and integrators representing it in more than 100. Its constant growth over the years, even posting an 11% growth rate in the 2009 downturn, has validated its position that the future of surveillance and security technology as a whole is IP.
Looking at the world market in mid-2010, Biltsted says growth is back on track in the emerging markets, with the Middle East going through a surveillance boom. One rising business capital in the region will soon have 15 000 high-definition IP cameras installed and it has passed a law requiring all camera operators, private or public to store 180 days of footage and provide the police service with full access to all cameras. India is also a growing surveillance market and even the USA is showing growth.
While Biltsted states that the future of this industry will end up being on an IT infrastructure, he also warns that while open standards offer flexibility and give users many more options, openness requires more expertise from installers. Integrators need to ensure they have the right skills to be able to meet customers' needs. It is no longer simply a matter of running a cable to a camera and deciding on the right viewing angle.
More companies are starting to demand certifications and accreditation from their installers before allowing them onto the premises. And while this is old hat in the IT industry, there are many security installers who simply could not be bothered, and who will find the going tougher as more standards and certifications are required in tenders.
Milestone has now invested in the launch of a company named Connex International, focused exclusively on training partners and integrators to multiple levels of accreditation. This will ensure that end users receive quality advice and technical support instead of struggling with installations that are inefficient.
Open options
As an IP-based company, Milestone has always supported open standards and Cherchali drives home the benefits of openness. The primary benefit of an open management platform is that customers can integrate their preferred cameras into the system and can select new cameras that suit their security and price requirements, mixing different brands. Milestone also supports both PSIA and ONVIF.
Another crucial aspect of Milestone's philosophy is ease of use. It wants to make plug-and-play cameras a reality, allowing integrators to focus on delivering the benefits surveillance offers instead of struggling to connect all their cameras to the management platform. Milestone's hardware wizards provide easy camera additions and configuration, with a template option allowing standard configurations to be automatically loaded across installations.
And surveillance is more than simply transferring video these days. Integration is a buzzword in the industry and with IP-based open systems, it becomes easier to integrate other security functions with surveillance. For example, using video surveillance to remotely operate access control systems and monitor cash points are only two aspects of integration we are seeing today.
New stuff
Through its reseller base, Milestone already offers a flexible licensing deal for customers, allowing them to choose the number of licences they need and by making upgrading to higher-level solutions easier (and cheaper with its licensing insurance option). The company has also released a very competitively priced new entry-level management platform for installations of up to 26 channels, called XProtect Essential.
The entry-level platform supports the same cameras, open standards and ease-of-use features as the enterprise and corporate versions do, but not all the features and functionality. Upgrading to the advanced versions is also simple and does not require re-installation.
Camsecure's technical director, Francois Malan, hosted the meeting with Milestone at the luxurious Saxon Hotel. Camsecure recently installed 150 high-definition IP cameras from Axis at the Saxon and is running the solution on a Milestone platform.
Malan says that customers often look at the price of the higher-end offerings and back away from a management platform like Milestone, not knowing the functionality they receive bundled into the platform. Apart from the ease of use and support for almost 900 cameras, both IP and analogue (through video encoders), Milestone's open platform allows users to integrate any number of additional applications from third-party providers. So whether it is number plate recognition or video analytics, customers can choose a solution that suits their needs and pockets.
He adds that some hardware companies offer a management platform free with their cameras, but advises users to look at the implications of free software. On the one hand, it could lock users into using only one camera brand in future and will not support integrating existing technology into the solution – customers will be forced into a solution the manufacturer prescribes instead of a solution best suited to their needs. On the other hand, free software will not incorporate all the features and functionality of paid systems designed by companies that are only focused on developing a management platform.
Another new feature we will soon see in the company's software is support for Axis cameras with onboard storage. Should the network go down, Milestone will fill in its surveillance gaps from the camera's SD card and vice versa, ensuring uninterrupted surveillance footage.
In a future issue, Hi-Tech Security Solutions will print a case study of the Saxon implementation. Stay tuned.
For more information contact Milestone Systems, +45 (0)88 300 300, [email protected], www.milestonesys.com
Credit(s)
Further reading:
31 percent of all IoT SIMs managed with third-party IoT CMPs
News Integrated Solutions
Berg Insight recently released new findings about the market for IoT connectivity management platforms (CMPs), a standard component in the value proposition from mobile operators and IoT MVNOs around the world.
Read more...
---
Creating a safe, smart city environment
Integrated Solutions
As more governments around Africa start embracing the smart city concept, significant investments will be required to strengthen the underlying infrastructure essential to keep systems and data safe.
Read more...
---
Smart car parking solution eases traffic flow
Dahua Technology South Africa CCTV, Surveillance & Remote Monitoring Integrated Solutions Products
Ethiopia's first smart parking lot, designed to improve traffic flow and management efficiency, has been built and installed using Dahua Technology's smart parking solutions.
Read more...
---
VMS 7.2 supports the investigation process and adds cloud capabilities
CCTV, Surveillance & Remote Monitoring Integrated Solutions Products
Qognify has launched the second release of its VMS, including extended support for body-worn video, additional functionalities to support investigations, and a new web client architecture. VMS 7.2 addresses the increasing use of body-worn video (BWV) across many sectors.
Read more...
---
Hytera and KZN Police Service roll out digital call handling system
Government and Parastatal (Industry) Asset Management, EAS, RFID Integrated Solutions
Hytera Communications announced that the municipality of Ray Nkonyeni in the KwaZulu-Natal province of South Africa is now using its digital call handling system for the reporting and recording of crimes.
Read more...
---
Cyber resilience is more than cybersecurity
Technews Publishing Editor's Choice Cyber Security Integrated Solutions IT infrastructure
Hi-Tech Security Solutions held a round-table discussion focusing on cyber resilience and found that while the resilience discipline includes cybersecurity, it also goes much further.
Read more...
---
Johnson Controls releases IQ4
Perimeter Security, Alarms & Intruder Detection Integrated Solutions
New lower cost panel leverages Qolsys IQ Platform targeting residential, SMB, builder, MDU/multi-family and wellness market segments.
Read more...
---
SuperVision biometric access control
Integrated Solutions Access Control & Identity Management Products
SuperVision is a time & attendance (T&A) biometric access control system Fourier IT has been developing and enhancing for 18 years.
Read more...
---
Shift to online driving retail transformation
Retail (Industry) Integrated Solutions
There is a growing demand from retail for an end-to-end solution that helps their digitisation process, integrating finance, procurement, warehouse management, pricing, stock management, point of sale and more.
Read more...
---
AI in video analytics
CCTV, Surveillance & Remote Monitoring Integrated Solutions
AI (artificial intelligence), has been developed and debated ever since the first computers were invented, and while the most revolutionary incarnations are not yet here, AI-based technologies are widely used today.
Read more...
---