printer friendly version
The real CSI effect
August 2010 Surveillance
We have all seen the television series CSI Miami and CSI New York, which have created an expectation worldwide that video has made a marked change in evidence gathering and management. As an industry, we are challenged to deliver this capability. If we are to achieve this, it means dramatic changes in the ability to collect, transmit, store, display and export millions of pixels of information more effectively. An enabling technology that allows for the commercially viable efficiency needed, is a compression alternative referred to as JPEG 2000.
If you have ever watched a video transmission from space, had an x-ray transmitted which has been shared with multiple doctors, worked with Google earth, or recently gone to the movies, then you have experienced the benefits of this proven compression.
JPEG 2000 is a standard created by The Joint Photographic Experts Group committee in the year 2000. JPEG 2000 has been adopted successfully for a broad range of applications including satellite transmission (ie, the intelligence communities), document archiving, medical image sharing, feature length film distribution and more recently CCTV surveillance by Avigilon. Avigilon has adopted this capability, and has created a commercial marketing phrase that recognises the power of JPEG 2000 as a core component of high definition stream management (HDSM) using megapixel cameras, encoders, HDSM and the Avigilon Control Centre Software.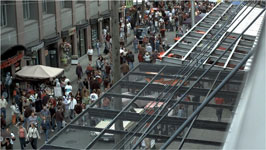 Figure 1
If you are challenged for an application to gather wide situation awareness such as the street scene in the photograph, yet have the CSI ability to zoom into the detail of the same scene with absolute indisputable forensic detail, then JPEG 2000 is the compression technology of choice. JPEG 2000 is the only compression technology that allows you to record direct to disc with the ability to provide visually lossless video, live or recorded archived video. This recording methodology means that the archived video is recovered with the same visual quality as the live high definition view. JPEG 2000 is also a variable compression technology, allowing you to configure quality levels of video to your needs and expectations.
Figure 2
Let us take a look at how JPEG 2000 might aid an investigation. The JPEG 2000 compression/decompression capability combined with a robust network video management software platform allows you to digitally zoom into Figure 1; scene for an investigation. In Figure 2; the top right zoomed region of interest, where the license plate is clearly readable, JPEG2000, in visually lossless mode (or quality level 2) provides forensic clarity utilising an Avigilon 16 megapixel camera. The bottom panel on the right depicts taking advantage of the variable compression technology JPEG 2000 at quality level 9 with the same camera and image. Trimming each camera quality level can dramatically change bandwidth and even storage requirements without significant visual compromise in quality. Each camera, managed in this case by the Avigilon Control Centre with HDSM, supports 20 different quality levels. Note the conventional JPEG inserted image on the bottom left side of the slide. The blocking that is occurring is typical of standard JPEG and MPEG compression technologies.
JPEG2000 manages image flow from end to end within the architecture of a surveillance system. Cameras digitise and transmit images to the network video recorder (NVR) using JPEG 2000, where the images are stored. The network video management system (NVMS) processes requests from remote monitors using JPEG 2000. The key to JPEG 2000 or HDSM is that it only sends the image data than needs to be sent to the workstation.
HDSM images leverage JPEG 2000 compression technology, and are progressively built from image packets at the server. The front layer of the image file contains the image data required for situation awareness. The detail of the HDSM image is progressively improved by adding quality layers. The frame of video takes on a three-dimensional 'cube like' quality, as millions of pixels are now gathered packet by packet. There is now a depth of information available to navigate in order to identify situation awareness or drill down into the layers for detail.
The Key to JPEG 2000 and this HDSM, is that it is seamlessly integrated to the NVMS client and server software. To view a detailed image of a license plate, for example, multiple layers for a small region are sent. It is akin to viewing the three dimensional cube of video through a straw. HDSM, once again, preserves bandwidth by only sending required image packets. The Avigilon Control Centre, along with JPEG 2000/HDSM, allows you the flexibility of identifying how many layers of quality that you prefer to create and draw from, optimising the video detail required vs. the storage requirements. We view this as variable compression technology.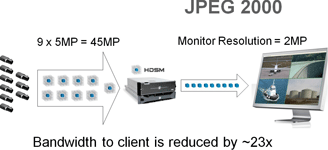 Figure 3
Let us look at an example in Figure 3. Any compression scheme whether it is MPEG4, H.264 or JPEG 2000 will have a range of compression values available to it, depending on the resulting image quality you want to view. Rather than get involved in detailed data rates for these examples, let us view video purely in pixels of information and how JPEG 2000 allows you to work with that power for the video surveillance application.
This slide depicts 9-5 MP JPEG 2000 cameras. All the information is stored to disk at the server, with the desired video to be viewed in a 9x9 layout on the client monitor. A typical LCD monitor is limited in resolution by a maximum of 2 megapixels, so the client in this case sends a request for only the information that is capable of being displayed. This allows a 23X reduction of information sent, the associated bandwidth and processing requirements without sacrificing any of the original captured evidence.
So why is JPEG 2000 important?
It provides high definition video surveillance.
Provides necessary evidence by a recording methodology with visually lossless detail.
We can satisfy the 'CSI' expectations.
Reduces investigation hours due to video detail and search functionality.
Increases the percentage of successful investigations.
To conclude, JPEG 2000 provides the engine of efficiency to selectively transmit and display video as needed and required.
For more information contact Niall Beazley, Vision Catcher, +27 (0)11 463 9797, info@visioncatcher.co.za, www.visioncatcher.co.za
Credit(s)
Further reading:
Pentagon appointed as Milestone distributor
Elvey Security Technologies News & Events Surveillance
Milestone Systems appointed Pentagon Distribution (an Elvey Group company within the Hudaco Group of Companies) as a distributor. XProtect's open architecture means no lock-in and the ability to customise the connected video solution that will accomplish the job.
Read more...
---
Embracing next-generation surveillance for safer cities
Surveillance Integrated Solutions AI & Data Analytics
With the South African government highlighting the importance of building smart cities by integrating advanced technologies to make them more resilient and liveable, the role of next-generation network video and surveillance technologies cannot be ignored.
Read more...
---
Hik-Connect for Teams released
Hikvision South Africa Products & Solutions Surveillance
Hikvision has released an update for its security management platform; Hik-Connect for Teams not only meets the specific needs of individual users, but also caters to various medium-sized businesses (SMBs) and multi-site management scenarios.
Read more...
---
The human factor side of video management systems
Leaderware Editor's Choice Surveillance Risk Management & Resilience
A video management system (VMS) is central to, and the most vital element to any control room operation using CCTV as part of its service delivery, however, all too often, it is seen as a technical solution rather than an operational solution.
Read more...
---
A simple system for complex protection
Surveillance AI & Data Analytics IoT & Automation
Reconeyez is a company that provides autonomous wireless visual verification systems with built-in artificial intelligence. Running on batteries, each device includes communication capabilities, creating a mesh network between the various devices, linking them to the control room.
Read more...
---
Revolutionise your security with integrated solutions
Secutel Technologies Products & Solutions Surveillance
By merging the capabilities of SecuVue and Secutraq, Secutel has forged a robust system empowering users to fine-tune analytics and harness facial recognition, pose detection, and XFS, among other features.
Read more...
---
Safer roads to a sustainable future
Dahua Technology South Africa Surveillance
With the ever-increasing number of vehicles on the road, it is imperative to constantly improve the quality of transportation monitoring and traffic management in urban and rural areas.
Read more...
---
From damage management to false alarm prevention
Dallmeier Electronic Southern Africa Transport (Industry) Surveillance Logistics (Industry)
Video surveillance is undergoing an exciting evolution; today's IP-based solutions can be fully integrated into digital systems. With the increasing integration of artificial intelligence (AI); logistics, in particular, can make processes more transparent and exploit previously untapped potential.
Read more...
---
Marshall Security partners with Blacklight to introduce Reconeyez to KZN
News & Events Surveillance Power Management
Marshal Security has joined forces with Blacklight Group to launch Reconeyez, a cutting-edge battery-powered surveillance platform with mesh network capability, in the KwaZulu-Natal market.
Read more...
---
Professional mobile video management in your pocket
Dallmeier Electronic Southern Africa Surveillance
With the SeMSy Mobile Client for its Domera and Panomera cameras, Dallmeier is now launching a solution that combines the functional and security requirements of professional organisations with the user-friendliness and simplicity of consumer apps.
Read more...
---