printer friendly version
Striking the right balance
August 2010
Perimeter Security, Alarms & Intruder Detection
So you have splashed out and got one of those fancy state-of-the-art gate automation systems. It works all day and all night, silently and relentlessly opening and closing your fortress gates at the touch of a button. It is great, besides the increased security you now enjoy, you no longer need to get out of the car and push open the gate.
What bliss, you know that you will be sleeping soundly tonight, and that no unwanted visitors can get past your gate and give you a rude awakening. Your family is now secure, no doubt about it. But how safe are they actually?
Could you potentially be putting them in harm's way by the very gate automation system you have installed to serve and protect them? After all, it takes quite some force to move a large steel gate and modern gate motors are built to be really powerful. What if you child was to end up between your gate and your wall? Centurion would like to ensure that this will never happen, so by adhering to some simple guidelines you can get the ultimate security solution at your gate without compromising safety.
Modern gate automation systems, particularly those using low-voltage DC motors, which are very reliable and powerful, can provide sensitive anti-crush protection. Leading manufacturers have also designed such intelligence into their controllers allowing the gate operator to be configured in so many different ways. Now, through intuitive on-board controllers, you can easily vary just about anything your gate does, from gate speed for both opening and closing, the ramp up and ramp down profiles, crawl distance, plus and most importantly the sensitivity of the motor and its ability to detect and respond to an obstruction in the path of the gate travel. They are so precise that you can set up the smoothest, quickest and safest of installations.
Your gate motor's ability to detect and deal with a collision is vital, but perhaps even more important is to avoid a collision in the first place. This is where detection devices such as gate safety infrared beams come into their own. These beams constantly monitor the path of the gate and can stop the gate dead in its tracks should anything break the beams, ensuring that junior can pass through the path of the gate safely, whether the gate is in motion or not.

There has been a lot of resistance in the past to fitting gate safety beams due to the concern that it may compromise security. Some criminals have blocked the beams with tape whilst a home-owner was out and about. Then upon return the home-owner would open the gates and drive in, but they would not close behind, due to the beams being obstructed. This allows the criminals the opportunity to simply waltz in after the home-owner Some gate motors now have a special alarm feature to counter this. As soon as the gate is idle the beams adopt a new function – intruder detection. If the beams are blocked for a preconfigured length of time they can trigger an alarm, be it the on-board buzzer, a siren or a signal to an armed response company. This feature is also very useful as a warning if someone is playing too close to the gate.
Gate safety beams are an essential part of the automation system. They provide unparalleled safety at the gate, and now offer security too.
Some gates can be opened using a pedestrian key switch, a keypad or a similar access control device allowing for pedestrians to make use of the motorised entrance. In this instance it is important to ensure that your gate operator has a Pedestrian Opening Delay function. This will allow for the gate to be triggered by a pedestrian and then open after a short delay giving the pedestrian time to move completely out of harm's way before the gate starts moving. Make sure in the case of a sliding gate installation, the access control device is mounted on the opposite side of the driveway entrance to the gate motor.
Even the gate design can play a role in ensuring the safest installation. A fully-clad gate without an 'open' type of construction will ensure that a person cannot accidentally put their arm through the gate and have it trapped against an upright post should the gate start to open.
With lighter gates and in domestic applications, it is possible to add further protection to the gate construction by mounting buffer strips to the front and back of the gate in addition to both sides of the gate upright. Referred to as passive sensitive edge, this softens the impact if the gate hits an obstruction and gives the inbuilt motor protection more time to react.
On heavier gates and gates in multi-user and commercial applications, active sensitive edge is recommended. This is the ultimate in anti-crushing protection and is applied in place of the passive sensitive edge. This safety device communicates directly with the operator ensuring that the gate stops the moment the edge is triggered.
Always ensure that your gate automation system has been installed by a qualified installer. Ensure that all the safety mechanisms are working and that these are explained to you as the end-user during handover of the installation.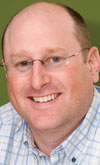 Adam Butchart
For more information contact Centurion Systems, +27 (0)11 699 2467, adam.butchart@centurionsystems.co.za 
Credit(s)
Further reading:
Video and audio convergence
Issue 1 2020, Hikvision South Africa , Perimeter Security, Alarms & Intruder Detection
Hikvision has introduced its video and audio convergence solution to the market, featuring an innovative real-time intrusion deterrent feature.
Read more...
---
Centurion to unveil new product
Issue 1 2020, Centurion Systems , Access Control & Identity Management
Centurion Systems will be hosting its third Access Automation Expo this year, with dates confirmed for Durban, Johannesburg and Cape Town.
Read more...
---
Securing perimeters of secure locations
November 2019, Axis Communications SA, Modular Communications, Hikvision South Africa, Nemtek Electric Fencing Products, Technews Publishing, Stafix , Government and Parastatal (Industry), Perimeter Security, Alarms & Intruder Detection, Integrated Solutions
Hi-Tech Security Solutions asked a number of companies offering perimeter security solutions for their insights into protecting the boundaries of national key points.
Read more...
---
Utility outages: Are you looking at the big picture?
October 2019 , Perimeter Security, Alarms & Intruder Detection
We have to start thinking about, and laying plans for, the real possibility that the whole grid is somehow compromised.
Read more...
---
Perimeter protection in Ghana
October 2019, AcoustAlert , Mining (Industry), Perimeter Security, Alarms & Intruder Detection
A gold mine in Ghana has erected a dual fence with AcoustAlert PIDS fence detection on both inner and outer fence lines.
Read more...
---
A committed service provider
October 2019, Elf Rentals - Electronic Security Solutions , Perimeter Security, Alarms & Intruder Detection, Residential Estate (Industry)
The theme Elf promoted through its sponsorship was that it offers clients its own financial commitment and willingness to accept the risk of equipment failure.
Read more...
---
Thermal cameras with artificial intelligence
October 2019, Dahua Technology South Africa , Perimeter Security, Alarms & Intruder Detection, CCTV, Surveillance & Remote Monitoring, Residential Estate (Industry)
Dahua Technology showcased solutions that are important to residential estates, namely perimeter protection.
Read more...
---
Securing estate perimeters
October 2019, Nemtek Electric Fencing Products , Perimeter Security, Alarms & Intruder Detection, Residential Estate (Industry)
Nemtek has a range of products designed to secure the perimeters of estates, however its display at the conference focused on its Network Energizer and its Dual-Action Tension Sensor.
Read more...
---
Using home security to provide home automation
October 2019, TPA Security Distributors , Perimeter Security, Alarms & Intruder Detection, Products
Making outdoor intrusion detection sensors an integral part of the security/home automation system is a reality with Texecom Connect and Ricochet technology.
Read more...
---
Not just intruder detection systems
October 2019, Elvey Security Technologies , Perimeter Security, Alarms & Intruder Detection, Products
The market is clamouring for the integration of traditional intruder detection systems with home automation, surveillance and access control solutions.
Read more...
---