printer friendly version
Show time! IFSEC SA Securex 2010 preview
August 2010
News

Following a successful event in 2009, South Africa's premier security exhibition, incorporating the broadest range of security companies, products and services in Africa under one roof, IFSEC South Africa Securex 2010 will once again be shaping the industry from 31 August 2010 to 2 September 2010 at the Sandton Convention Centre in Johannesburg.
This year's show promises to be even better with the event attracting attention from South Africa, our northern neighbours and even the Far East. In addition, visitors to the show can streamline their entry to the event by pre-registering online at www.ifsecsa.com.
To download an official show guide with floor plans and exhibitor details, please click here.
Business matchmaking
The IFSEC SA Securex 2010 Business Matchmaking Programme is a new, proactive pre-show platform enabling conference delegates, exhibitors, pre-registered visitors and sponsors to view profiles of participants and select who they want to meet at the event. As soon as you are confirmed to attend the event, the IFSEC SA Securex 2010 Business Matchmaking Team will profile your company and provide access to the online matchmaking programme.
The Business Matchmaking Team works four to six weeks in advance of the event, pre-profiling all confirmed participants creating individual matching reports, encouraging meeting selections and pushing meeting requests into confirmed interactions that take place at the event.
This programme enables you to be proactive before arriving at the event maximising the networking experience. By searching through event profiles, you can select exactly who you want to meet, send a meeting request and confirm all the meetings that will take place at convenient times for the meeting invitee. Online diaries allow you to track your meeting requests in a real-time environment providing up-to-date information through your private online matchmaking account.
All meetings take place in the IFSEC SA Securex 2010 Business Matchmaking lounge, at meeting tables or on relevant exhibitors' stands.
So who is at the show?
IDL will be exhibiting for the first time in Hall 1, stand E29 this year. The company's focus this year will be to launch the Fastlane range of entrance control solutions and introduce Integrated Design to the South African market. The company will also be on the lookout for resellers and partners in the region. IDL will be displaying its highest security speedgate, the Glassgate 400 and the Glasswing speedgate for fast throughput.

Glassgate 400
Fire specialist Xtralis will be in Hall 1, stand G24 and will showcase a number of hot products and will be presenting two educational talks during the show.
The products being launched inlcude:
1) The ADPRO V3500 high capacity IP video server/recorder based on Cold Disk Technology.
2) The ADPRO Presidium mini video motion detector.
3) The VESDA ECO, an integrated solution that combines aspirating smoke detection (ASD) with gas detection and environmental monitoring.
Axis Communications will be focusing on its selection of high-definition video surveillance technology on stand A18. Products you can expect to see are the company's increased HD range, multistream day/night cameras and the world's first true digital IP thermal camera. Axis has also launched a new range of affordable fixed cameras with varifocal lenses and excellent image quality that will be showcased.
The Axis Q6034 will also be a highlight of the show, this camera offers HDTV video, 18x optical zoom, and high-speed pan/tilt performance for exceptional coverage of large areas and great detail when zooming in. Local Axis country manager, Roy Alves, will also be presenting educational talks at the show.
BFR Digital will also be on display in Hall 1, launching its new Fibre Lite Plus. This new product is designed to transmit analogue video, data, contact closures and audio over a multimode fibre optic cable. Fibre Lite Plus has the power budget to transmit these signals over a cable distance of 6 km.

Fibre Lite Plus
The Fibre Lite Plus product range consists of:
1. Standalone transmitters and receivers.
2. Cage card transmitter and receivers.
3. Field Lite enclosures.
4. Fibre Lite Rack which is a 16 slot 19-inch card cage including the power supply unit.
A remote field trip
Remote Offsite Monitoring (ROM) will also be at the show, focusing on its core business of remote CCTV monitoring. ROM is another first-time exhibitor and will be expounding on the advantages of remote off-site monitoring and will also demonstrate some of its features, such as remote bi-directional audio control over a site, remote access control and electronic management systems.
ROM has also arranged for its Command Centre to be open to all the registered IFSEC Securex visitors for the duration of the show. Transport has been arranged for interested parties, or fixed appointments can be scheduled.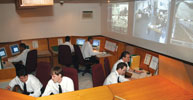 Bloodhound Technologies will also be on show in Hall 1, stand E39. One of the two primary products the company will be demonstrating include Bloodhound Static, a solution that enables clients to monitor and report in real-time the 24/7 presence of their personnel in a specific area. The second is Bloodhound Mobile, which creates a real-time monitoring environment for clients that require there be no limitation to size of the area being monitored. The system identifies any person on duty, their location and the amount of time spent in any specific area.

The SASA workshop
Another value-added offering at IFSEC SA Securex 2010 will the South African Security Association's workshop, which will take place in Hall 2. The speakers this year are:
* Tony Makosinski from Honeywell UK, who will be speaking on demystifying common myths about security radio systems.
* Craig Donald, CEO of Leaderware, who will be speaking on how the human factor is critical in delivering CCTV system performance.
* Neil Gillespie from Elvey Technologies, who will be providing a security training update.
* Martin Hood from MJ Hood & Associates, who will be speaking on the security industry and the firearms control act.
* Charles Kinnear, from Abcorlaw, who will be speaking on disciplinary processes and consistency of firearms.
Further reading:
First Distribution to distribute InteleX Vision
Issue 9 2020 , News
First Distribution has signed an agreement with InteleX Vision that will see it distribute the iSentry video surveillance analytics suite of software in Africa.
Read more...
---
Nice digital evidence management solutions
Issue 9 2020 , News
NICE named a leader in the inaugural IDC 'MarketScape: Worldwide Digital Evidence Management Solutions for Law Enforcement 2020 Vendor Assessment'.
Read more...
---
From the editor's desk: Business efficiencies at the door
Access & Identity Management Handbook 2021, Technews Publishing , News
The COVID-19 virus and its seemingly endless variations has been termed 'The Great Reset' because of the changes in the way businesses have to operate. The virus has also been a reset for the access control ...
Read more...
---
Coping with COVID-19
Issue 9 2020 , News
Memoori has analysed the impact of COVID-19 on physical security market and the potential performance of the physical security business to 2025.
Read more...
---
Impro expands integration with facial readers
Issue 9 2020, Impro Technologies , News
Impro Technologies has announced that Hikvision's Pro and Ultra facial readers are now integrated with its Access Portal software.
Read more...
---
Altron Arrow secures distribution agreement with Centrify
Issue 9 2020 , News
Altron Arrow has secured a distribution agreement with cybersecurity specialist Centrify, covering its entire portfolio of identity-centric Privileged Access Management solutions.
Read more...
---
Dahua upgrades its open application platform
Issue 9 2020 , News
Dahua has upgraded its open application platform by launching the Application Marketplace on its new Dahua Hardware Open Platform (DHOP) website.
Read more...
---
First Distribution to distribute Impro in Africa
Issue 9 2020, Impro Technologies , News
Impro Technologies is one of the latest products to be distributed by First Distribution's Digital Security and IoT division.
Read more...
---
CCTV surveillance skills and body language training
Issue 9 2020, Leaderware , News, Training & Education
Omega Training Academy in conjunction with Dr Craig Donald are holding a CCTV Surveillance Skills and Body Language training course for company sponsored delegates.
Read more...
---
Keeping AI accurate
Issue 9 2020 , News
Fujitsu strengthens cybersecurity with AI technology to protect against deception attacks.
Read more...
---