printer friendly version
The technicalities of remote monitoring
July 2010
Surveillance

Following the successful round-table on remote monitoring, published in the June issue of Hi-Tech Security Solutions, we continue the topic this month with a look at the technical aspects of remote security. We asked a few experts for their opinion and gained input on a few products in use in various remote monitoring scenarios in South Africa.
Remote services is a growing market and we will therefore not be able to cover every angle in this article. Readers who think we have missed an important aspect of the remote monitoring market are welcome to contact us at Andrew@technews.co.za and offer their opinions and criticisms. What follows is a summary of the Q&A following the June remote monitoring round-table.
Hi-Tech Security Solutions: What are the top three technical necessities for a successful remote monitoring service (excluding the human factor)?
Pieter Vorster, operations manager (Technology), Omega Risk Solutions: Bandwidth, coverage for fail over communications, for example: 3G, WiMax, Metro Net, and internal and external network design.
Kevin Whateley, general manager – Electronics Division, Fidelity Security Services: Set up, triggers and bandwidth.
Philip Smerkovitz, MD of TeleEye South Africa: Purposely designed remote video alarm verification hardware, software and compression technology. The DVR/NVR should offer high-end DVR features, sophisticated event management system and an IP video server. The control room software should be designed for the purpose of remote video response centres and feature remote recording, a comprehensive client and site database, modular and scalable design, full traceability, comprehensive interactive sitemaps, server redundancy and failover function, full operator and site event logging.
Willie Claassen, national technical manager, Wright Surveillance: One needs to choose the correct equipment, for example a video recorder/server with a video compression engine that will transmit the video over a standard data link, and the correct type of cameras for the application – the control room operator is blind and needs the best possible views to assist the reaction unit on site. Secondly, one needs enough bandwidth to receive good quality views; and third, one needs a stable data link with a failover option.
On top of quality equipment, the site layout needs to be designed correctly with the client to make sure that all the risk areas have been covered.
Dave Edworthy, head of technology, CMT Trading: A product capable of real-time monitoring of a number of cameras and detection devices. The product should report problems and faults on the cameras and detection devices. The product should be robust and failsafe, and provide the facility for failover communications in the event of primary communications failure.
Alvin Flaum, MD, Stallion Electronic Security: Connectivity and bandwidth; quality in terms of low false alarms (none), image quality (resolution), and image latency (none); automatic alarm dial back; and the ability to challenge/intervene remotely.
Mark Chertkow, Graphic Image Technologies: In order to deploy a successful remote monitoring solution, one needs to take into account the constraints of implementing a solution. The first item is to ensure that the solution deployed performs the function of a typical DVR in that it produces a good quality, usable video record of events. This typically conflicts with the needs of a good remote solution, namely good, low-bandwidth video at an acceptable quality.
The second necessity is the ability to create live streams of video at various bandwidths to be received in a remote control room.
The third element is the ability of the device to connect to a remote network. The typical connection fabric is IP, but in order to truly offer a solution the system must support direct modem, IP and WiFi access to allow the device to connect to a network. The complexities of maintaining GSM access is non-trivial as the networks tend to disconnect unused attached devices.
Hi-Tech Security Solutions: With South Africa's expensive bandwidth:
(a) How does the remote monitoring service offer a cost-effective solution to clients?
(b) What do you do to ensure redundancy?
(c) How do you offer a reliable service without constant video streaming – what options are there?
Pieter Vorster: To have a successful remote monitoring service, there must be at least three different connections active at all times. For example, ADSL, 3G and WiMax. This must be programmed in such a way that when either connection fails, the secondary connection activates with immediate effect. If all else fails, a third wireless broadband connection will be activated automatically. To avoid streaming, we configure systems so that triggers can be sent via panic/alarm systems; these triggers/signals are zone specific and dedicated to zone cameras. When a panic/alarm is activated, the dedicated camera to the zone will be received in the monitoring centre.
Kevin Whateley: This can only be achieved if the monitoring is 'actual', ie, the link back to the control centre is done on a trigger. Video streaming is not ideal as this only replaces the onsite security officer viewing the cameras with someone off site. The challenge is to get active video streaming through to the control centre. The standard operating procedures (SOP) for the cameras must be defined.
Philip Smerkovitz: For bandwidth redundancy, one would firstly look at what mediums are available according to geographic location of the remote site. The solution provider would then utilise the available mediums as primary and secondary communication methods. Best practice would be to combine a fixed line with a wireless medium. The most common combinations are ADSL/wireless; mobile data and WiMax (MTN, Vodacom, Neotel, Telkom etc.)
Willie Claassen: With the high cost of on-site guards, remote monitoring can substitute a percentage of the on-site guards, which already is a cost saving to the client. The technology can also be used to monitor/manage the on-site guards, which will give a better service to the client.
Alvin Flaum: We offer event/alarm-based real-time video handling of incidents on site. The systems on site have automatic dial back and reporting into CMS (central monitoring system) workflow package that ensures all events are promptly dealt with – with no reliance on humans that can overlook or omit an event.
Hi-Tech Security Solutions: How important is the move to IP (Internet Protocol) to remote services and why?
Pieter Vorster: IP is critical when it comes to remote monitoring. Without IP, remote monitoring is not possible. IP is basically the same as a telephone number, the system needs to know where to send the data to and from. Without the IP address of the site/control room, data cannot be sent and received.
Kevin Whateley: Once the backbone of an IP system has been installed, adding devices and viewing for the client is easily achieved.
Philip Smerkovitz: For connections from site to control room, remote or network users, IP is very important as this is the primary means of connectivity. TCP/IP facilitates connectivity over local and wide-area networks, Internet, DSL lines, VPN's, wireless networks, mobile data networks, VSAT etc.
Willie Claassen: The whole market is talking about IP cameras, but I do not think IP technology is there yet for the use of remote monitoring. The IP camera streaming needs much more bandwidth than the analogue systems. Firstly, our communication lines struggle with constant high bandwidth, and second, high bandwidth means high costs.
Alvin Flaum: Hybrid analogue to digital solutions still out-perform pure IP solutions with regard to transmission and cost efficiency. However, it is key to offer both hybrid and pure IP solutions to meet market demands.
Mark Chertkow: The move to IP is a double-edged sword. One needs to differentiate between IP cameras and an IP-enable networked DVR in bandwidth-restricted environments. Typically, the migration to IP is seen to represent the move to IP cameras. In a remote monitoring application, IP cameras are not an optimal solution due to their higher bandwidth requirements. In addition, as the IP camera is a network attached device, it is subject to network intrusion and attacks such as denial of service (DoS) where its network port is made unavailable and recordings from that camera are then lost.
Hi-Tech Security Solutions: How welcomed is the 'intrusion' of remote services by customers' IT departments? Is there a conflict?
Pieter Vorster: There will always be a conflict between IT departments and CCTV remote installers. Being an IT specialist myself, I have hands on experience of these conflicts. The main problem is that IT departments do not want generic external equipment connected to their network. The best option to overcome this problem is to set up the CCTV network on its own dedicated network that operates separately from the IT department's data network.
Kevin Whateley: Most IT departments do not want any form of integration onto their networks, it is better to keep the two separate, this way there can never be the chance of the camera system 'crashing' the IT network.
Willie Claassen: Some IT departments do not want these systems on their network at all, as it opens holes for intrusion. Secondly, they all think it will take up all their bandwidth. With the correct equipment, setup and with proper network management, the system does not inflict too much on their network. To our advantage, some IT departments have started to realise this and are more open to assist.
Dave Edworthy: When customers' IT departments are confronted with remote video monitoring services the immediate response is negative as all IT professionals are aware that video running across a TCP/IP network can cause major bandwidth usage, causing networks to slow down to unusable speeds. If the offsite video monitoring product provides bandwidth throttling and uses a video compression such as H.263 and H.264 utilising minimal bandwidth, and once this has been explained and even proved to IT departments, they welcome the product.
Alvin Flaum: This is an old perception that today has faded. In most of today's corporate environment the video security is very much part of the IT manager's portfolio.
Hi-Tech Security Solutions: Apart from bandwidth, can you suggest the top technical challenge of a remote monitoring service?
Pieter Vorster: The most challenging is to have a 100% uptime. With current constructions and road renovations going on, loads of Fibre/ADSL/Telkom networks are being relocated. That is why it is critical to have a failover system installed at both the remote monitoring centre and at the client premises.
Philip Smerkovitz: Designing and implementing a redundant and secure remote monitoring installation. Standards such as BS8418 should be adhered to. They are designed to provide a best practice guideline for installations and equipment operation, reduce vulnerabilities and false alarm rates. This presents challenges as it can dramatically increase costs of the overall solution.
The lack of IT and communications skills within the security industry is also a problem. Companies offering remote video alarm verification and remote monitoring services traditionally stem from the security and guarding sector, which have had very little past exposure to TCP/IP technologies. These companies now need to employ permanent IT personnel who are also trained in security, risk and management solutions.
Willie Claassen: Apart from bandwidth, the data communication link is the most important challenge in the service. You can have all the bandwidth in the world, but with no data link, it does not mean anything.
The second challenge is the equipment you use. The most important factor about the video server/transmitter is the compression medium. With our bandwidth challenges, you want to send a decent viewable image to the remote control room and you need small data files (video images) to achieve this. With a too large video image the remote control room will only receive distorted images that will not be useable.
Alvin Flaum: The effective integration of the technology and physical security deterrents into an integrated customer centric solution.
Mark Chertkow: The main problem associated with remote monitoring is the type and level of service you offer. Suppliers offering a 24/7 full time viewing solution typically are unable to deliver reliably or cost effectively. Based on results from tests in labs carried out in Europe, a typical operator misses 95% of events on screens in front of him/her after just 22 minutes. The implication is that monitoring must be based on trigger events to be able to offer a deliverable level of service.
Remote monitoring with SerVision
At present, roughly 90% of the market for video-transmission services is subject to the constraints of narrow bandwidth. SerVision has developed advanced technologies for handling video in this environment. Innovative compression techniques make it possible to transmit very high-quality video recordings over narrow bandwidth, enabling remote users to view video streams in real-time by PC, mobile phone, or PDA, and significantly increasing the transmission capacities of DVRs.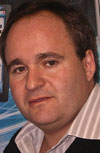 Mark Chertkow, Graphic Image Technologies
Even locations that are not connected to the power grid or to wired communications networks can be secured using SerVision equipment. Battery-powered units that communicate with control centres via the cellular network can be installed in vehicles or at remote field locations. SerVision's compression techniques make it possible to transmit a high-quality video stream from these devices over the narrowband cellular network. As a result, observers in control rooms can monitor events in remote places as they occur, and backup devices located at control centres can record the video streams for later review.
All four sectors of the market for surveillance equipment – domestic, commercial, retail, and transportation – can find highly effective solutions in SerVision's line of state-of-the-art DVR systems. All systems offer a complete array of features, including:
* Real-time video transmission.
* Recording of video streams for later playback.
* Real-time handling of events and automatic recording of video footage of the scene for as long as the event continues.
* Remote camera control.
* Remote device activation.
SerVision's technology belongs to the high-end of the surveillance-equipment market, incorporating intelligent video motion detection (VMD) and featuring long-distance recording with RAID 5 disk drives for fast and reliable backing up of data. The technology also includes a sophisticated network video recording (NVR) system, which can be used to automate the downloading and recording of backup data in control rooms.
Remote monitoring with TeleEye
TeleEye designs and manufactures complete remote video alarm verification and video management solutions. Our solutions include purpose built hardware, control room and client management software for sophisticated remote video event management, remote guarding and live video monitoring and management applications. TeleEye products are designed in-house and have been developed in close collaboration with leading security companies worldwide.

Philip Smerkovitz, MD of TeleEye South Africa
The TeleEye hardware devices cater for single camera to enterprise level applications and are ideally suited for fixed, mobile, remote and on-site applications.
By far the most important factor when considering the performance of remote monitoring solutions is the compression technology. TeleEye devices utilise our SMAC-M video coder which generates five independent video streams and allows simultaneous high quality video recording and fast video transmission via LAN, broadband or mobile networks. SMAC-M effectively saves on storage space as it provides better compression performance than other widely used compression technologies. With the SMAC-M video coder, TeleEye delivers 'no compromise' on both video recording and video surveillance functions.
SMAC-M provides the ability to deliver true multi-user remote monitoring solutions, where multiple remote users can enjoy independent live video views and separate bandwidth allocation, without hampering the critical control room functionality. Organisations no longer need to invest in separate video alarm verification and video management solutions.
TeleEye provides an SDK for integration of third party products.
Further reading:
Safer roads to a sustainable future
Dahua Technology South Africa Surveillance
With the ever-increasing number of vehicles on the road, it is imperative to constantly improve the quality of transportation monitoring and traffic management in urban and rural areas.
Read more...
---
From damage management to false alarm prevention
Dallmeier Electronic Southern Africa Transport (Industry) Surveillance Logistics (Industry)
Video surveillance is undergoing an exciting evolution; today's IP-based solutions can be fully integrated into digital systems. With the increasing integration of artificial intelligence (AI); logistics, in particular, can make processes more transparent and exploit previously untapped potential.
Read more...
---
Marshall Security partners with Blacklight to introduce Reconeyez to KZN
News & Events Surveillance Power Management
Marshal Security has joined forces with Blacklight Group to launch Reconeyez, a cutting-edge battery-powered surveillance platform with mesh network capability, in the KwaZulu-Natal market.
Read more...
---
Professional mobile video management in your pocket
Dallmeier Electronic Southern Africa Surveillance
With the SeMSy Mobile Client for its Domera and Panomera cameras, Dallmeier is now launching a solution that combines the functional and security requirements of professional organisations with the user-friendliness and simplicity of consumer apps.
Read more...
---
Leveraging AI to boost security in SA
AI & Data Analytics Surveillance
By shifting data analysis and processing to the edge of a company's network, decision-makers can ensure their remote offices can access real-time computing across multiple locations, supporting informed business decisions.
Read more...
---
Safeguard surveillance devices from cyberattacks
Axis Communications SA Surveillance Information Security
Cybersecurity concerns extend through the organisation and out among its stakeholders and supply chains. It also covers video surveillance, which is critical to any organisation's physical security and asset protection strategy.
Read more...
---
Ring announces second generation indoor camera
Smart Home Automation Surveillance Residential Estate (Industry)
Introducing a removable manual privacy cover, Ring's latest indoor camera provides customers with increased privacy, control and peace of mind when it comes to home security.
Read more...
---
Body-worn evidence
Technews Publishing Forbatt SA Betatrac Telematic Solutions Secutel Technologies Surveillance Residential Estate (Industry) Products & Solutions
Body-worn cameras are no longer just a good idea or a luxury item; in fact, they are gaining popularity and finding use in various situations, one of these being in residential estates.
Read more...
---
Stop cheating with gaming analytics
Dallmeier Electronic Southern Africa Surveillance Entertainment and Hospitality (Industry)
The CAT gaming analysis solution from Dallmeier offers a range of analysis options with which casino operators can increase the 'game pace', combat fraud and gain valuable insights into the gaming action through real time data collection.
Read more...
---
Integrated, intelligent, informed and improved living
Guardian Eye Surveillance
Guardian Eye's range of solutions allow for monitoring and safeguarding your home through discreet, easy-to-maintain devices and solutions, watching your premises and alerting you in the event of unwanted happenings.
Read more...
---