printer friendly version
Can't touch this
July 2010
News & Events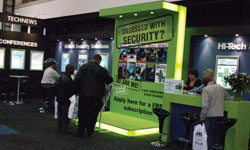 Following a successful event in 2009, South Africa's premier security exhibition, incorporating the broadest range of security companies, products and services in Africa under one roof, IFSEC South Africa Securex 2010 will once again be shaping the industry from 31 August 2010 to 2 September 2010 at the Sandton Convention Centre in Johannesburg.
The inaugural IFSEC South Africa Securex 2009 proved to be a huge success. The event enticed more than 200 companies and in excess of 5500 security professionals from 48 countries, cementing the show's place as the definitive security, safety, fire and protection, and safety and health event for the African market.
This year's show promises to be even better with the event attracting attention from South Africa, our northern neighbours and even the Far East.
As noted in a previous article, one of the value-adds at this year's event will be the annual Security Industry Alliance (SIA) conference and banquet, aimed at providing delegates with real-world, credible insights into the current and future challenges facing the private security industry in South Africa.
The SIA banquet is scheduled for the evening of 31 August, and will host the Prevention of Crime Awards for the private security industry. The scope has expanded and will now also include the following categories:
* Guarding.
* Response.
* Assets in transit.
All indications are that bursaries will be awarded to employees within the private security industry during the awards ceremony. The closing date for nominations for the Prevention of Crime Awards will be 10 August. The conference will take place on 1 September and will be held at the same venue as IFSEC South Africa SECUREX 2010. The presentations scheduled at this stage include:
* Ministry of Police will open the conference.
* Compliance requirements in the private security industry and the consequences of the lack thereof.
* Industry database. How can the private security industry benefit.
* Workmans Compensation Act. A plan for massive savings to the service providers.
* Firearms. What are the solution and the way forward?
* PSIRA. Can the regulator live up to its mandate?
* SASSETA. How can the industry get its rightful share?
* Terrorism. A future threat?
Who's who
On the show floor itself, visitors are assured of experiencing the latest in security trends and technologies. One of the exhibitors, TOA Electronics Southern Africa (TSA) will be displaying EN 54 certified products which include the EN 54-16 certified VM-3000 emergency voice evacuation system. TOA's N-8000 IP intercom, infra red conference systems and wide range of commercial and pro-audio products will also be displayed.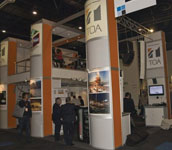 The company will be at stand E22–E24. As a value-add, TSA will be presenting information sessions at the IFSEC Educational Theatre on current and future trends of Emergency Voice Evacuation systems and the EN 54 standards. The talks will be presented by Volker Scheid of TOA Germany.
Bloodhound Technologies will be there as well. It will focus on two of its products.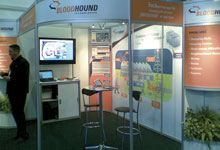 Bloodhound Static is a product that enables clients to monitor and report in real time the 24/7 presence of their personnel. On the other hand, Bloodhound Mobile creates a real time monitoring environment for clients that require no limitation to size of the area to be monitored. The system identifies any person on duty, their location and the amount of time spent in any specific area. Follow your nose and you will find Bloodhound at stand E39.
Elvey Security Technologies will host its visitors on a large stand, focusing on the following products:
* Video analytics.
* Security over IP.
* Optex wireless technology including the new FIT series.
* SureConnect APN.
* Videofied technology.
* E-Trade.
Elvey will also host training and product demonstrations for the duration of the exhibition at its auditorium that was specially designed to assist clients to better understand the company's offerings. Elvey will be on stands A9, A2-6, A8-12, B5-9, and B11-15.
Accsys will be on site as well, promoting its access control solutions. CEO Teryl Schroenn says the company is seeing access control moving out of the traditional factory environment into all walks of life. Among other products, Accsys will be demonstrating its mobile biometric technology and weather proof devices, all running off Accsys PeopleWare, an integrated access, time and payroll solution.
International attendance
Network Video Technologies (NVT) will be located at stand B12, where it will be promoting its range of unshielded twisted pair (UTP), CCTV hybrid video transmission products, including the new PS42 Power Supply StubEQ Active Receiver UTP Hubs range.
Available in 8, 16 and 32 channel variants, the new PS42 hubs are designed to provide the ultimate 2-in-1 solution, providing both camera power and noise-free DigitalEQ Video – all at a lower cost than a separate power supply and StubEQ unit. Additionally, camera power can be supplied at distances of up to 450 metres, far beyond Power-over-Ethernet (PoE) and without the additional expense of repeater units.
Visitors to the NVT stand are invited to discuss their project plans with the NVT team; to get an instant and bespoke NVT UTP Hybrid Video design solution.
Educational seminars
Apart from the stands and the SIA conference, the organisers have also confirmed that regular seminars will be held in the IFSEC Educational Theatre over the course of the event. The talks will cover a range of topics related to the security market. For example, Abie Ali from Frank Street will be speaking on IP and hybrid technology, while HID Global's John Lakin will discuss the benefits of multi-application smartcard technology.
Other companies gearing up to speak are Ideco, TOA Electronics, Industrial Automation & Control, AXIS and ADI.
Further reading:
Helping South African university students and staff to stay safe
News & Events
Buzzer is a free mobile app that allows users to quickly and easily report incidents of crime, violence, or harassment to campus security and other relevant authorities.
Read more...
---
Tech developments lead hologram growth in 2024
News & Events Security Services & Risk Management
Micro-lenses, micro-mirrors and plasmonics are among the rapidly-emerging optical devices that have evolved on the back of holographic and diffractive technologies, and are seen as part of the natural evolution of optical science by R&D teams.
Read more...
---
Trellix detects collaboration by cybercriminals and nation states
News & Events Information Security
Trellix has released The CyberThreat Report: November 2023 from its Advanced Research Centre, highlighting new programming languages in malware development, adoption of malicious GenAI, and acceleration of geopolitical threat activity.
Read more...
---
People are craving connection
News & Events
As 2023 nears its close, global security manufacturer Gallagher Security is sharing key observations from some of the year's biggest industry events, chief among them the rising importance of community building these events facilitate.
Read more...
---
ePSiRA online system
PSiRA (Private Security Ind. Regulatory Authority) News & Events
[Sponsored] As part of the digitisation of the security industry, the Private Security Industry Regulatory Authority (PSiRA) introduced the ePSiRA online system, which allows clients to transact online.
Read more...
---
New generation of cyber-focused controllers
Gallagher News & Events Access Control & Identity Management Products & Solutions
The C7000 gives users an opportunity to leverage their hardware and firmware to build a platform designed to catapult their organisation into the future, with cybersecurity baked in from inception.
Read more...
---
New T&A terminal features revolutionary AI technology
Suprema News & Events Access Control & Identity Management AI & Data Analytics
Suprema has launched BioStation 2a, the world's first deep learning-based fingerprint recognition solution, providing powerful access control features and an improved ability to extract templates from low-quality fingerprints.
Read more...
---
South African Cyber Risk Survey 2023
News & Events
Aon South Africa has released its 2023 Cyber Risk Survey for South Africa, providing insights on current trends in cyber risk governance practices being deployed by South African companies in various market segments.
Read more...
---
Africa Online Safety Fund announces grant winners
News & Events Information Security
The Africa Online Safety Fund (AOSF) has announced the winners of this year's grants; among them are five organisations operating in South Africa to educate people about online risks.
Read more...
---
From the editor's desk: Convergence is real
Technews Publishing News & Events
      SMART Security Solutions has been talking about convergence for a long time; in other words, the intersection and even integration between the physical and information security worlds. Before writing ...
Read more...
---