printer friendly version
Bandwidth-friendly transmission
June 2010
CCTV, Surveillance & Remote Monitoring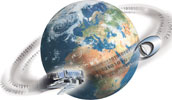 These days, the amounts of data created with the recording of surveillance scenarios are huge. In particular, the demand for continuously improving image quality as well as the trend towards megapixel and HD cameras are contributing to an ever increasing amount of image data. As a result, the demand for storage space is growing, as is the required bandwidth for the transmission of the images.
Simple streaming methods are mostly no longer sufficient as they put too high a strain on the network. The question is how many transmission methods are there and what benefits do they offer?
Using streaming methods it is possible to transmit data via a network. The transmission of live pictures and recorded images is carried out with the same quality as the recording. The downside of that is the requirement for large bandwidth in order to be able to transmit the high-resolution image data.
A practical example: The images of a camera are recorded with highest quality at 25 fps directly at the recorder. Let us assume the data rate for the recording is 2 Mbit. If the security operator wants to see the images, the stream will be transmitted at 2 Mbit. The network load becomes even bigger when not just one camera but, for instance, four cameras must be transmitted in a four-times split display. In that case the required bandwidth would quickly have amounted to 8 Mbit. If another operator also wants to view the images on his workstation, the same amount of data has to be transmitted again.
Even with a broadband network the limits of what is possible are quickly reached with a large number of viewers and/or various transmitted cameras. So as to reduce the network load, different optimised methods of image transmission are available.
Dual streaming
In technical literature, the term dual streaming is mostly used to describe two different approaches. For one, it is used to characterise simultaneous transmission of the image data in different formats (eg, one stream transmits JPEG, the other MPEG-4). Secondly, it is also used to describe the splitting of the streams in recording and transmission. In this article, the latter definition will serve as the basis for further considerations.
With dual streaming, the encoder produces two streams, one of which is used for the recording, the other for the transmission. Thereby, a different quality can be selected for the transmission of live images than that used for the recording. This means the images can be recorded in high quality; for the transmission of the images, however, a lower resolution is chosen in order to reduce the network load.
A typical application area: The security operator sees the live images on his monitor in the optimal quality for transmission. This allows him to keep an overview of the current situation at any point in time. The recording is carried out with highest resolution, which means that all essential details are recognisable in case of an incident. This ensures that no information is lost during the recording process and thus guarantees that images can be used as evidence in court. At the same time, however, the network load during the transmission of the images is reduced.
The bit and frame rate can be set individually for every camera, which means that the operator has the ability to specifically adjust the parameters to his requirements and possibilities.
For example: The security operator is able to continue recording the image at 2 Mbit. However, the viewing transmission may only require 500 Kbit. With a four times split the required bandwidth consequently reduces to 2 Mbit, compared to the 8 Mbit that would be required without dual stream.
PRemote
For the user, dual streaming is an effective and easy-to-use method for transmitting live images with low network load. However, it has its limitations. For example, when there is only one ISDN connection available or when the simultaneous transmission of both, live and recorded images is required. Dallmeier has developed another method of transmission: PRemote.
PRemote, just like dual streaming, also enables the transmission of images with low bit rates, but offers further advantages beyond that:
* Recorded image material can also be transmitted with low bandwidth.
* PRemote generally requires less bandwidth than dual stream.
* Split streaming with up to 16-times split view is possible.
* Real-time transmission with 25 fps at 4 CIF possible (with dual streaming only one CIF possible in most cases due to the limited resources).
While dual streaming allows for the quality of the live images to be changed, PRemote also enables a low-bandwidth transmission of recorded image material. Hence, not only can live images be viewed over great distances; it is also possible to evaluate recorded image material from remote locations. The evaluation is carried out with user-friendliness tools, which means that it is possible to fast-forward and to rewind. Additionally, searches are conducted at a very high speed. Using intelligent search functions such as the SmartFinder relevant data are quickly found. Subsequently, a backup of the data can be transmitted in high quality.
Reduced network load
PRemote generally consumes less bandwidth than dual streaming while providing the same image quality. Therefore, PRemote is particularly suitable for networks with limited bandwidth. Even when higher bandwidth is available, the compression achieved with dual stream is often not sufficient for it is frequently forgotten that, apart from the download, the upload is also critical for the image transmission. Even with high-performance DSL connections the upstream is significantly lower than the downstream, which means that in fact the data upload is where the bottleneck occurs.
Dual streaming is camera related, ie, an active connection can only be established with one camera at a time and thus the user just receives a single image. PRemote, by contrast, allows for a multisplit, namely of up to 16 times. Thereby, the multisplit is transmitted in one single image and so only one stream is necessary. Switching from the split to a single picture can conveniently and quickly be made by a double-click.
Let us return to the calculation used before. With PRemote, the size of the image to be transmitted reduces, for example down to 128 Kbit. Since the multisplit is transmitted in one single image only one stream is required. This means that even with a 16 times split the necessary bandwidth is only 128 Kbit.
For more information contact Dallmeier Electronic Southern Africa, +27 (0)11 979 4540, dallmeiersa@dallmeier.com, www.dallmeier.com
Further reading:
Elvey partners with HALO
Elvey Security Technologies News CCTV, Surveillance & Remote Monitoring
Elvey Group has partnered with HALO Europe to provide Africa's first body-worn solution with zero upfront costs. This includes an IP68-certified body camera and a 4G-connected device.
Read more...
---
Regal announces new partnership
Regal Distributors SA CCTV, Surveillance & Remote Monitoring
Having a bird's eye view of your surveillance data, with the capability to drill down to the details obtained via connected security solutions, is a game changer for security operators, companies and even officers on the ground.
Read more...
---
Invisible connection and tangible protection via cloud
Dahua Technology South Africa Perimeter Security, Alarms & Intruder Detection CCTV, Surveillance & Remote Monitoring Products
Dahua Technology has launched its AirShield security solution that uses advanced, stable and reliable RF communication technology and cloud services, integrating alarm hubs, various detectors and accessories, with several software apps.
Read more...
---
Hikvision expands solar-powered solutions
CCTV, Surveillance & Remote Monitoring Products
Hikvision is offering a portfolio of solar solutions, the 4G solar-powered camera kit, a wireless bridge, and mobile solar security tower solutions to assist in keeping remote and isolated areas safe in a simple, practical, and cost-effective way.
Read more...
---
Affordable entry-level cameras from Dallmeier
Dallmeier Electronic Southern Africa CCTV, Surveillance & Remote Monitoring Products
Dallmeier has introduced the 'E' version of the DOMERA camera family, offering high image quality with 2 MP and 5 MP resolution, and providing detailed images even in low light conditions.
Read more...
---
The importance of the operator's frame of reference
Leaderware Editor's Choice CCTV, Surveillance & Remote Monitoring Security Services & Risk Management Mining (Industry)
The better the operator's frame of reference and situational awareness, and the more informed they are in dealing with CCTV surveillance in the mining industry, the more successful they are likely to be in surveillance.
Read more...
---
Enhancing surveillance on mines
Avigilon Technews Publishing Axis Communications SA Forbatt SA Hikvision South Africa Bosch Building Technologies Editor's Choice CCTV, Surveillance & Remote Monitoring Integrated Solutions Mining (Industry)
Smart Security approached a number of surveillance vendors to find out what the latest in surveillance technology is that can make a difference to security operations in mines, as well as general operations.
Read more...
---
Surveillance to improve worker safety
Axis Communications SA Mining (Industry) CCTV, Surveillance & Remote Monitoring Integrated Solutions
With substantial deposits of mineral resources, mining is critical for South Africa's economic growth and prosperity; however, mining can be dangerous, especially for the people working on the ground and in the shafts.
Read more...
---
Radar-video fusion camera
Axis Communications SA CCTV, Surveillance & Remote Monitoring Mining (Industry) Products
The AXIS Q1656-DLE Radar-Video Fusion Camera device brings video and radar analytics together in AXIS Object Analytics to deliver detection and visualisation.
Read more...
---
Centralised VMS for multiple sites
Mining (Industry) CCTV, Surveillance & Remote Monitoring
Dispersed mining operation relies on AxxonSoft for centralised video management as well as device health monitoring and the reliable distribution of analytics to various camera brands.
Read more...
---