printer friendly version
Intelligence where you need it
June 2010
CCTV, Surveillance & Remote Monitoring
A large amount of video surveillance is recorded across South Africa, but never watched or reviewed due to limited time and operator error. As a result, critical events and activities are often missed, and suspicious behaviour is not noticed in time to prevent incidents. This has led to the development of intelligent video (IV).
Intelligent video comprises of any solution where the video surveillance system automatically performs an analysis of the captured video. Applications range from analytics such as video motion detection and audio detection, to more advanced systems including camera tampering detection, people counting, virtual fences, and vehicle licence plate recognition. The applications performing this analysis are also referred to as video content analysis (VCA) or video analytics (VA) solutions.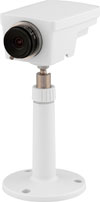 What are the benefits of intelligent video?
Intelligent video is about reducing the vast amount of information contained in a video stream and making it more manageable for systems and people. Building analytical tools into network camera installations provides a number of advantages, such as increasing the reliability of video surveillance, as well as drastically reducing the workload for the operators.
The intelligent network camera is never idle and supports the operator 24 hours a day, seven days a week, always on hand to automatically begin recording events or send an alarm to the operator. Additionally, intelligent video systems can extract video and data from surveillance video streams and integrate this information with other applications, such as retail management and access control systems.
With network video, retailers can take advantage of today's information technology (IT) standards, integrating these applications, not only to prevent fraud and loss, but also to improve sales on the shop floor. A number of intelligent video applications are available that support security operators by solving real-world video surveillance challenges. These applications include:
* Cross line detection
Cross line detection is a trip-wire application installable on Axis network cameras and encoders that support Axis' camera application platform. The application is designed to operate both indoor and outdoor, as well as in variable lighting conditions. Cross line detection is especially suitable for general monitoring of entrance and exit points in low-traffic areas, detecting objects such as people and vehicles that cross a defined virtual line. The application is perfect for monitoring building entrances, loading docks, parking lots and area perimeters.
* Active tampering alarm

Active tampering alarm is an intelligent video analytics application available in selected Axis network cameras. The active tampering alarm functionality enables security staff to detect disrupted camera operation, by automatically alerting the operator when a camera is manipulated in any way.
The product is especially useful in applications where there is potential for vandalism – such as in schools, prisons, public transportation, and in harsh environments where weather, vibration, or dirt can disturb camera performance. This function detects incidents such as accidental redirection, blocking or defocusing of cameras, and reacts when the camera is attacked, spray-painted, or intentionally covered.
Without active tampering alarm, it can take a while before tampering is noticed. This is especially true for applications where one operator monitors multiple cameras. If not detected right away, significant incidents may go undetected. However, with this application, there is an immediate notification when normal camera operation is disturbed.
* Audio detection
Many network video cameras include audio support, though, just as in video surveillance, local legislation or codes of practice sometimes limits the use of this feature. When possible, using audio can be a powerful complement to a video stream. Audio detection is based on the same principles as video motion detection. The application detects noise – such as the breaking of a window or voices – and uses this as a trigger to transmit and record video, or to alert operators of suspicious activities.
Audio detection can supplement video motion detection, since it can react to events in areas too dark for the video motion detection to function properly, or detect activity that is hidden from the view of the cameras.
* Video tracking
Video surveillance often takes place at times and in areas with little or no activity; for example, at schools and offices after working hours, or at retail stores, hotel corridors and parking garages during the night. Such environments usually have an unmanned video surveillance setup with automated recording.
The challenge is in ensuring that when an incident occurs, the correct part of a scene is captured and the image is clear and usable. Costs often prohibit the installation of large numbers of cameras or the use of operators to manually control pan, tilt and zoom (PTZ) cameras. Axis' auto-tracking solves this by enabling a PTZ dome camera to automatically follow an object moving in a scene.
* Partner applications
Axis network video products include the application programming interface (API), Axis VAPIX, which facilitates the development of customised software solutions. This allows partners to develop applications – including intelligent video applications – that function with Axis network cameras and video encoders.
Development and distribution of edge applications is further facilitated by the Axis camera application platform. This open platform enables the development of compatible and reliable third-party applications that subsequently can be downloaded to cameras and encoders, thus ensuring that users benefit from the market's widest range of applications.
Credit(s)
Further reading:
Elvey partners with HALO
Elvey Security Technologies News CCTV, Surveillance & Remote Monitoring
Elvey Group has partnered with HALO Europe to provide Africa's first body-worn solution with zero upfront costs. This includes an IP68-certified body camera and a 4G-connected device.
Read more...
---
Regal announces new partnership
Regal Distributors SA CCTV, Surveillance & Remote Monitoring
Having a bird's eye view of your surveillance data, with the capability to drill down to the details obtained via connected security solutions, is a game changer for security operators, companies and even officers on the ground.
Read more...
---
Invisible connection and tangible protection via cloud
Dahua Technology South Africa Perimeter Security, Alarms & Intruder Detection CCTV, Surveillance & Remote Monitoring Products
Dahua Technology has launched its AirShield security solution that uses advanced, stable and reliable RF communication technology and cloud services, integrating alarm hubs, various detectors and accessories, with several software apps.
Read more...
---
Hikvision expands solar-powered solutions
CCTV, Surveillance & Remote Monitoring Products
Hikvision is offering a portfolio of solar solutions, the 4G solar-powered camera kit, a wireless bridge, and mobile solar security tower solutions to assist in keeping remote and isolated areas safe in a simple, practical, and cost-effective way.
Read more...
---
Affordable entry-level cameras from Dallmeier
Dallmeier Electronic Southern Africa CCTV, Surveillance & Remote Monitoring Products
Dallmeier has introduced the 'E' version of the DOMERA camera family, offering high image quality with 2 MP and 5 MP resolution, and providing detailed images even in low light conditions.
Read more...
---
The importance of the operator's frame of reference
Leaderware Editor's Choice CCTV, Surveillance & Remote Monitoring Security Services & Risk Management Mining (Industry)
The better the operator's frame of reference and situational awareness, and the more informed they are in dealing with CCTV surveillance in the mining industry, the more successful they are likely to be in surveillance.
Read more...
---
Enhancing surveillance on mines
Avigilon Technews Publishing Axis Communications SA Forbatt SA Hikvision South Africa Bosch Building Technologies Editor's Choice CCTV, Surveillance & Remote Monitoring Integrated Solutions Mining (Industry)
Smart Security approached a number of surveillance vendors to find out what the latest in surveillance technology is that can make a difference to security operations in mines, as well as general operations.
Read more...
---
Surveillance to improve worker safety
Axis Communications SA Mining (Industry) CCTV, Surveillance & Remote Monitoring Integrated Solutions
With substantial deposits of mineral resources, mining is critical for South Africa's economic growth and prosperity; however, mining can be dangerous, especially for the people working on the ground and in the shafts.
Read more...
---
Radar-video fusion camera
Axis Communications SA CCTV, Surveillance & Remote Monitoring Mining (Industry) Products
The AXIS Q1656-DLE Radar-Video Fusion Camera device brings video and radar analytics together in AXIS Object Analytics to deliver detection and visualisation.
Read more...
---
Centralised VMS for multiple sites
Mining (Industry) CCTV, Surveillance & Remote Monitoring
Dispersed mining operation relies on AxxonSoft for centralised video management as well as device health monitoring and the reliable distribution of analytics to various camera brands.
Read more...
---