printer friendly version
Gold fingerprinting
May 2010 Security Services & Risk Management, Mining (Industry)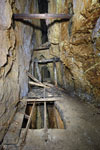 Illegal or illicit mining is now so prolific an industry in South Africa that it has become a national pandemic that will have enormous repercussions for the South African economy if serious steps are not taken to curb it. Many tried and tested solutions have been brought to the table in an effort to weed out the villains fuelling the trade. Some are effective, some not. Hi-Tech Security Solutions examines one particular solution that is quietly making waves in the industry.
It does no't take a brain surgeon to conceptualise the enormity of the country's illegal mining crisis. The headlines are abundant:
* '200 illegal miners arrested in Mpumalanga'.
* 'Dying for gold'.
* 'Tragedy in Welkom has not deterred illegal miners from going back underground'.
* 'I'll go down, I'm not scared to die ...'
* '... suspends 57 workers over gold theft'.
* 'Bodies of 76 illegal miners recovered from abandoned shaft'.
* '... confirms bodies of another 15 illegal miners brought to surface at its Eland shaft'.
* 'Illegal mining: 'We need to target the syndicates'.
With gold prices hitting record highs over the years, the precious metals mining industry is an ever more attractive option for organised illegal mining syndicates and desperate unemployed individuals who willingly risk their lives to better their circumstances. As the world's fourth-largest gold producing nation, the industry is rife with opportunists, whose activities are costing the taxpayer, the economy and the mining houses billions.
South Africa is littered with abandoned pits and mineshafts, many of which have long been plagued with illegal miners – some opting to live underground for months at depths of up to 1,4 km. Smuggling gold, the precious metal that together with platinum theft, is fuelling the illegal mining trade in South Africa, is very lucrative. It has to be, when considering the life-threatening risks involved. One of the problems with illegal mining is that it is very difficult to quantify the extent of the activities, because it is unknown how many people are underground. Illegal miners can sneak past security at one mine and exit from one owned by a different company kilometres away.
Companies like Harmony, the world's number five gold producer, are particularly exposed to plundering by illegal miners. Harmony was built on a strategy of buying older, less profitable gold shafts and mines. Many of the country's mines cannot afford to deploy their own employees on underground searches, as the abandoned shafts are left in hazardous conditions thanks to illicit mining activities. Abandoned mines lack infrastructure and safety equipment. Fire is a hazard. Rocks can fall, suffocation is a reality and carbon monoxide poisoning is common.
Catching the illegal miner and eradicating the syndicates who are behind the trade is therefore extremely difficult. The Department of Mineral Resources is grappling with the escalating safety crisis because a lack of required staff needed to inspect disused mines, not to mention the fact that illegal miners are often armed. Because of these difficulties, other solutions are being investigated in an effort to eradicate the problem.
Some mining operations have had to completely revamp their access control systems to their underground operations by installing biometric access control systems on all access points to shafts. Others have had to step up their security operations in their underground operations, in some cases at costs of up to R200 000 a month. Other mining houses have chosen even tougher measures such as starvation tactics. They work on the fact that illegal miners spend weeks underground, relying on illegal underground food trading. In 2008, Rand Uranium initiated a complete ban on food being taken underground as a means of cutting the lifeline of illegal mining. While not popular with some human rights lobbyists, the tactic proved successful with large numbers of miners being arrested whilst attempting to leave the mine to find food. Another solution is to determine from where illegal gold is being mined.
The National Precious Metals Forum
South Africa has become a global leader in the investigation of illegal mining syndicates and illicit mining activity. One forum making strides with its investigations is The National Precious Metals Forum which deals specifically with finding solutions to curb precious metals theft. The forum was voluntarily established between the mining industry, the police and other law enforcement agencies. The forum's stakeholders include the Chamber of Mines, the major precious metal mining companies and the SAPS, both its investigative arm and the Forensic Science Laboratory.
Anton van Achterbergh says the forum works very well with government and has had great success. "The biggest breakthrough has been that all the role players are now increasingly working together on the precious metals theft crisis."
The mining industry has also recognised the importance of using a collaborative approach to address the organised crime threat it faces. Consequently, a joint initiative between the mining industry and the police, namely the Joint Investigation Group (JIG), was established in February 2002 under the National Precious Metals Forum. The function and role of the JIG is to investigate and analyse the activities of high-ranking syndicates involved in the theft of precious metals.
Because illegal mining activity differs from mine to mine, each battle has its own unique set of challenges, says Van Achterbergh. So, while mining houses are working together, each has its own battles to fight. Syndicates are complex: the Joint Investigation Group has classified precious metal smuggling syndicates into five levels, Level 5 being at the top of the hierarchy and Level 1 at the bottom. Level five syndicates are based outside South Africa and Levels 4 through 1 operate within South Africa.
Gold fingerprinting
One of the key projects that the National Precious Metals Forum has been integrally involved in is gold fingerprinting. While gold fingerprinting is a known science – it has been around for 20 years – it is a relatively new technology being applied to the identification of precious metals. Gold fingerprinting is essentially the elemental profiling of gold.
The technique, which was developed in Australia, has been further developed in South Africa to identify the source of stolen gold and other unwrought precious metals, in order to secure convictions. The process, whereby forensic analysts identify a piece of gold through its chemical composition, can be accurate enough to determine which area and mine the metal originated from, before it was mined.
The very nature of the gold mining industry makes it vulnerable to theft: the product is easy to identify and to mine, it is relatively easy to sell and it can be mixed with legitimately acquired gold that is used in legal businesses. According to statistics revealed by the SAP (ISS report 2006), it is estimated that 0,8% to 1,6% of the world's gold production gets stolen in South Africa annually and that only 1,4% to 2,8% of stolen gold is recovered. In the gold mining industry, anything from ore to commercial products are stolen and the source of the gold thus has to be identified despite different beneficiation procedures by companies and illegal syndicates. The blending of ores from different reefs or vein systems further complicates the identification process. Thus, the aim with gold profiling is to determine a fingerprint which will remain identifiable through the beneficiation process.
We spoke to Colonel Roger Dixon, the commander of the Materials Analysis section of the South African Police Service's Forensic Science Laboratory in Silverton, Pretoria, on the subject of gold profiling. Dixon, a forensic analyst – or alchemist – as he refers to himself, is improving the methodology of fingerprinting precious metal specimens, in order to work out whether they are of illicit origin, and if so, from which mine or mining company they were stolen.
Dixon explains the concept. "Every material has a unique composition," he says. "If you take a piece of gold, for example, from one place and another piece from somewhere quite different, you will find that the chemical composition will be different in each piece. Each piece of gold will have chemical properties, a profile, that reflects its origin."
Once the different samples have been analysed, they are added to a database that stores samples collected from a wide variety of different terrains. The Precious Metals Act in South Africa requires that the Forensic Science Laboratory keeps a database of precious metals where samples can be analysed on an ongoing basis. The more you have on record from an area, the better the fingerprint database. "It has taken 20 years to develop this technology, to collect the samples, to analyse them and show that illegal mining is definitely an extensive and ongoing process," says Dixon. "After a while the evidence from the database starts to reveal the commonalities. As more samples are added to the database, so the accuracy increases with which we can determine which area – and mine – from which these samples originate."
South Africa is currently the only country that has introduced legislative provisions requiring the establishment and maintenance of databases. In order for the fingerprinting technique to be truly effective, Dixon says countries from around the globe need to dovetail their legislation to create an international database collaboration in which law enforcement can operate in a combined effort to successfully prosecute offenders illegally dealing in precious metals.
Dixon explains that gold contained in rock mined from the Wits basin, South Africa's prime source of gold, comes with a unique profile. Gold from Barberton and Welkom for example, exhibit different profiles indicative of different environments of formation. A profile will also indicate what has been done to that gold after it was mined.
"If gold is extracted by a certain company, using a certain process, its profile will reflect that process. Our database will pick up these commonalities. So, if gold is stolen from underground and concentrated by illegal miners using their own unique process, that gold will have a different composition to the gold mined from legal mining procedures. Our methodology has been developed to enable us to determine the original composition of the gold and ultimately, match the stolen gold to that produced by a specific mine. In this way we can assist with the criminal investigation, as well as return the stolen gold to its rightful owner," explains Dixon.
Dixon believes that the solution is certainly a credible one. "Where the catch comes in for South Africa, however, is that whilst most of the world's gold deposits tend to be of a simple origin, the Wits basin is more complex because it is based on a sedimentary succession. Mineshafts get ore from different reefs resulting in gold with different profiles from each reef. Thanks to our years of research using fingerprinting technology, we are now able to identify gold from different gold mining locations within the Wits basin."
Difficulties
Dixon says the illegal miners are not the only culprits fuelling the illegal precious metals trade. "A number of businesses and individuals in possession of recovery licences will buy knowing that it comes from suspect origins. But because it is cheaper, they bypass the law. If questioned, they will often claim that what they purchased was old and scrap jewellery, and reclaimed gold from electrical components. These businesses provide another step in the illicit mining process." A benefit of the profiling process is that such claims can be disputed and proven false, as the composition of unrefined mine gold and such jewellery scrap is distinctly different.
The platinum industry is also not immune to large-scale theft. Gold and platinum involve totally different forms of extraction. With platinum, the theft takes place above ground in the refineries and smelters – during the extraction process. Gold, on the other hand, is stolen before it gets to the refinery. Platinum can only be removed from its natural state through the complicated processes of refining and extraction, in contrast to gold where the valuable metals can be easily extracted. The platinum ores contain not only the precious metals such as platinum, rhodium, iridium, palladium and ruthenium, but also copper, chrome and nickel, with some minor gold and other elements. Specialised knowledge and equipment is therefore needed to refine platinum group metals (PGM) into a commercially tradable commodity. The material that is usually stolen is not sold, but used in the refining process, and is the property of the refiner.
In South Africa, six smelters process almost all of the platinum ore in the country. Once the ore concentrate has gone through the plant, it goes through the smelter, resulting in a metal-rich matte. Each smelter uses a different process from the others and receives its ore concentrates from different sources, resulting in a product that is distinctive to the particular smelter. Identifying stolen PGM involves a process whereby the product is analysed to determine where in the world it comes from and who produced it. Matte (the product stolen before it gets refined and exported) goes mostly to destinations in Europe and Canada.
"We can now tell if that product or matte comes from South Africa, Russia or America," explains Dixon. "But while the methodology for identifying stolen gold has been going on for some time, the platinum profiling methodology is still relatively new. The refiners in Europe have now been made aware that some of the platinum-containing material they have been buying is stolen. We are now able to tell them what is indicative of stolen material because all legitimate products will come from matte unique to a specific smelter."
There are many solutions currently in operation to try and tackle South Africa's alarming illegal trade in precious metals. While fingerprinting technology may not solve the problem, it will at least help trace where the metals are coming from. Just another solution added to the pot of sciences and technologies being applied to help bring under control the number of miners operating lucratively 'down under'.
Further reading:
Three new portable power stations to ease load shedding
News Security Services & Risk Management Products
EcoFlow has launched three portable power stations that provide sufficient power for consumers wherever they are; the DELTA 2 and RIVER 2 Series are feature-filled power solutions to the volatile electricity supply.
Read more...
---
You cannot bribe a computer
Access Control & Identity Management Security Services & Risk Management
Corruption is a cancer that destroys the prospects and stability of countries and businesses. It widens wealth gaps and punishes the poor. It costs countries many billions in lost revenue.
Read more...
---
How much protection does cyber insurance really give businesses?
Cyber Security Security Services & Risk Management
If organisations don't meet even the minimum requirements of security and data protection, insurance will do them little good. Instead, it needs to be just one part of the digital resiliency toolbox.
Read more...
---
Off-grid power solution for residential estate
Editor's Choice Security Services & Risk Management Residential Estate (Industry) Products
Coral Beach Estate, an upmarket residential estate based in East London, has been struggling with load shedding and power outages due to South Africa's energy crisis, as well as the vandalism of its power infrastructure.
Read more...
---
SafeCity Guarding rolls out across 14 suburbs in Johannesburg
News Security Services & Risk Management
In a major drive to provide communities across Johannesburg with additional safety, Vumacam, in partnership with Fidelity ADT and other security providers across the region, rolled out the innovative SafeCity Guarding initiative in 14 suburbs.
Read more...
---
FleetDomain underpins Afrirent's value proposition
Logistics (Industry) Security Services & Risk Management
Afrirent, a 100% female black-owned fleet management company, has been relying on FleetDomain software for a number of years to help it deliver outstanding service to a growing number of clients.
Read more...
---
Choosing an inferior lithium battery can be detrimental and unsafe
Uniross Batteries Security Services & Risk Management Products
South Africans looking to mitigate the impact of load shedding by installing a solar system for their home must do so through an accredited installer or electrician to avoid insurance claims being rejected.
Read more...
---
Employee screening, a hiring necessity or an invasion of privacy?
Security Services & Risk Management
There is a fine line between checking a potential employee's qualifications and references, and investigating aspects of their lives that have nothing to do with their job application.
Read more...
---
Keeping students, staff and communities safe
Vumacam News CCTV, Surveillance & Remote Monitoring Security Services & Risk Management
South African schools are facing increasing security challenges, making effective surveillance systems more important than ever. To address this issue, Vumacam is offering advanced security solutions with security partners, aimed at keeping students, staff, and the community safe.
Read more...
---
Technology is key to securing physical and cybersecurity
Education (Industry) Security Services & Risk Management
The interpretation of security in educational institutions depends on whom you are talking to and whether their focus is on the physical security of the institution, its assets and its people, or its information and communication technology perspective.
Read more...
---