printer friendly version
Cathexis integrates with GE NetworX
March 2010
News
Cathexis, a South African developer and manufacturer, has recently completed a comprehensive integration project with GE NetworX NX-8E alarm panels from Elvey Security Technologies. The result is an integrated solution for single sites and large estates with multiple alarm panels and surveillance requirements.
In line with the Cathexis strategy of providing integrated solutions to the market (access control, fire panels, point-of-sale, weighbridges, scales, BMS systems etc), the integration with the NetworX allows the security and estate managers to manage their CCTV and alarm systems via a single user interface.
"The interface is via Ethernet with each panel connecting to the estate network via the Cathexis RS232 to Ethernet converter modules," explains Cathexis Africa's MD, Gus Brecher.
Patrick Pillay, regional sales manager for Elvey Security Technologies, sole distributor of the GE NetworX NX-8E alarm panels, says: "I am impressed with the expertise shown by Cathexis in the development of an integrated security solution aimed at an area that has previously lacked professionalism and has been swamped by crime. I believe Cathexis will revolutionise estate and town house security in this country and will become the front runner in estate security."
The Cathexis system provides a full hierarchical interactive map interface which automatically drills down to selected maps upon messages received from the NetworX alarm panels. The high-level map interface shows a map of the entire estate, with the various dwellings coloured to show their status (armed, disarmed, alarm). Also shown on the map are cameras which the operators can drag and drop into a virtual matrix. These cameras can be either analogue or IP-based as the Cathexis system is a full hybrid solution.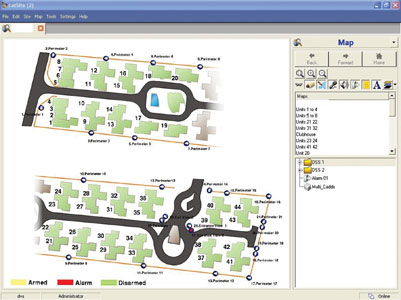 Once an alarm signal has been detected, the system automatically zooms into the relevant map of the building from where the alarm was generated. The actual PIR zone information is then displayed (zones show red on map when activated) allowing the system operator to see exactly what zones are being triggered while the alarm panel is in the alarm state.
Alarm panels can be armed and disarmed via the user interface and a log of all events and alarms allows for forensic analysis. Operator procedures, which can be unique for each panel and/or zone, are automatically displayed upon the handling of an alarm. Also associated with the alarm and the procedures is contact information for relevant persons.
Alarm and case management
Once an alarm has been received, all the operator needs to do is to click the alarm, and the relevant cameras will automatically be displayed along with a set of procedures and relevant contact persons.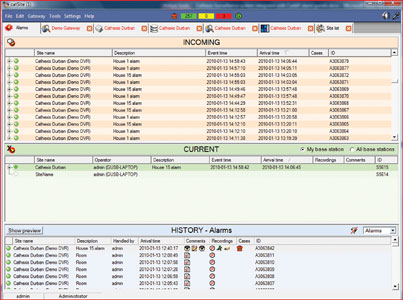 Once the alarm is handled, then it will drop down into the History database. At anytime an alarm can be found using the smart search facility and the details about the alarm can be displayed along with any video footage, comments, operator details etc.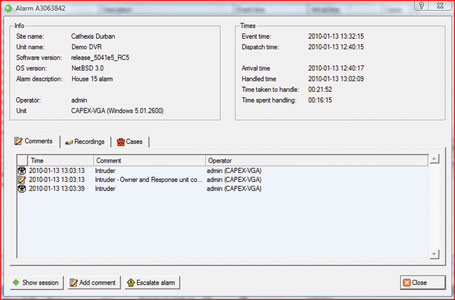 Operators may need to escalate an alarm to a manager or supervisor and the Case Management tool is used for this task. The system opens an electronic docket relating to specific events or alarms. The docket keeps a full log of all processes, associated alarms, recordings, comments, actions etc., relating to the specific case.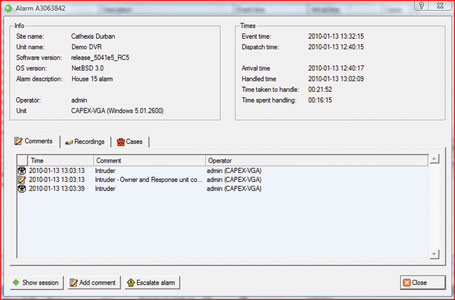 Other capabilities
1. Bi-directional audio, which allows control room staff to converse with field personnel.
2. Ability to play pre-recorded audio clips on events (eg, a pre-recorded clip can be played in restricted areas at certain times of day).
3. Movement of PTZ cameras automatically to pre-set position on event.
4. Auto monitor/camera switching upon events (black screen monitoring).
5. Perimeter tracking capability (PTZ cameras can track objects/people).
6. Ability to move PTZ cameras to pre-set positions via the map interface (this is extremely useful for remote monitoring where moving a PTZ camera is difficult because of low bandwidth).
7. SMART video analytics and learning algorithms.
8. Highly sophisticated technical health monitoring (automatic flagging of areas of risk like temperatures, fan speeds, camera failures, and hard drive errors).
9. Dual compression algorithm capability (recording and transmission) for effective off-site monitoring.
10. IP and analogue cameras provide a hybrid solution.
For more information contact Gus Brecher, Cathexis Africa, +27 (0)31 566 7800, gusb@cat.co.za, www.cathexis.co.za
Credit(s)
Further reading:
New hires at iPulse
Issue 7 2020, iPulse Systems , News
iPulse has welcomed two new employees into its ranks. Shai Weil has been appointed as operations director, while Corneli Botha is the new customer sales liaison.
Read more...
---
HID Global acquires Access-IS
Issue 7 2020, HID Global , News
HID Global acquires provider of miniaturised reader devices that combine key technologies for mission-critical markets.
Read more...
---
Securing digital transformation
Issue 7 2020 , News
Schneider Electric partners with Fortinet to strengthen ability to secure operations across the business lifecycle and unlock the advantages of a secure IIoT.
Read more...
---
Suprema integrates with Paxton's Net2 access control
Issue 7 2020, Suprema , News
Suprema has announced it has integrated its devices with Paxton's access control system, Net2.
Read more...
---
Free cybersecurity courses
Issue 7 2020 , News
Check Point Software partners with Harvard and MIT-founded edX to deliver free online courses to help close the cybersecurity skills gap.
Read more...
---
Fidelity partners with Auto & General Insurance
Issue 7 2020, Fidelity Security Group , News
Fidelity Services Group in partnership with Auto & General Insurance has launched Fidelity InSure, a comprehensive vehicle, home, and building insurance offering.
Read more...
---
More apps for open camera OS
Issue 7 2020 , News
The App Challenge will result in 21 new apps running on the Security & Safety Things' camera OS, based on the Android Open Source Project.
Read more...
---
Milestone Systems announces Thomas Jensen as new CEO
Issue 7 2020, Milestone Systems , News
Milestone Systems announced that its board of directors has appointed Thomas Jensen as chief executive officer. Jensen will assume the role on October 1, 2020.
Read more...
---
Suprema announces its first virtual event
Issue 7 2020, Suprema , News
Suprema will be hosting its first virtual event, Suprema Connect 2020, which is scheduled to take place over one month from September 15.
Read more...
---
From the editor's desk: Waiting for PoPI
Issue 7 2020, Technews Publishing , News
A while ago we heard of yet another cyber breach, this time from Experian.
Read more...
---