printer friendly version
Offsite CCTV control rooms
March 2010
Integrated Solutions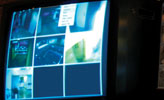 An effective CCTV control room is not easy to construct or maintain. Cliff Rose examines a few success factors.
Over the past few years, great progress has been made in combating crime with the aid of CCTV cameras linked to sophisticated control rooms in applications like city surveillance, casinos, airports and traffic control centres.
Unfortunately, the same progress has not been evident in many market sectors that make up the very core of the economic engine of South Africa. CCTV systems deployed in manufacturing, warehousing, logistics, commerce and our biggest non-movable asset base, property, are under-utilised.
CCTV systems installed in these market sectors are normally monitored by the loss control manager (normally responsible for environment, health, safety and security) who cannot dedicate their full time to their CCTV systems. Subsequently, their company's investment into CCTV systems is not fully realised. These systems are typically utilised for less than 10% of the day and are normally used reactively, in trying to establish what happened in past events.
With the advent of better video streaming technologies and compression techniques like the H.264 compression algorithms, these white elephant CCTV systems can now be more proactively utilised by linking them into independent third party virtual CCTV control rooms. From these virtual or offsite control rooms, trained CCTV operators can monitor and manage remote site activities based on certain client requirements and site procedures. These site procedures could include stock control at goods receiving and dispatch points, enforcement of SHE standards in the work place, remote access control, general monitoring of perimeters and strategic areas like cash offices and high risk areas to name just a few of the current applications.
These offsite control rooms are quite different from city surveillance applications and need to be implemented with different operating criteria and external triggers. Digital inputs and outputs for status monitoring, control of doors and gates as well as voice communications to these remote sites are key components in effective remote site control.
Motivating factors
What are the main motivating factors to consider before implementing offsite CCTV monitoring?
1. Better utilisation of existing CCTV installations.
2. If you do not have a CCTV system yet, then design it with a view for offsite monitoring as well as your day to day operational requirements.
3. Your current manpower guarding complement is not meeting your security expectations for a number of reasons:
* Not patrolling premises as per site procedures.
* Not conducting access control inspections and searches.
* Sleeping on duty after hours.
* Collusion with intruders and criminals.
* Allowing unauthorised access.
* Allowing unauthorised removal of property.
* Incorrect postings.
* Conflicting stories when questioned about incidents.
* Incorrect response in event of an incident.
* Test driving client vehicles after hours.
There are of course positive aspects for your current guarding complement which we know has assisted guarding efficiencies:
* Guards feel more confident about doing patrols knowing they are being watched via the cameras and as needed get audio instructions from the control room about impending dangers.
* Guards have an immediate second reference with the control room operator to consult with in sorting out site issues.
* Guarding efficiency in all aspects improve by about 300%. You may think this is a lot but it is astonishing to see the improvement in security after only two months of offsite monitoring.
Standards and performance
How would you choose your offsite monitoring service provider and what is the necessary technical performance criteria that such a service provider should meet? This is a very interesting question as there is no specific South African standard that CCTV control rooms should meet.
A good starting point is the SAIDSA Bylaw 1, which details the requirements for alarm system monitoring control rooms. All aspects of this bylaw should apply with the exception of the alarm monitoring equipment for intrusion systems. This bylaw covers things like:
* Access control to the control room.
* Door interlocking which is a part of access control.
* Physical construction of the walls, doors, ceiling, and windows.
* Fresh air ventilation and airconditioning.
In addition to the Bylaw, CCTV offsite control rooms should also have:
* A 220VAC standby generator capable of continuous operation for at least four to six days. The complete control room power loading should be calculated and the standby generator should be capable of this load, plus at least 30% spare generating capacity. The generator should switch over power to the control room automatically within at least one minute. The generator should also be capable of handling any future expansion plus 30%. The generator should be in a safe and secure well-ventilated area. Heat build-up, exhaust fume extraction and noise factors should be considered and the installation should be signed off by a registered electrical engineer
* A UPS (uninterrupted power supply) of sufficient loading should be connected between the incoming mains supply to facilitate the smooth changeover of incoming power in the event of Eskom power failure and restoral.
* A sub electrical distribution board where all services in the control room including the generator, UPS, essential and non-essential services are controlled.
* A gigabit LAN (local area network), which is controlled by a network manager with formal IT skills and qualifications to ensure that proper administrator access, security levels and anti-virus protection is in place and controlled to minimise down-time due to virus and operator fiddle factor.
* A WAN (wide area network), connecting remote client sites to the control room. The structure of this and the choice of the monitoring software technologies ultimately effects two critical factors, the quality of pictures received in the control room, the update rate of these pictures and the volume of all the traffic (data) coming into and leaving the control room. The service provider, primarily Telkom, should have in place a SLA (service level agreement) which outlines the type of service offered and, most importantly, the response time to repair a service that may have gone down. There are Bronze, Silver and Gold service levels available and a prospective client should know the worst probable down-time by the WAN service provider.
* A telephone management system should also be installed to monitor and manage all incoming and outgoing calls. This can be used as an internal audit trail to follow the sequence of events after an incident.
Image quality
The second most important thing is the quality of the picture received in the offsite control room and the update frame rate of these pictures. In technical terms, it should be possible to receive a 4CIF picture with either two or four frames update per second. Many factors make this possible or not possible and ultimately determine the quality of service a control room vendor can supply. Factors that affect this are:
* The compression technology employed from the viewing station in the offsite control room to the CCTV recorder on site. As mentioned before, the H.264 compression technology has two main advantages:
1. More quality pictures stored onto local storage media or longer recording times because of the small picture file size in comparison to JPEG and MPEG compression technologies.
2. Sending these pictures over limited bandwidth WAN services without compromising the picture quality or transmission frame rate. This is the most important technical consideration for offsite control room vendors.
A third important global factor in a control room is the paperwork and the adherence to local control and remote site operational procedures. Control room procedures should include:
* Routine hourly tours of the client sites by checking the visuals of cameras covering inspection points about the site.
* Alarm inspection, which is the visual verification via the onsite cameras of alarms that may have been triggered. These could be from outdoor PIR and IR beam detectors, electric fence systems and building intrusion detection systems. Other alarm triggers could be Eskom power failures, level control of strategic raw materials critical to production processes, bottlenecks on production conveyer system, high and low temperature control in furnaces and refrigeration plant.
* Procedures to be followed in the event of an alarm condition with all the necessary contact people required to attend to the alarm condition.
* The maintenance of an OB book to record routine inspections observations and actions taken in event of alarms or site procedural violations.
* Recording of technical problems and implementing the necessary remedial works.
* Carrying out routine functional tests on alarm systems to ensure the proper interfaces are working and that they are electronically logged in the offsite control centre. This will also include routine running and testing of control room backup systems.
* General controller's time and attendance and shift rosters.
Another global factor in a control room is housekeeping and how the place has been wired and erected. Special attention should be given to the control ergonomics, which includes:
* Operator seating.
* Monitor position taking cognisance of monitor size and quality.
* Separation of operator workstations but also ensuring communications between operators.
For more information contact Cliff Rose, Modular Communications, +27 (0)83 456 9542, cliff@modular.co.za
Credit(s)
Further reading:
Keep your distance with PeopleCounter and DistanceGuard
Issue 6 2020 , Integrated Solutions
Using 2D and 3D LiDAR sensors from SICK, people can easily uphold the recommended minimum distance in public and pre-defined spaces.
Read more...
---
Critical control management
Issue 5 2020 , Integrated Solutions
The critical control management process is an excellent practical approach to ensure effective controls over potentially catastrophic events.
Read more...
---
Adjusting to a new reality
Issue 5 2020, Technews Publishing , Integrated Solutions
COVID-19 to accelerate adoption of technology-enabled smart city resilience approaches: robotics, digital twins, and autonomous freight.
Read more...
---
Remote oversight imperative for smart buildings
Issue 5 2020 , Integrated Solutions
Duran Viera, CEO of Amecor, says one of South Africa's biggest drivers for smart building development is security.
Read more...
---
Shaping today's smart cities
Issue 5 2020, ZKTeco , Integrated Solutions
As our physical and digital worlds become intertwined, the absorption of new technologies in smart cities is inevitable.
Read more...
---
The evolution of security in residential estates
Residential Estate Security Handbook 2020 , Editor's Choice, Integrated Solutions, Security Services & Risk Management
Two large estates discuss their security processes and the ever-expanding scope of responsibilities they need to fulfil.
Read more...
---
Home-grown, cloud-based safety and security solutions
Residential Estate Security Handbook 2020 , IT infrastructure, Integrated Solutions
BeSecure has taken security and communications technologies and turned them into what is best described as care and safety solutions for the estate community in South Africa.
Read more...
---
Integrated security management system
Residential Estate Security Handbook 2020, Protoclea Advanced Image Engineering , Products, CCTV, Surveillance & Remote Monitoring, Integrated Solutions
Phorcas is a security information system developed by Protoclea designed to integrate multiple sub-systems into a powerful crime fighting solution.
Read more...
---
Critical control management is essential for quality surveillance
Issue 6 2020 , Integrated Solutions
The demand for effective surveillance remains a priority for security and line management involved with the day to day protection of assets.
Read more...
---
Your partner in contemporary business continuity
Issue 3 2020 , Integrated Solutions
Horizon Risk Management aims to provide optimum contemporary, but affordable, business continuity techniques for business in South Africa and abroad through stable, durable and incorruptible practices.
Read more...
---