printer friendly version
Addressing crime through technology
March 2010
Integrated Solutions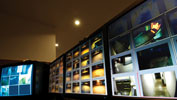 Effective enterprise security is the cornerstone of a growing economy.
Much-vaunted 2010, expected by President Jacob Zuma to be South Africa's most important year since 1994 as a result of its host status to the 2010 FIFA World Cup is here. Along with the potential it brings for the country to bask in the spotlight of international approval for a job well done, this year also brings opportunity for economic growth and development on the back of a variety of state and private sector development initiatives.
All good, says Jack Edery, CEO of Elvey Security Technologies, who believes the country is climbing slowly out of the financial quagmire that enveloped the entire world during 2009, but he adds a word of caution. "Enterprises, no matter how dynamic, will have a difficult job succeeding if they do not have the right security architecture in place, especially in countries like South Africa, where unfortunately our enthusiasm has to be tempered by the reality that we are still one of the world's crime capitals.
"Pivotal to the economic future of this country is the development of initiatives that will in turn lead to job creation and then hopefully a decrease in crime," he continues. "In particular, we are talking about growth in sectors such as manufacturing, which is reportedly now on the mend. However, there is no avoiding the fact that security has to be factored into the equation if healthy bottom lines are to be achieved."
Accordingly, he urges consumers to treat security not as a grudge purchase but rather as a long-term, cost-saving, productivity-enhancing tool. "Many people still picture a security system as a mix of keypad, siren, high wall or fence, and possibly some human guards. They are not aware that security technology's movement into the realms of IP (Internet Protocol) and GSM has made it possible not only to safeguard staff, clients, premises, stock and information, but also monitor productivity, control access and egress and even send and access video images of an event. The bottom line growth of any entrepreneurial enterprise, whether small, medium or large, depends in part on having an effective security system in place."
Keeping the bad guys out
The fundamentals of good security have not changed, even if the technology has. The first consideration for most enterprises, large or small, is preventing criminals from getting into the buildings. This need is best met today by an IP-based, integrated security solution that includes an access control element. For those questioning the need for an IP-based security solution, Edery does not pull any punches. "You are fooling yourself if you think that you can rely completely on a cut-price, one-size-fits-all, unmonitored alarm in this day and age of criminal desperation and determination, and where false alarms are all too common, to the point that most are simply ignored."
Monitoring via IP dual path
Today's most efficient enterprise security solution lies in dual path technology, which is characterised by two paths: a main transmission path (Internet) and a back-up path (GSM or cellular network), says Zane Greeff technical director for Elvey Security Technologies.
Since most people have access to the Internet and cellphones, he says it makes sense for them to choose these two paths, the Internet for its cost-effectiveness and the cellular network for its near-100% security.
"Just as broadband or IP technology has changed the face of communication in the business world, so it has opened up a whole new world of alarm and data communication for the security sector and its clients," he explains. "Driven by its reputation for reliability and cost-effectiveness, the technology's ability to transfer data over the Internet, PSTN line or GSM networks has seen it become the global security solution standard for enterprises, steadily replacing the conventional telephone line as a message channel. Specifically, he says dual path alarm monitoring is hogging the spotlight because of its ability to supervise continuously the delivery of an alarm signal, one way or another, thereby ensuring that the flow of data between the enterprise and the monitoring or control centre is never compromised.
There are other benefits of dual part alarm technology too, he adds, including that it can monitor multiple sites, and that it can receive data at high-speed anywhere in the world.
Cost saving
"While operational cost-cutting is being embraced by enterprises the world over, I am amazed at how many entrepreneurs overlook the amount of money that is wasted on communication between the alarm panel and the central monitoring station," says Kenny Chiu, marketing manager for Elvey. "Consider an average scenario in which an alarm panel sends an opening and a closing signal to the monitoring station every day, as well as 24 test messages during the course of the day. That is 26 messages per day, at a cost of 70 cents each, which equates to R6643,00 a year. Should the enterprise change its security message path from a normal Public Switched Telephone Network (PSTN) to GPRS or Internet, the cost would drop tremendously, using around 516 MB of bandwidth per month."
Another area of saving when using IP technology is that of call-outs. According to Chiu, IP technology allows for remote site programming and maintenance, thereby significantly reducing the need for expensive on-site visits.
Further cost savings are to be had in terms of data security and employee downtime. "Traditional phone lines by their nature experience regular physical attack or damage by nature, thereby compromising data integrity and resulting in employee downtime. The Internet, though vulnerable to hacking and viruses, can be made fairly safe through the use of various forms of protection such as firewalls and anti-virus programmes, and the GSM network is almost impossible to breach," Chiu says.
In-house monitoring
Armed response companies are increasingly replacing their telephone line links to their monitoring station receivers with Internet links in the interests of providing their commercial clients with safer, more reliable signal paths, notes Greeff. The end result for them is not only more secure data transmissions, but also higher speeds, lower communication costs and system safeguards such as immediate notification of line interruptions.
Enterprises of all shapes and sizes are at risk of attack, whether by dissatisfied ex-employees, criminally-inclined staff members, robbers or thieves. The larger the entity and the more employee, customer and visitor traffic it experiences, the more vulnerable it is to loss of some sort. Today's security technology makes it possible – and affordable – to monitor and control people's access not only to the premises as a whole but also to specific areas, via one central control room.
For more information, contact Kenny Chui of Elvey at +27 (0)11 401 6700 or Kenny.chui@elvey.co.za
Credit(s)
Further reading:
Keep your distance with PeopleCounter and DistanceGuard
Issue 6 2020 , Integrated Solutions
Using 2D and 3D LiDAR sensors from SICK, people can easily uphold the recommended minimum distance in public and pre-defined spaces.
Read more...
---
Critical control management
Issue 5 2020 , Integrated Solutions
The critical control management process is an excellent practical approach to ensure effective controls over potentially catastrophic events.
Read more...
---
Adjusting to a new reality
Issue 5 2020, Technews Publishing , Integrated Solutions
COVID-19 to accelerate adoption of technology-enabled smart city resilience approaches: robotics, digital twins, and autonomous freight.
Read more...
---
Remote oversight imperative for smart buildings
Issue 5 2020 , Integrated Solutions
Duran Viera, CEO of Amecor, says one of South Africa's biggest drivers for smart building development is security.
Read more...
---
Shaping today's smart cities
Issue 5 2020, ZKTeco , Integrated Solutions
As our physical and digital worlds become intertwined, the absorption of new technologies in smart cities is inevitable.
Read more...
---
The evolution of security in residential estates
Residential Estate Security Handbook 2020 , Editor's Choice, Integrated Solutions, Security Services & Risk Management
Two large estates discuss their security processes and the ever-expanding scope of responsibilities they need to fulfil.
Read more...
---
Home-grown, cloud-based safety and security solutions
Residential Estate Security Handbook 2020 , IT infrastructure, Integrated Solutions
BeSecure has taken security and communications technologies and turned them into what is best described as care and safety solutions for the estate community in South Africa.
Read more...
---
Integrated security management system
Residential Estate Security Handbook 2020, Protoclea Advanced Image Engineering , Products, CCTV, Surveillance & Remote Monitoring, Integrated Solutions
Phorcas is a security information system developed by Protoclea designed to integrate multiple sub-systems into a powerful crime fighting solution.
Read more...
---
Critical control management is essential for quality surveillance
Issue 6 2020 , Integrated Solutions
The demand for effective surveillance remains a priority for security and line management involved with the day to day protection of assets.
Read more...
---
Your partner in contemporary business continuity
Issue 3 2020 , Integrated Solutions
Horizon Risk Management aims to provide optimum contemporary, but affordable, business continuity techniques for business in South Africa and abroad through stable, durable and incorruptible practices.
Read more...
---