printer friendly version
Looking up for 2010
January 2010
News
What do the people in the security industry think 2010 will bring? Hi-Tech Security Solutions invited a few of the leaders in our industry to share their views.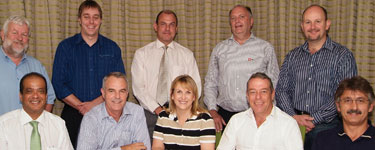 Round Table 2010 participants
We are being told the recession is over and it is all coming up roses from here on. Those in the security industry know better than to put too much faith in pronouncements like these, but most of the signs in the market show that the worst should be over.
While some say that South Africa is generally a few months behind the US and EU in terms of catching a cold when they do and that we may still feel the pinch, the general consensus is that the industry will start seeing, if not improvement, at least a bottoming out of the market fairly soon. It is also true however, that while there have been casualties, this country has avoided the worst of the recession. Of course, there is also the Soccer World Cup next year which promises a lot but will not have much more of an impact on the security market in general.
So what is the mood in the industry in general?
Martyn Williams of systems integrator Westec Electronics says this year started well due to project work the company had signed, but there was a dip in the middle of the year as potential customers took a conservative view before committing to spending. Fortunately, the slowdown was short-lived and business picked up within about three months. All signs point to an upturn as 2010 gets underway.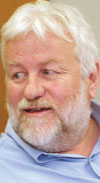 Martyn Williams
Bernard Senekal of importer and distributor Sentronics, says that as a new player in the industry Sentronics has experienced good growth. And while the company has focused on the CCTV market to date, Senekal says he has seen opportunities that have enabled the company to look into new areas of business and expand the scope of its operations. Looking into 2010, the company will diversify further to sustain its growth, going further than the traditional distributor's scope of operations. While there will be no boom from the World Cup for the security industry, Senekal says there is bound to be a spin-off in terms of the new infrastructure and related operations.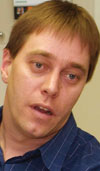 Bernard Senekal
Michael Howard, MD of Bosch Security Systems in sub-Saharan Africa speaks from a manufacturer's point of view and says the company has not experienced a severe downturn but is also not expecting a much better year yet. Bosch's business is spread across a large portion of the continent and he has a view on a broad range of business drivers. He believes the lower end of the market will suffer slightly in the coming year as spending is still restricted, but the high end will do well as this spending is generally more stable and planned well in advance.

Michael Howard
With the news that GE Security has been bought by UTC, GE Security's sales director, Terence Ewers was also upbeat about the prospects for 2010, although he was unable to speak on the acquisition due to regulatory issues. He says GE did notice a downturn, but this was more specifically in South Africa as opposed to the rest of the sub-Saharan region. While there may be more pain to come, Ewers says customers are already talking about expansion.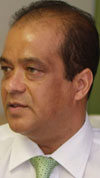 Terence Ewers
Richard McGhee runs the sales and marketing for ADT and admits 2009 was challenging, but it was positive in that ADT learned to do things smarter. The company restructured shortly before the recession hit and was therefore able to operate efficiently when the problems started. He believes that the company performed well in 2009 and will improve in 2010. Customer retention is key for ADT in the coming year. While he expects 2010 to be an improvement on 2009, but he also doubts there will be any upside directly emanating from the Soccer World Cup.
Richard McGhee
Lauren Sher from Xtralis says the company did experience a downturn during the year, but again, this was short lived as the company saw an upturn in the second half. She expects the positive sentiment to continue throughout the coming year. Once again, the main growth the company expects will come from the sub-Saharan region where markets are not as mature as South Africa.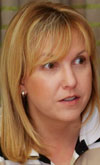 Lauren Sher
Norbain operates in the high-end of the market and MD John Loftus says it has been a challenging year, but a good one. There have been some projects postponed or cancelled, but new ones have appeared. Interestingly, Loftus notes that Norbain's branches have not felt any recessionary effects and are all "way above target" for the year. Johannesburg is slightly down in terms of turnover, while business into Africa is going well. The challenge for 2010 is moving into new markets where there is good growth as South Africa is fairly mature. At the same time, Norbain will be introducing new products and entering new markets as the year progresses. Already its access control business is growing well and we can expect further movement in this area. The company has used 2009 to streamline and do some housekeeping and is in a good position to handle the next few years.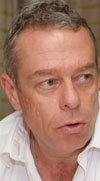 John Loftus
Francois Smuts says looking at the past year was good for Elvey, especially as it has recently diversified into new areas which boosted revenues for the company during the downturn and it has opened a new branch office in Polokwane. Looking ahead to 2010, Smuts says it is difficult to gauge the performance to expect as the period of the World Cup will be very quiet with respect to business. However, he notes that security is usually the last decision people make so there may be some good news yet. Overall, however, he foresees a slight improvement in the market in the coming year, with a big question mark over the period when the soccer will rule all.
Francois Smuts
Impro Technologies' Gerrie Van Tonder admits that the company's international market suffered in the recession, but the company was boosted by local demand. Van Tonder adds that Impro has seen a growing tendency among clients to save money by maintaining their existing kit rather than buying new product, a trend he sees continuing and which Impro will address. End users are also doing more homework and getting input from their IT departments, a trend he sees as positive in the long run.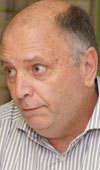 Gerrie Van Tonder
ADI Global Distribution's Andrew Stead says it's been 'an interesting year'. ADI has grown in the last year and has diversified to find a balance between its trade and project work. The company has not only grown, but is employing new people – which is always a challenge for a global player. Stead does not see any new business coming from the World Cup, but he is positive on getting back to business as usual in 2010.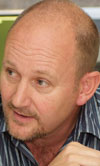 Andrew Stead
African focus
One common factor among all the participants is that the rest of Africa poses a great opportunity. Many of the companies are already operating in the region, but are expecting to grow their African revenues and, in some cases, their presence in other countries. Ewers notes that GE is focused on emerging markets as it will take some time for US and EU companies to start spending again.
There has also been a movement to seeing South Africa as a base and a training hub for Africa. In the past, African countries would have looked to Europe but it seems as though South Africa has proven itself a reliable and stable, not to mention less costly market from which business is driven into Africa and to which Africa looks for skills and assistance. Importantly, South African equipment is also well respected in Africa making it an attractive market for local manufacturers.
Apart from being trusted more than US or EU countries, South Africans also have a better understanding on how to work with Africans in Africa. Locals understand the need for intensive training and many of the cultural nuances.
Williams adds that there are still risks when moving into Africa, such as securing finance arrangements before doing the job, but that does not detract from the business on the continent. Westec has been engaged in numerous countries over the years and has seen its operations above the border increasing.
More good advice comes from Norbain's Loftus, who advises that you can't discuss Africa as a collective. Each country has its own culture, nuances and unwritten business norms, not to mention a few legal problems that need to be specifically addressed. There is no standard way, for example, to transport equipment into and out of countries; some countries are a breeze, others are a nightmare.

John, Francois and Gerrie
Diversification
Diversifying and expanding business is part of the natural growth of any business. The next year will see more of this not only as a growth mechanism but also because of the increasing demands from the market in terms of convergence and integration of previously diverse areas of business. Williams says Westec is moving into providing services for clients partly due to the growing tendency of companies to sweat there assets and maintain rather than replace – a trend that will outlast the recession – and partly because new integrated solutions demand a more service-based approach.
Senekal is going beyond the norms of distributors in South Africa by not only diversifying the products Sentronics supplies, but by incorporating chargeable value-added services into its total offering. Stead concurs, noting that distributors are automatically expected to do more than simply provide product and expertise, from filling out tenders and getting involved in rollouts without charging for it. The decision to charge or not is a key issue many distributors will have to face in the coming years as it becomes too expensive to continually provide services for free.
Bosch's Howard agrees, as a manufacturer of one of the broadest product ranges in the industry, the company sees being able to provide cross platform solutions as a key strategy. A full solution approach is critical for Bosch going forward and it will introduce additional product ranges to the local market to accomplish this.
While the need to expand and grow is common to all businesses, McGhee warns that the way to do so effectively is by listening to your customers. Good ideas may look profitable, but if it is not what your customers want, you are in trouble. Van Tonder agrees, noting that a manufacturer is always confronted with new technologies and processes, but must limit changes and product updates to those that customers actually want and will pay for.
Loftus and Smuts add that the advances in technology have left very little that is out of bounds for security professionals – as we can see in the continuous convergence of security technology into previously non-security systems and the new skills the industry will have to find or develop. The topic of training simply raises eyebrows as security companies need new skills but are faced with the old saga of training people only to have them move on to greener pastures.
And this is where the whole question of IT and convergence comes into the discussion.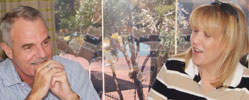 Richard McGhee and Lauren Sher
IT threat
Van Tonder adds that the looming IT giants sniffing around the edge of the security world poses some interesting problems for the industry, as well as opportunities. He says the challenge is for these two industries to work together in the best interests of the client. Of course, the looming threat of IT companies who are expert at low-margin product sales and higher margin services is something the industry will struggle to deal with, but will have to adapt to in the near future.
Howard sees a great threat from IT service providers if these companies can realise the potential in the security arena. These companies are already expert in the provision of services, the methodologies on how to provide them and the associated best practices, the way in which to charge for services and gain a recurring income stream while minimising their risk. These standards are old hat in IT, but still unchartered territory for many in the security industry.
And as security products converge to the IP platform and impact more IT decisions (and vice versa), we could see the security industry sidelined in favour of the standard, reliable and proven processes of IT service providers. While this is a threat, it is also an opportunity for security installers to get into the service or solutions provision game and establish themselves. This is a threat for 2010 and beyond, but a serious issue the industry needs to face. And according to Williams, the security market is already facing it as installers and integrators integrate IP and IT skills into their service offering to be able to deliver what customers need. The crucial issue is that it is not a technical discussion or something that will happen at some point in the future, it is happening now and security companies will have to adapt or fade away.
Michael and Terence
Key issues in 2010
When it comes to what technology will be a hot topic in 2010, Senekal says he sees middleware development as a key area for 2010. The software developed will facilitate easier integration of traditional security solutions, such as access control, with building management, HVAC, lighting control systems and so forth. He and Williams also see video standards becoming more important. A new area Sentronics will enter is managed video hosting services.
Smuts confirms this with the expectation that IP video will grow substantially over the year and outpace the growth of the rest of the market by a long stretch.
Van Tonder believes the development of skills will be a key issue for 2010 as system integrators and installers are called on to deliver more for less. Loftus supports this and stresses the need for training and more training in 2010. He is also preparing for an expected downturn in sales in the May to July period because of the World Cup.
Sher again mentions training as a key issue for 2010, especially in the fire detection, suppression and prevention industry. Xtralis will also be focusing on its drive into Africa where it is expecting significant growth in 2010 and onwards.
Ewers sees opportunity in the early part of the year, but expects to have to focus on cash collection as a result of the recession's impact on the GE Security channel. As noted before, Ewers could not comment on the buyout, but industry commentators have noted that if the UTC acquisition of GE Security is approved and goes ahead, the new company will be in a strong position to grow its business in the region.
Williams also sees 2010 as a tough period to collect money from clients as the recession has taken cash out of many companies' pockets and payments are delayed. He also notes that the skills shortage will have to be addressed. It's not only a matter of not having skills available, but having people claiming a skill set but not being able to do the job. This will be more important as integration requirements expand and IT skills become a norm in security installations.

Francois, Gerrie and Andrew
Howard's primary goal for the year is to prepare for the full solution space with a slow and structured introduction in new product lines. From a global perspective, Bosch could be looking at other acquisitions to boost its range of offerings in order to provide the full solutions companies want, but we will have to wait and see if anything transpires.
The good news is the general acceptance that the recession will not cause havoc next year. The South African security industry might not be completely out of the water, but sentiments are positive. The industry is also aware of the potential threat posed by the IT industry and many players are taking steps to improve their go-to-market strategies. The only concern for 2010 is the lull in business while the soccer is on, but forewarned is forearmed and the industry should end 2010 stronger and fitter than it started in 2009.
Credit(s)
Further reading:
SABRIC annual crime stats 2019
Issue 5 2020 , News
SABRIC, the South African Banking Risk Information Centre, has released its annual crime stats for 2019
Read more...
---
From the editor's desk: We're back!
Issue 5 2020, Technews Publishing , News
Welcome to the fifth issue of 2020. If years were people, 2020 would have been hung, drawn and quartered...
Read more...
---
XtraVision moves to new premises
Issue 5 2020, XtraVision , News
Hot on the heels of the company changing hands, XtraVision, a distributor of electronic security and fire solutions in Africa and South America, has relocated.
Read more...
---
20 years of innovation in security and biometrics
Issue 5 2020, Suprema , News
Founded in 2000, Suprema has built a sales network in over 140 countries and has over 1 billion users.
Read more...
---
Fidelity ADT and Vumacam join forces
Issue 5 2020, Fidelity ADT , News
Fidelity-ADT recently partnered with Vumacam to roll out a surveillance network of cameras across a number of southern suburbs in Johannesburg.
Read more...
---
Dahua launches ECO Partner Programme
Issue 5 2020, Dahua Technology South Africa , News
Dahua Technology has launched its new technology partner programme, the Dahua ECO Partner Programme.
Read more...
---
Suprema unveils Suprema G-SDK
Issue 5 2020, Suprema , News
Suprema's latest software development kit (SDK), Suprema G-SDK, allows Suprema devices to be seamlessly integrated with third-party software.
Read more...
---
New smart alarm solution with video verification
Issue 5 2020 , News
IDS has released the 806, a new 8-zone alarm solution based on 20 years of experience and over 1,5 million IDS805 installations.
Read more...
---
From the editor's desk: Sustaining security and sanity
Residential Estate Security Handbook 2020, Technews Publishing , News
Sustainability is a critical component of almost anything in these days of a tanking economy, boosted by COVID-19, which is given further emphasis by the economy being further hammered by the 'cure' for ...
Read more...
---
Gallagher launches Command Centre v8.30
Issue 5 2020 , News
Gallagher's v8.30 release improves operator efficiency with enhancements to Command Centre Mobile and integrated third-party systems, and further supports health and safety obligations.
Read more...
---